When Will Champ And Major Move Into The White House?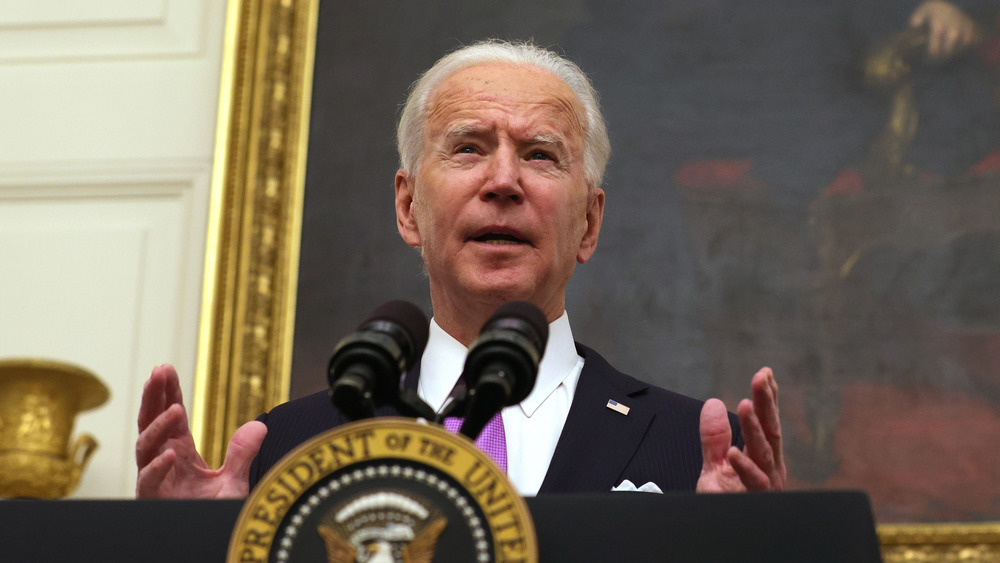 Alex Wong/Getty Images
President Joe Biden may be in the midst of a political whirlwind that includes Donald Trump's ongoing impeachment and another COVID relief bill, but at least he will soon have his four-legged friends by his side.
Since Biden's inauguration on January 23, many have been wondering when the first family's dogs can be expected at the White House. A source close to the German Shepherd pups told CNN that Champ and Major had not moved in yet, but that they are "anticipated to arrive at 1600 Pennsylvania Avenue soon."
Major will be the first shelter dog to live at the White House, as CNN reported, and the shelter he was adopted from in 2018 threw an "indoguration" in his honor on Jan. 17, 2021. All proceeds went to the Delaware Humane Association. He is not the first rescue pet to join these elite ranks, however: Bill Clinton's cat Socks was a rescue, and Lyndon B. Johnson's daughter Luci found their dog Yuki abandoned at a gas station.
The Bidens' older dog Champ is already an experienced Washington D.C. insider, since he joined the family just after Joe Biden was elected vice president in 2008. The Bidens have had Champ for over 12 years now, and he was given his name by the family's grandchildren.
Champ and Major join a long line of presidential pets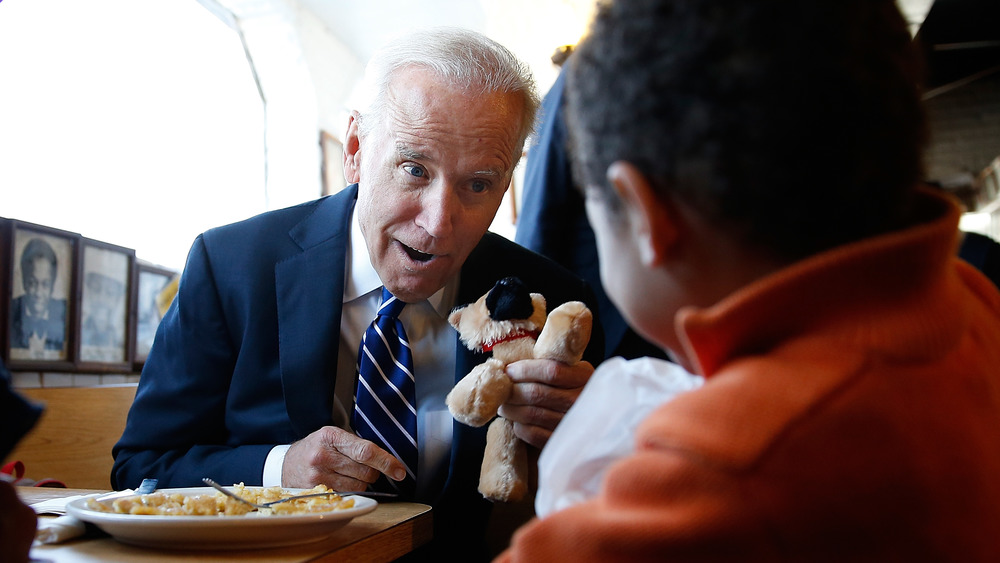 Win Mcnamee/Getty Images
The Oval Office has a long and distinguished history of presidential pets, which was interrupted by Donald Trump. As Country Living observed, the former reality star was the first president since the 1960s not to have a dog at 1600 Pennsylvania Avenue. Trump claimed that he didn't have any time for a canine companion, as the Washington Post reported, and said that the idea seemed "phony."
According to Business Insider, dogs have long been the most popular choice for a presidential pet. Prior to President Biden, 30 out of 45 presidents made executive decisions with a pup by their side, starting with George Washington himself. But some presidents over the years have brought more unusual pets to the office, as Business Insider noted. John Quincey Adams kept an alligator in the White House bathtub when he was in power, Martin Van Buren was gifted two tiger cubs by the Sultan of Oman, and John F. Kennedy's daughter Caroline often rode her pony Macaroni around the grounds. Calvin Coolidge and his wife Grace brought a whole range of animals along with them after being inaugurated, including a donkey, a bobcat, and a raccoon named Rebecca.
Ed Lengel, former chief historian at the White House Historical Association, told CNN that having a pet "softens" a politician's image and "broadens their appeal," as well as creating a family atmosphere in the White House. It's too early to tell if Champ and Major will give a boost to Biden's approval ratings, but they'll probably be good for morale.