Larry King's Awkward Jerry Seinfeld Interview Has Twitter Cracking Up
Larry Marano, Kevin Mazur/Getty Images
Upon news of the death of TV legend Larry King, fans are reminiscing on King's years hosting Larry King Live!.
The longtime radio and TV host held the same night slot on CNN for 25 years, interviewing politicians and celebrities alike. The Hollywood Reporter estimates King in fact interviewed roughly 50,000 people in his decades-long career.
Special moments from King's career are popping up all over the internet as the world remembers the television icon. Be it his last sign off on CNN in 2010, the time he had actress Debbie Reynolds hilariously impersonate Meryl Streep, or memories between him and ESPN host Keith Olbermann, King's legacy of personal interviews serves as a reminder of his impact on television. 
One interview that is bringing up old laughs is the 2007 appearance of comedian Jerry Seinfeld on Larry King Live!. Seinfeld had appeared on King's show to promote his new kids' film, Bee Movie. However, in true Larry King fashion, the talk-show host ended up rather bluntly asking if the comedian's long-running sitcom Seinfeld had been canceled or not. Unfortunately for King, his question may have been a little too straightforward, leading to an awkward yet funny exchange.
Did Larry King 'hurt' Jerry Seinfeld's feelings?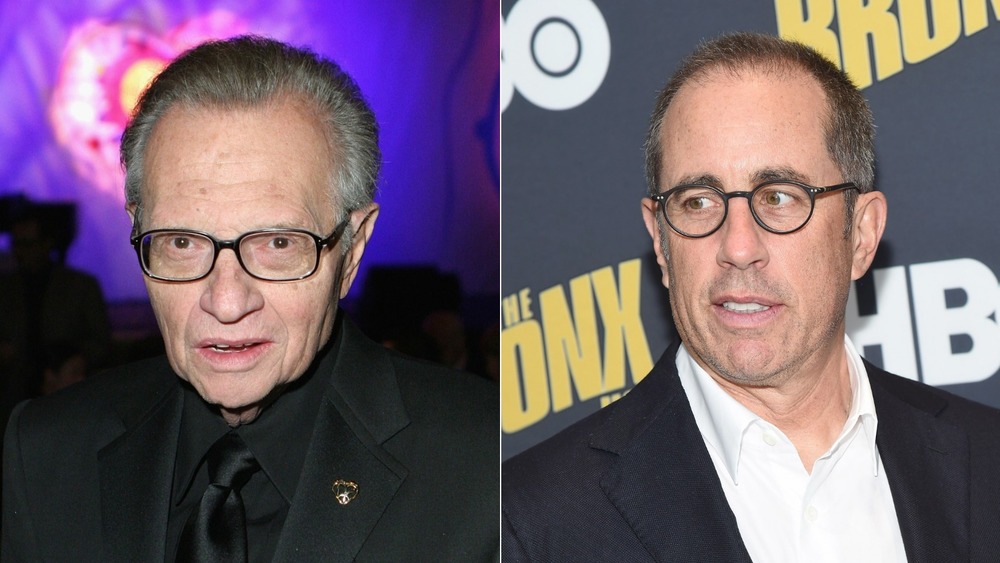 Chad Buchanan, Gary Gershoff/Getty Images
In the 2007 interview between Jerry Seinfeld and Larry King, the late talk-show host asked the comedian if his NBC sitcom Seinfeld was canceled. "You gave it up, right? They didn't cancel you? You canceled them," asked King, who famously didn't prepare much for interviews. 
Seinfeld seemed a little taken back by the question, and maybe even offended. "You're not aware of this? You think I got canceled? You're under the impression I got canceled? I thought that was pretty well documented," responded the actor. According to The Hollywood Reporter, Seinfeld ended his sitcom in 1998 and NBC in fact begged the actor for just one more season.
"Have I hurt you, Jerry?" said King in the clip, realizing his mistake. Seinfeld pushed back (with comedic timing of course), asking, "Is this still CNN?" The actor continued, "When I went off the air, I was the No. 1 show on television, Larry. Do you know who I am? Seventy-five million viewers [for] the last episode."
The awkward interview ended with King and Seinfeld laughing as the talk-show host attempted to go to commercial and Seinfeld asked producers to give King his resume. What may have been a gaff moment in 2007 is now a lasting funny memory of the late Larry King, with Twitter calling it "hilarious" and "legendary."
"This exchange with Jerry Seinfeld gets better all the time," ESPN's Matt Schick tweeted. "This really is one of the greatest moments in all of TV history," CNBC's Alex Sherman posted.