Jungkook From BTS Shows Off His New Look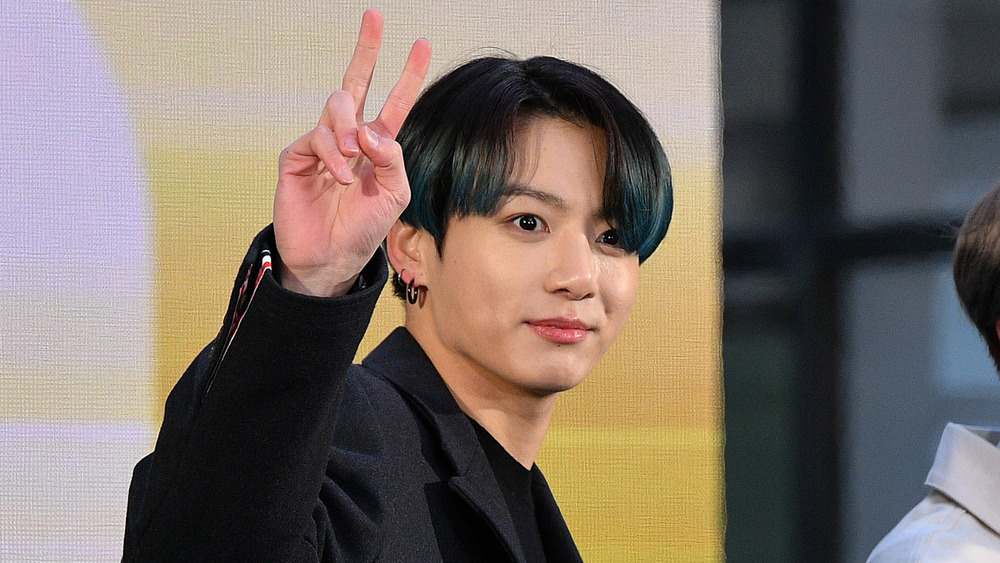 Dia Dipasupil/Getty Images
So far, 2021 is shaping up to be a stylish year for BTS. The K-pop group recently shared some exciting news regarding Louis Vuitton, and it seems one member is embracing the whole "new year, new you" concept with a fresh new look.
In late January 2021, the BTS Army was over the moon for the guys when the fashion giant announced that BTS was invited to a Louis Vuitton fashion show by Virgil Abloh at Paris Fashion Week, even receiving custom coffee mugs (as if the exclusive seats weren't enough!).
Now, fans are gushing all over again thanks to the makeover of band member Jungkook. He posted a selfie — a rare treat from the idol — to the group's official Twitter account, showing off his new look. And we must say that it gives him a certain edge he didn't have before. Let's take a look.
Jungkook's edgy new hairstyle is a total 180 from his previous look
BTS member Jungkook has ditched his dark locks to go bleach blond. His roots and brows remain dark, contrasting beautifully against his pale skin and the new lighter hue of his hair. In Jungkook's Twitter selfie, which, as of press time, had 2.2 million likes, he's giving a smooch to the camera and wearing a black coat with a crisp white T-shirt underneath as well as a necklace and an earring or two in his right ear. He's perched on a bed with white linens and a white headboard.
Some eagle-eyed fans noticed that the headboard looked familiar — and identified it as an IKEA product, the Leirvik Double Bed, per Pinkvilla. "Why does Jeon Jungkook, Grammy award nominated artist, sleep on the same $90 IKEA bed frame as me," tweeted one user. Another follower asked, complete with a crying-laughing emoji: "Okay, but how many army's have had or have had the IKEA bed. I HAD ONE FOR LIKE 10 yrs."
Regardless of the bed, Jungkook's hair is receiving near-unanimous praise from his fans. "Every little detail about him just pure perfection. JUNGKOOK MADE OUR 2021 BETTER," gushed a fan.
Well, we certainly can't argue with that.