Inaugural Poet Amanda Gorman's New Job Revealed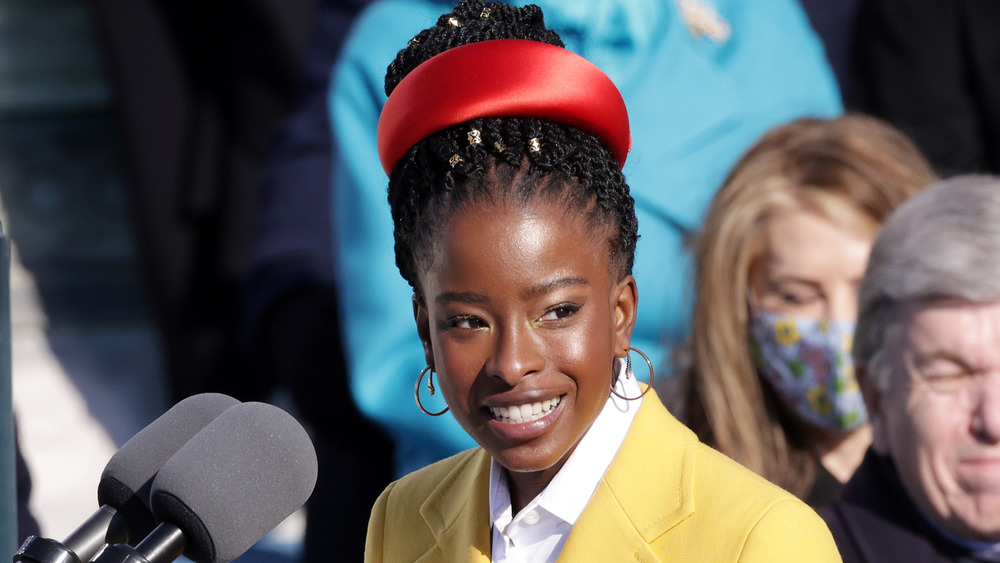 Alex Wong/Getty Images
While President Joe Biden and Vice President Kamala Harris were obviously the center of attention on Inauguration Day in January 2021, there were a few other attendees who stepped into the spotlight and, in turn, managed to stand out as stars of the political event. Along with the impressive sign language interpreters who delivered stellar performances, Amanda Gorman "[made] history as the youngest inaugural poet" ever, according to Page Six.
After Gorman's moving reading of her poem "The Hill We Climb," her "books ... shot to the top of Amazon's bestseller list," per Page Six. However, that wasn't the only thing that happened to the poet. "Following Inauguration Day, her social media footprint skyrocketed and she went from 7,000 Twitter followers to 1.4 million," according to The Hollywood Reporter, while "[o]n Instagram, she racked up north of 3.1 million followers and counting."
On top of that, both style-savvy viewers and the "fashion industry ... took notice thanks to a look by Prada and accessories including a caged bird ring and earrings gifted to her by [Oprah] Winfrey." Indeed, WWD noted that it merely "took five minutes for Amanda Gorman to take America by storm — both for her poetry and her Prada," making her "a new kind of style icon for fashion." That's surely why the statement-making "satin padded Prada headband" that was a part of her striking outfit sold out soon after the event, according to Vogue. With that kind of influence, it's no wonder that Gorman has landed a stylish new gig.
Thanks to her new gig, Amanda Gorman is in very stylish company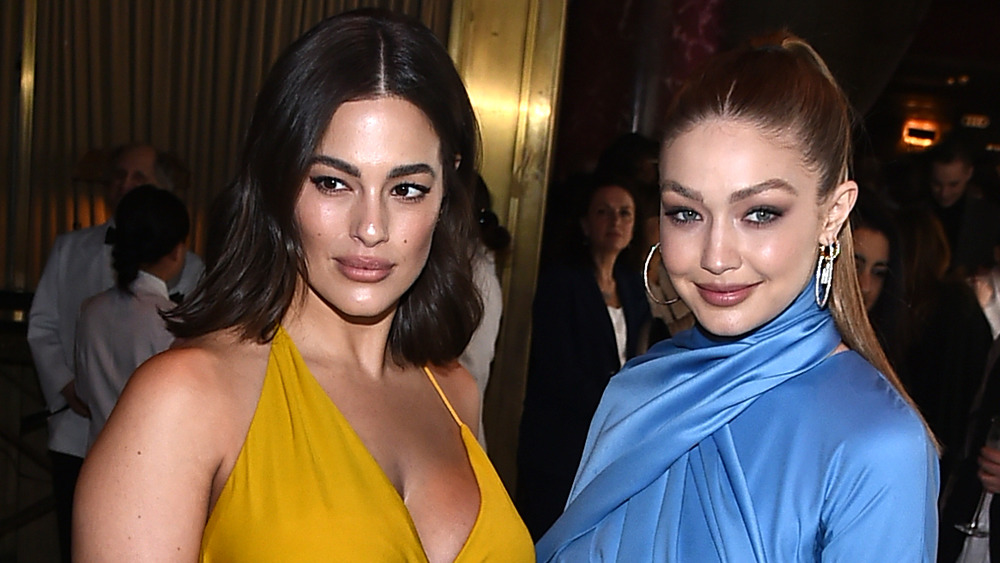 Theo Wargo/Getty Images
Amanda Gorman became one of the most famous poets in the United States thanks to her performance at the 2021 inauguration, which is why — along with her stunning beauty and style-savvy nature — she nabbed another impressive opportunity outside of the writing world or political scene. What exactly are we referring to? Well, the now-famous figure's "climb continues as the inaugural poet has signed with IMG Models," according to The Hollywood Reporter. THR explained that "[a]s Gorman's partner in the fashion and beauty industries, IMG Models will focus on building her profile through brand endorsements and editorial opportunities."
If you're not aware, IMG Models works with some of the top talent in the modeling game, including Ashley Graham, Gisele Bündchen, and Chanel Iman, as well as both Bella and Gigi Hadid. Gigi celebrated the news of Gorman joining IMG by taking to her Instagram Story (via Page Six) to write, "Werk @amandasgorman @imgmodels faaaaam! Major."
As for IMG, they announced on Instagram that they had offered Gorman representation and received a slew of comments in support of both the partnership and the poet-turned-model. "We love to see it," one person wrote along with a few enthusiastic emojis. Another social media user was just as (if not even more) thrilled, writing, "Omggggg this is officially the best day ever!!!"
Clearly, Gorman has big things ahead of her and we can't wait to see everything that she achieves!
Amanda Gorman has what it takes to be a top model
There's no doubt that Amanda Gorman is someone who's incredibly talented and seemingly destined to be a star. Along with being "a Harvard grad, National Youth Poet Laureate, and the youngest inaugural poet in U.S. history," she's also a "bestselling author," according to USA Today. However, she also clearly has what it takes to be a model. Along with having a captivating sense of style, her looks are totally camera-worthy.
Want proof beyond what you saw at the inauguration? Then just check out her Instagram account. That's where you'll find Gorman looking stunning in a headband (which could become her signature accessory) for an appearance on The Ellen DeGeneres Show. Refinery29 noted that she opted for "a yellow statement headband by Autumn Adeigbo, a multicolored tweed jacket and white pants by Chanel, David Yurman drop earrings, and a pair of yellow Christian Louboutin pumps." The outlet also pointed out that "With looks this good, Gorman is quickly becoming one of fashion's most exciting celebrities to watch."
That's obvious when you see Gorman looking fabulous during the holidays, looking beautiful on Halloween and even looking striking with stickers on her face while encouraging others to vote. Her IG also reveals that she already has experience in the fashion world. Just take a peek at Gorman when she was a virtual guest at Prada's SS21 show and when she posed with other "queens for the @nike [Black History Month] campaign." Yep, definitely a top model in the making!