Why Jimmy Kimmel's Comments About Jon Stewart Are Causing Such A Stir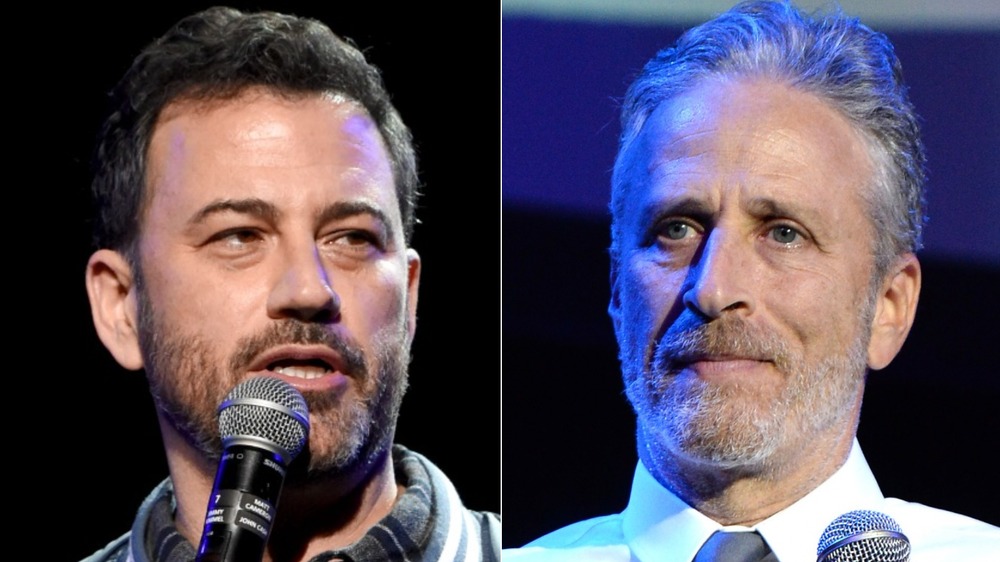 Kevin Mazur, Kevin Mazur/Getty Images
In January 2021, the social news aggregation platform Reddit was thrust into the spotlight in the most unexpected way. Amateur day traders flocked to the subreddit r/wallstreetbets, as they made plans to wage an epic battle against Wall Street's elite by buying up GameStop shares to push the stock's value, per CNN. Because Wall Street was so sure that GameStop would fail — a fact that appeared to be further underscored by the pandemic — it was seemingly an ideal target for Redditors. And as GameStop's value soared, Wall Street's bet against the stock began to cost investors billions of dollars, causing major uproar and proving that no one really understands quite how the stock market operates.  
Reddit vs. Wall Street broke into public consciousness in such a way that MGM has already snapped up book and movie rights to the events, per Deadline. Clearly, the saga is far from over, and now, late night hosts have also waded into the fray to share their thoughts on the controversy. On Jan. 28, 2021, after CNN reported that trading platform Robinhood would be limiting trading of the stock to "help customers stay informed," former Daily Show host Jon Stewart made a surprise debut on Twitter.
Let's just say that the comedian's posts have ruffled some feathers, including those of his peer and host of Jimmy Kimmel Live!, Jimmy Kimmel. Keep reading to find out what Kimmel had to say to Stewart and why his words are causing such a stir.
Jimmy Kimmel is being dragged for comparing Jon Stewart to Donald Trump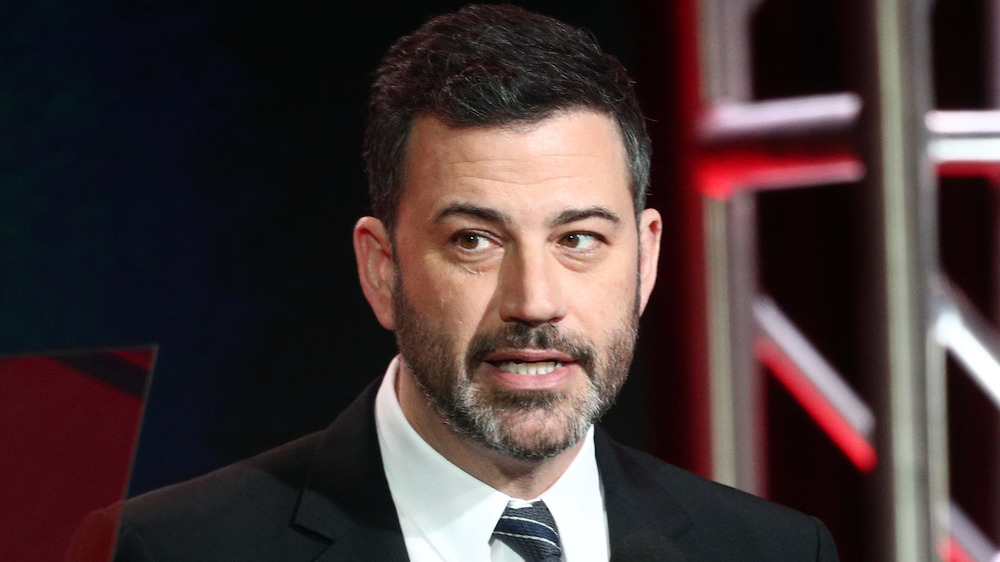 Frederick M. Brown/Getty Images
Did Jon Stewart join Twitter just to weigh in on the Wall Street drama? Maybe so, as the one-time host's first tweet on the platform highlighted his support for Redditors who have pushed the price of GameStop stock. "This is bulls**t. The Redditors aren't cheating, they're joining a party Wall Street insiders have been enjoying for years. Don't shut them down ... maybe sue them for copyright infringement instead!!," Stewart wrote.
Jimmy Kimmel seemingly disagreed with the ex Daily Show host and jokingly compared Stewart to former President Donald Trump, who became infamous for his controversial tweets and subsequent removal from the platform. "RealDonaldTrump? Is this you?" Kimmel wrote in a since-deleted tweet. Social media users were quick to slam Kimmel for attacking one of his own colleagues. "I think Jimmy Kimmel is the least funny existence known to man," one person wrote. Another person chimed in, writing, "He just needs to be canceled already. He's been on for way too long. why are they still paying him to be lame and corny?"
All that being said, Kimmel certainly isn't the only one who disagrees with Stewart. Responses to his tweet ran the gamut, from suggesting that the Redditors could be "sophisticated players" in disguise to cautioning that things wouldn't "end well." But Stewart seemed unbothered, both by Kimmel's barb and by the flurry his post generated. "So ... if I do really well on here I get to be President, yes?" he tweeted shortly after his initial tweet. It looks like Stewart's account is going to be a fun one to watch at the very least.