Why A News Anchor Abruptly Left During An Interview With The MyPillow Guy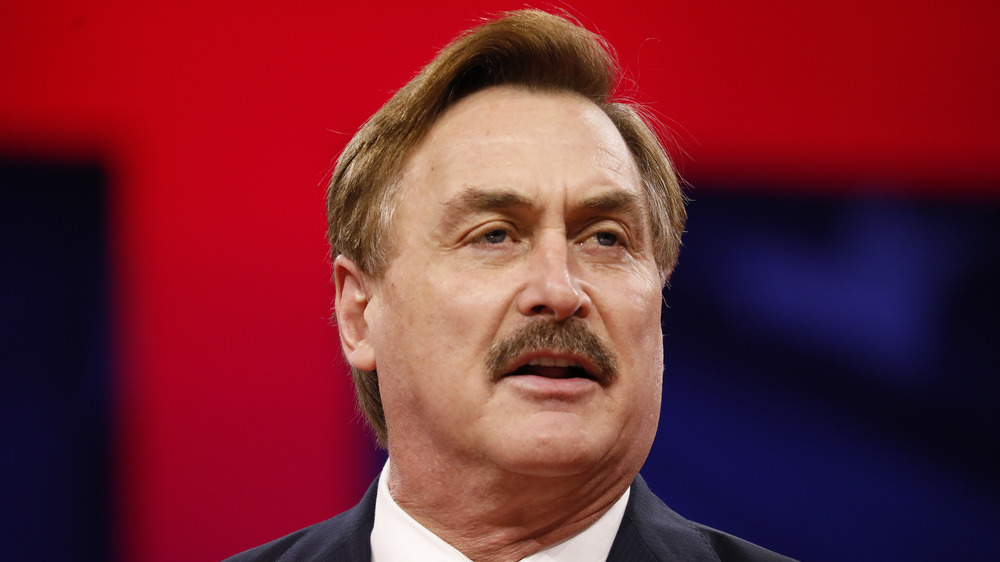 Bloomberg/Getty Images
For better or for worse, Mike Lindell, the former-crack-addict-turned-CEO of MyPillow, keeps making headlines. The longtime conservative Republican and fierce supporter of former President Donald Trump was recently the subject of rumors claiming that he and actress Jane Krakowski had a secret romance in 2020 — although both parties deny the rumors and claim not to know each other.
Now, people are raising eyebrows at the fact that Bob Sellers, an anchor for the conservative news outlet Newsmax, walked off the set during a recent interview with Lindell, according to The Daily Mail. In the wake of Lindell claiming election fraud and attacking Dominion Voting Systems, MyPillow was recently banned by retailers Wayfair, Bed Bath & Beyond, and Kohl's.
So, what could Lindell have done to upset a like-minded conservative so much that Sellers cut off the interview? Surely, Newsmax knew what they were in for by inviting the firebrand to chat on-air. Keep reading to find out what went down.
Mike Lindell refused to stay on subject
Bloomberg/Getty Images
During a filmed interview with Bob Sellers of Newsmax, Mike Lindell, the "MyPillow guy," started bringing up conspiracy theories regarding the 2020 presidential election — even though he was there to talk about the fact that Twitter banned the MyPillow corporate account for "repeated violations of [its] Civic Integrity Policy," according to The Daily Mail.
When Lindell said he had "100 percent proof" that Dominion Voting Systems had perpetrated voter fraud, he got into a debate with Sellers and his co-host, Heather Childers, who pushed back against his controversial claims. Things escalated into a shouting match quickly, and although Sellers tried to steer Lindell back onto the topic of Twitter, the guest wouldn't change the subject.
Clearly frustrated, Sellers said, "Can I ask our producers, can we get out of here, please? I don't want to have to keep going over this. Newsmax has not been able to verify any of those allegations," and then walked off camera.
We wonder if Lindell will ever be invited back...