Mike Lindell Just Got MyPillow Permanently Banned From Twitter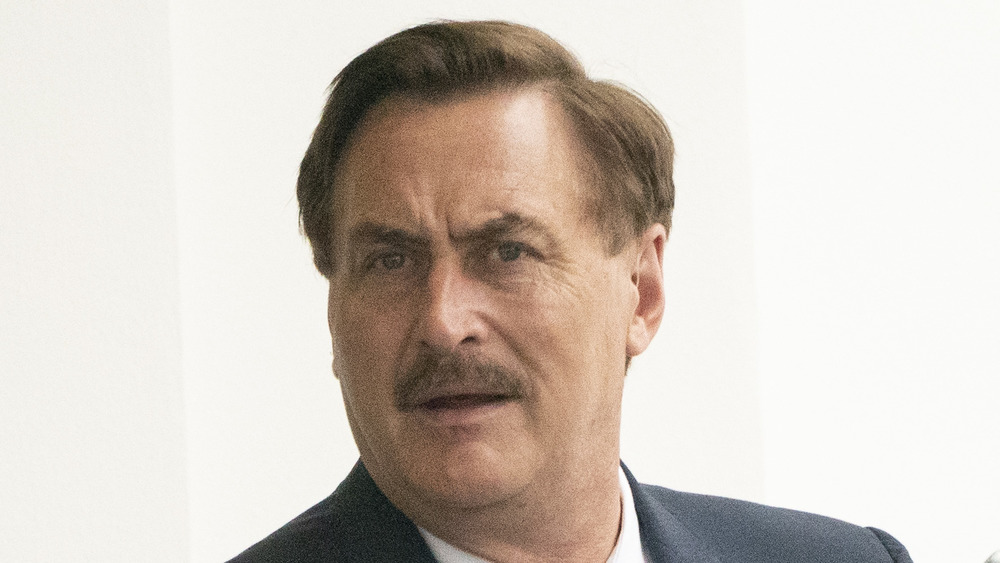 Bloomberg/Getty Images
Only weeks after MyPillow CEO and MAGA die-hard Mike Lindell met with former President Donald Trump with a list in hand to seemingly help him try to overturn the November 2020 election results, and days after Lindell himself was banned permanently from Twitter for spreading false claims of voter fraud, it looks like Lindell's company has, too, gotten the boot from the popular social media platform.
As MarketWatch reported on Feb. 2, 2021, Twitter banned the blue check-marked MyPillow corporate account over a series of tweets that — per what a spokesperson from Twitter said in a statement — overstepped the platform's "ban evasion policy." According to the site's own terms of use, which was last updated in October 2020, this includes "circumvent[ing] a Twitter suspension by operating, or having someone else operate on your behalf, an account which represents your identity, persona, brand or business persona for a different purpose."
So, what exactly did Lindell's pillow company do to get a permanent suspension from Twitter? And how did Lindell play a hand in it all? Unfortunately for the MyPillow CEO, it looks like it is, indeed, a pretty clear-cut case.
Mike Lindell tried to tweet through the MyPillow Twitter account after he got the boot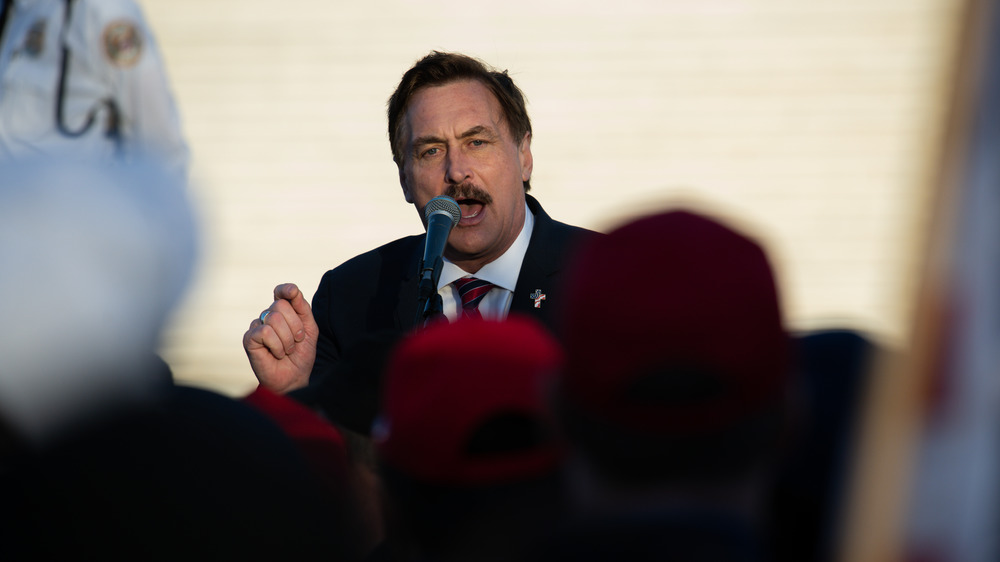 Bloomberg/Getty Images
According to MarketWatch, Mike Lindell — who previously made headlines for spreading misinformation about COVID-19 and providing bail money for alleged Kenosha shooter Kyle Rittenhouse — was more or less banned from Twitter twice over after a number of tweets posted to his company's official account appeared to be authored by the CEO himself. The majority of these tweets, which Lindell took authorship of via in-text parentheticals, accused Twitter founder Jack Dorsey of banning Lindell over a personal crusade against both Lindell and his unsupported accusations of voter fraud in the November 2020 election. 
"Thank you to everyone who has supported MyPillow during this time.....Jack Dorsey is trying to cancel me (Mike Lindell) out!" read one (now-deleted) tweet posted by the MyPillow company account. "We are extremely busy and hiring as fast as we can to handle all the shipping!" Lindell then wrote, adding that, "Jack [Dorsey] will be found out and should be put in prison when all is revealed!"
After the tweet was sent, a number of Twitter users quickly scolded both Lindell and the official MyPillow Twitter account for allowing Lindell to use the latter to circumvent his ban on the social media platform, per MarketWatch. "Why is @TwitterSafety allowing Mike Lindell [to] subvert his permanent suspension? It's beyond obvious," one person commented while retweeting a screenshot of MyPillow tweets seemingly authored by Lindell.
Mike Lindell's response to his Twitter ban mirrored tactics from Trump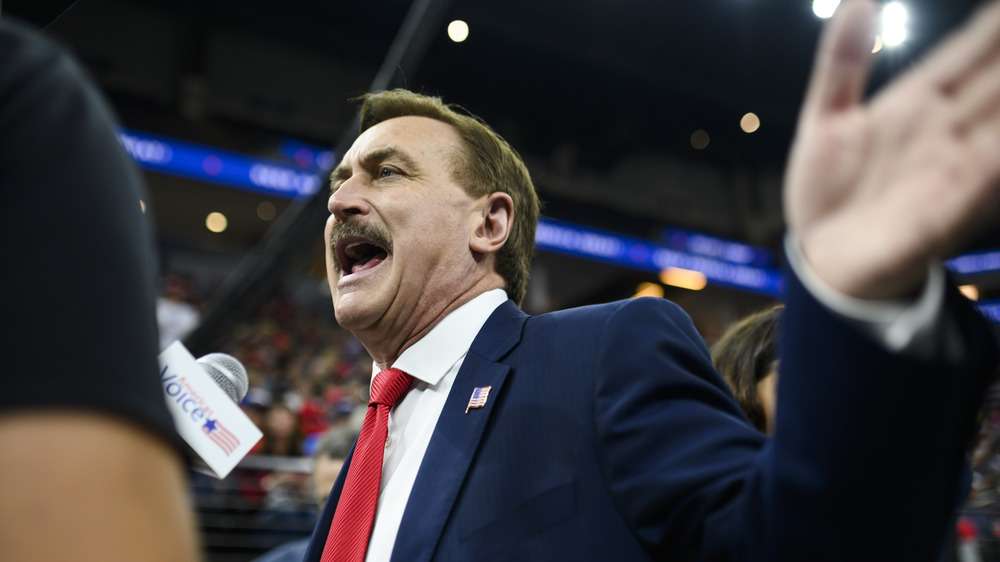 Stephen Maturen/Getty Images
MyPillow CEO Mike Lindell's move post-Twitter suspension (specifically, using another account as a proxy) is reminiscent of former President Donald Trump's own playbook after he was suspended from Twitter permanently following the Capitol Hill riots on Jan. 6, 2021. After Twitter's Trump embargo, the ex-commander-in-chief (who is now gearing up for his second impeachment trial) attempted to use official accounts related to the official @POTUS account, as well as the account Trump used during his 2020 campaign, in order to still access the site, per Reuters. (This occurred on Jan. 8, 2021, less that 24 hours after the Trump ban was enacted.)
In turn, Twitter swiftly shut down these accounts –  citing the same ban evasion policy they later utilized to abruptly cut off Lindell from access to the social media platform — and making Trump ultimately unable to access the site as a soapbox platform second-hand.
Twitter isn't the only media publisher to have recently shut down Lindell's false voter fraud claims. As The Hill reported on Feb. 2, 2021, the ultra-conservative network Newsmax — which has frequently been a feverish, collective supporter of Trump — notably tried to shut Lindell down during an interview after he continued to parrot the conspiracy that voting machine manufacturer Dominion Voting Systems participated in the widely disproven voter fraud allegations. The segment ended with a Newsmax host walking off set.