Why Jen Psaki's Old Tweet Is Causing A Stir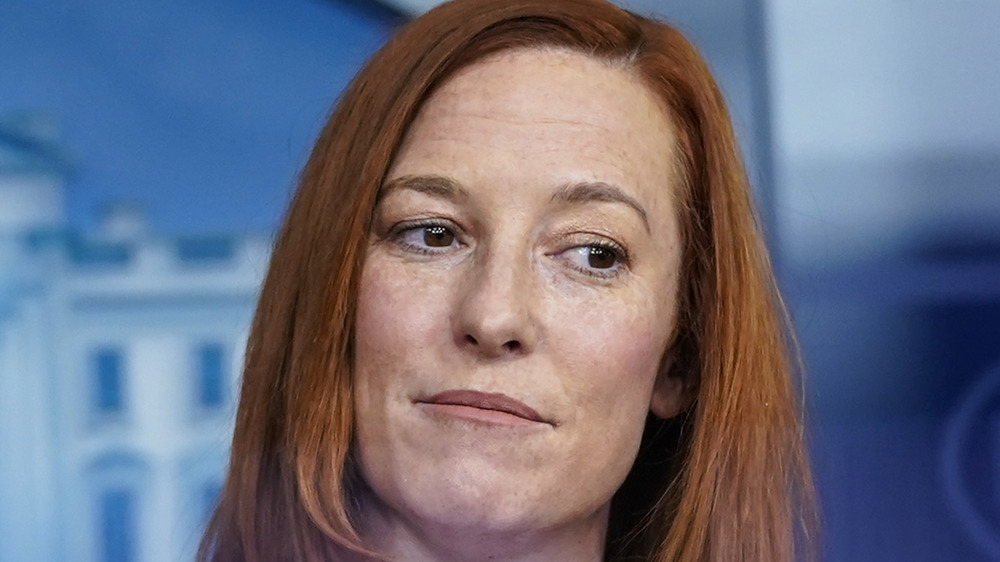 Drew Angerer/Getty Images
One of the most familiar faces of President Joe Biden and Vice President Kamala Harris' (all female, per CNBC) communications team would have to be White House Press Secretary Jen Psaki. Although it's not the most crucial role in the administration, the press secretary job is one of the most front-facing. During Donald Trump's presidency, former (and ever-rotating) contenders like Sean Spicer, Kayleigh McEnany, and Sarah Huckabee Sanders became household names during their tenures. And sometimes press secretaries make headlines for controversial reasons, with Psaki being no exception to this rule. 
During a February 2021 briefing, Psaki, who formerly served as Barack Obama's director of communications, was asked about whether Joe Biden was "keeping" the Space Force, an organization created by Congress under the Trump administration in 2019, per Politico. "Wow. Space Force. It's the plane of today," Psaki jokingly responded, with Star Trek and Spaceballs memes ensuing. The "quip," per the New York Post, was deemed "disgraceful" by some Republicans. (Tough crowd, eh?) Seemingly in response to the backlash, Psaki later tweeted, "We look forward to the continuing work of Space Force and invite the members of the team to come visit us in the briefing room anytime to share an update on their important work."
On Feb. 4, 2021, Jen Psaki landed herself in even more trouble after a tweet that had to do with South Carolina Sen. Lindsey Graham, a Republican, resurfaced. Scroll down to see the eyebrow-raising tweet for yourself, and why it has some people fired up.
Jen Psaki referred to Lindsey Graham's controversial nickname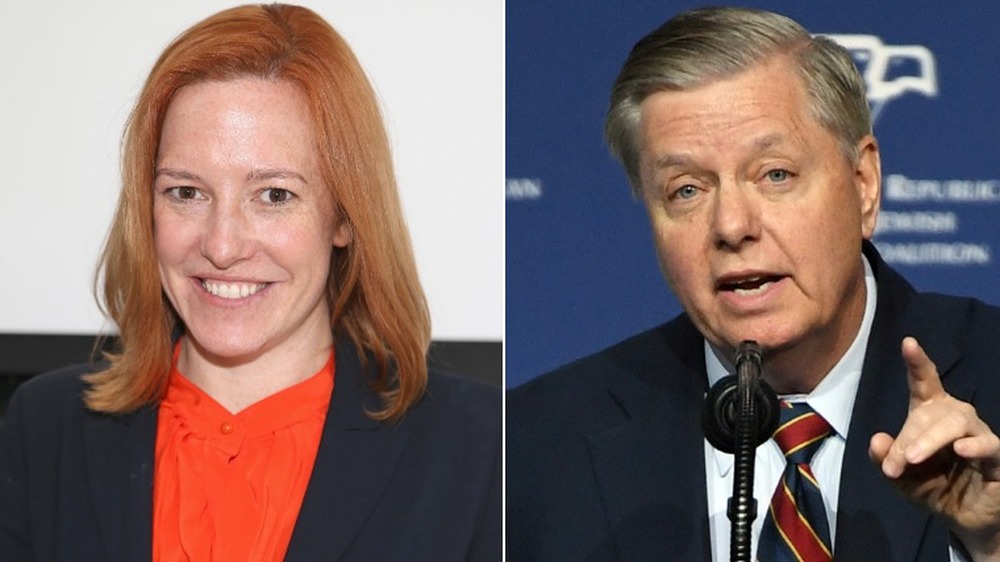 Paul Morigi, Ethan Miller/Getty Images
So why is White House Press Secretary Jen Psaki getting more backlash? According to the Daily Mail, a tweet from Aug. 5, 2020, has resurfaced, in which Psaki referred to senator Lindsey Graham as "Lady G." She wrote, "Only in 2020 does #LadyG get to push a bunch of debunked conspiracy theories while questioning @SallyQYates (aka an American hero)."
The tweet seems to address two things — Graham's controversial questioning of former Deputy Attorney General Sally Yates during a congressional hearing and a Twitter thread from adult film actor Sean Harding. In the thread, Harding alluded that "Lady G" is "Graham's alleged nickname among male sex workers," The Washington Post reported. (It's important to note that Harding's allegations are unfounded, by the way.) There have long been rumors about Graham's sexuality, as he is unmarried and single. "Americans have long expected their politicians to be male, cisgender, straight and married," The Washington Post said of the speculation.
Although Psaki is not the first figure to poke fun at Graham's singledom, her use of the nickname is getting backlash. "How in the world is this tweet still up?!" one Twitter user wrote. "Maybe a reporter in the White House briefing room will ask her about this someday," wrote another. Others called the old tweet "homophobic." Jen Psaki hasn't addressed the joke as of this writing, though if the criticism continues, that might change.
Jen Psaki has not yet apologized for the remark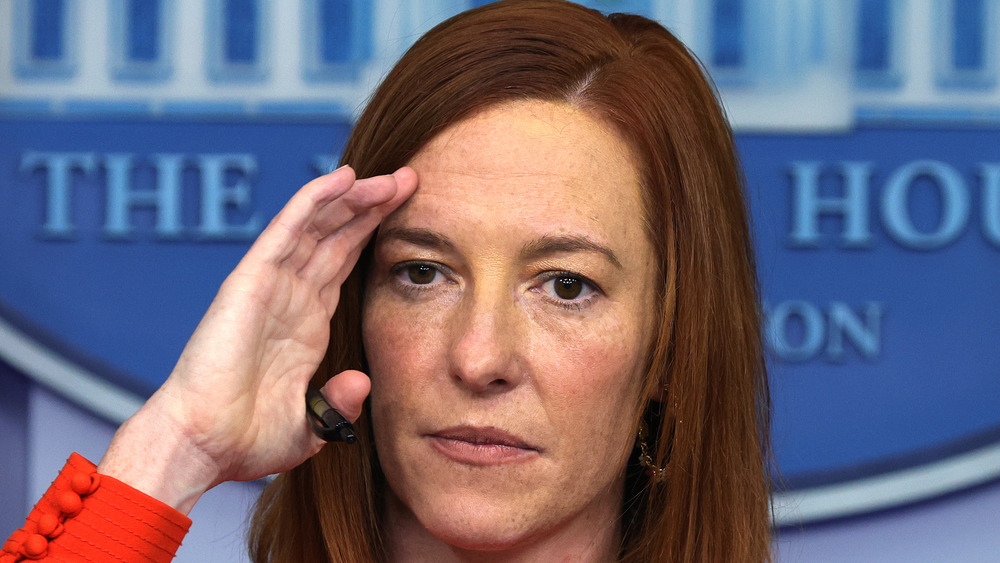 Alex Wong/Getty Images
Jen Psaki "has not addressed the recently unearthed tweet," according to the Daily Mail. But one person who has addressed the "Lady G." remark is a spokesperson for Lindsey Graham, who told Fox News, "Very disappointed someone in her position would embrace this style politics. It says more about her than it does about Senator Graham." 
Meanwhile, the allegations against Graham from adult film actor Sean Harding are pretty fiery. "There is a homophobic republican senator who is no better than Trump..." he tweeted in June 2020. "Every sex worker I know has been hired by this man." "Lady G is a very open secret here in DC," one user replied. Afterward, "#LadyGraham" went "viral," per The Washington Post. As for Lindsey Graham's reaction to the ongoing gay rumors? He told TMZ in 2018, "To the extent that it matters, I'm not gay." He also told Politico in 2015 that his single status didn't make him a "defective person by any means." 
As we noted earlier, Psaki has yet to apologize for the tweet (some have argued she shouldn't), but she's not averse to admitting when she's wrong. "What can I clean up today? And what should I say better tomorrow?" she told NPR about her work philosophy. "And that's kind of what I go through. To President Biden's credit, I mean, he kind of — he says, if you mess up, fess up. And if you, you know, don't have the answer, don't make it up. And I follow that."