What Most People Don't Know About Lindsey Graham's Love Life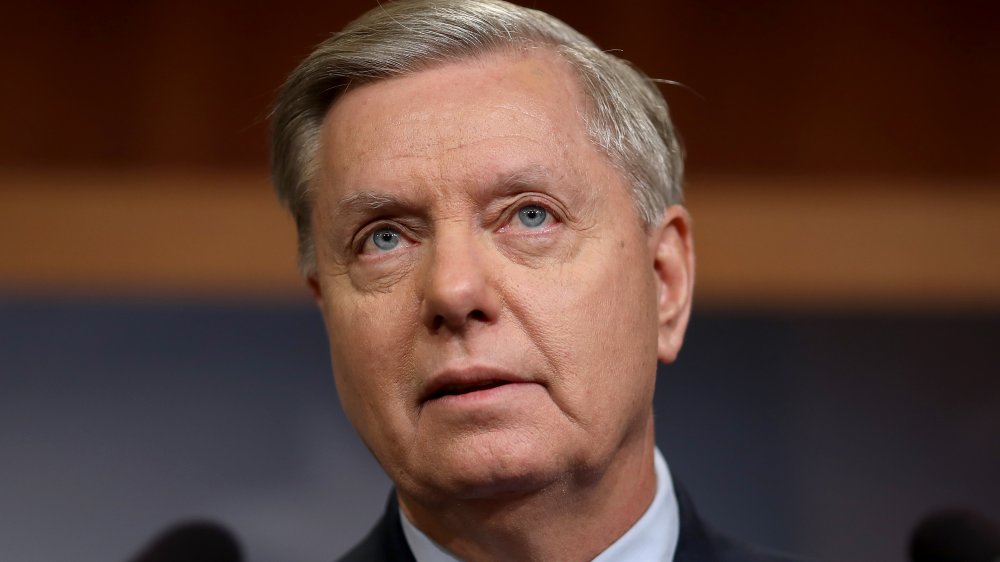 Win Mcnamee/Getty Images
Optics are extremely important in politics and, like it or not, there are some traits that political figures are expected, or at least preferred, to have. Much like (almost) every U.S. president has owned a dog in the White House, it's also arguably an unspoken rule that major politicians be, well, married. According to the Washington Post, there hasn't been a bachelor president in more than 100 years. Thus, while we're not saying everyone must be married (this isn't The Handmaid's Tale!) it's the norm in Washington. On that note, what's the deal with Lindsey Graham?
The South Carolina senator — single, never married (via Politico) — is currently fighting hard to keep his seat. While recently taking the lead over his Democratic opponent Jaime Harrison, per FiveThirtyEight, Graham's victory in November 2020 is by no means a guarantee. So isn't it worth asking if the longtime politician would have an easier go if he were a family man? From Abigail Adams to Nancy Reagan, some of our nation's greatest leaders have not only gained a wife through matrimony, but a savvy political partner — a queen on their chess board, so to speak. Jill Biden and Kamala Harris' husband Doug Emhoff, for example, have campaigned in Virginia, Maine, and more ahead of the 2020 presidential election.
Meanwhile, although Graham has never tied the knot, he apparently did get close once! And the story involves a foreign romance with serious Casablanca vibes. Scroll down to find out more about Lindsey Graham's love life.
Lindsey Graham almost married a woman abroad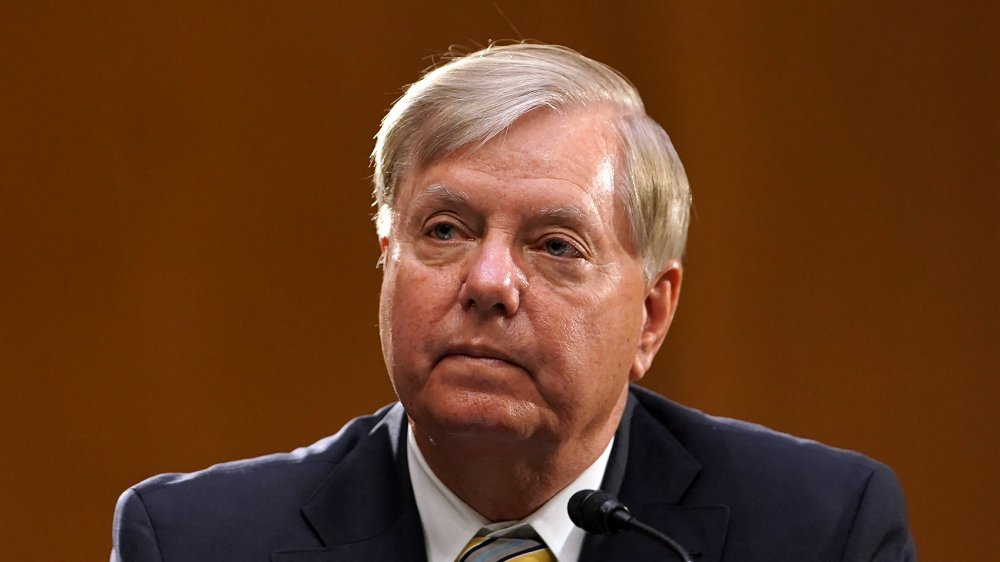 Pool/Getty Images
While Lindsey Graham has never been married, according to the senator, he did get close once. In a 2015 interview with The Herald, Graham said that, during his time at an Air Base in Germany from 1984 to 1988, he found — and lost — love. He was a lawyer in the U.S. Air Force. She was a flight attendant for Lufthansa named Sylvia. Apparently, Sylvia's roommate was also a flight attendant, who ended up marrying Graham's roommate. Meanwhile, sadly, the senator's "year-long courtship did not last," per the outlet. 
"Her mother was elderly, and I wasn't going to stay in Germany," he told The Herald. "I didn't think she wanted to come back to South Carolina," he added, saying that's the closest he's come to marriage. Beyond that, Graham has never issued an official statement on the romance. (Hmm. The whole thing has "she goes to another school, you wouldn't know her" energy, no?)
"At the end of the day, there's nothing wrong about not being married," Graham told Politico in 2015. "Having a marriage and a good family and children is a blessing. But I don't think I'm a defective person by any means." Meanwhile, the late John McCain, who was friends with the senator, told the outlet, "I know he's dated some attractive women from time to time, but I've never seen him get real serious." Well, Lindsey Graham is not "defective" for his singledom, but it appears he'll have to continue fighting his political battles solo.
Lindsey Graham joked his sister could 'play that role' of first lady one day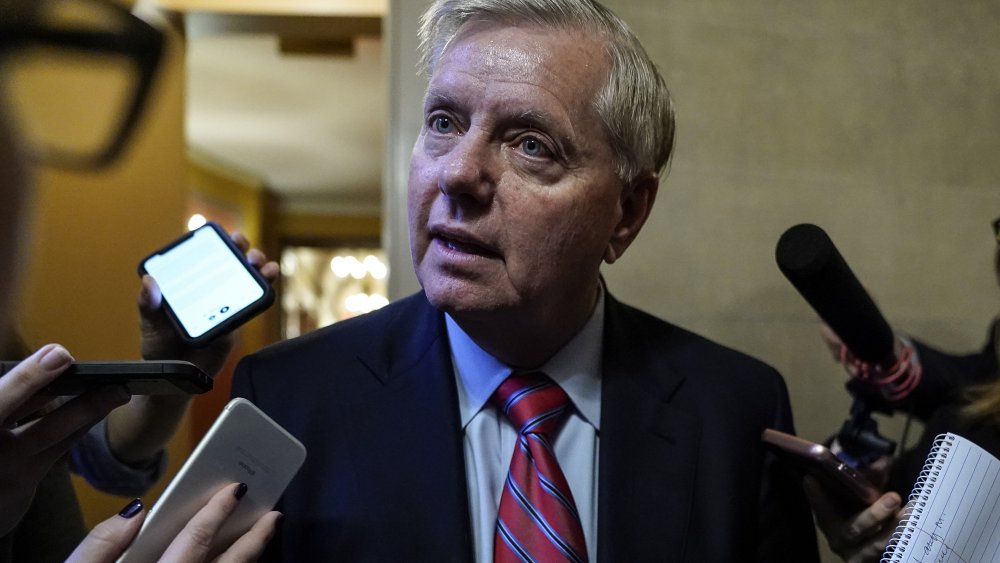 Drew Angerer/Getty Images
Meanwhile, if Lindsey Graham was ever a major party candidate, say, for president, there may still be a female presence in the White House. "Well, I've got a sister. She could play that role if necessary," the senator told The Daily Mail in 2015 when asked the "biggest unanswered question" about him as he took a stab at the 2016 Republican primaries. "I've got a lot of friends. We'll have a rotating first lady." How modern!
That said, per The Daily Mail, that would be difficult, as Graham's sister Darline, lives in their home state of South Carolina and is married with (at the time) two school-aged daughters. And that "rotating" comment soon rotated out of control, leading to a flurry of headlines and Graham assuring Politico soon after, "It was a joke."
But was it? While Graham was perhaps kidding about a potential First Sister, the comment was revealing. According to Politico, friends have said Graham's single status has "much to do with his complicated family life." It all stemmed from both of Graham's parents tragically dying within 15 months, back when his sister was a teenager and Graham was in college. The politician returned home on the weekends to care for her, even becoming her legal guardian. "She's played a big role in my life," Graham told Politico, reportedly getting emotional. While Lindsey Graham may be remain a bachelor, he's still clearly family oriented.