The Actors Union Has To Something To Say About Donald Trump's Resignation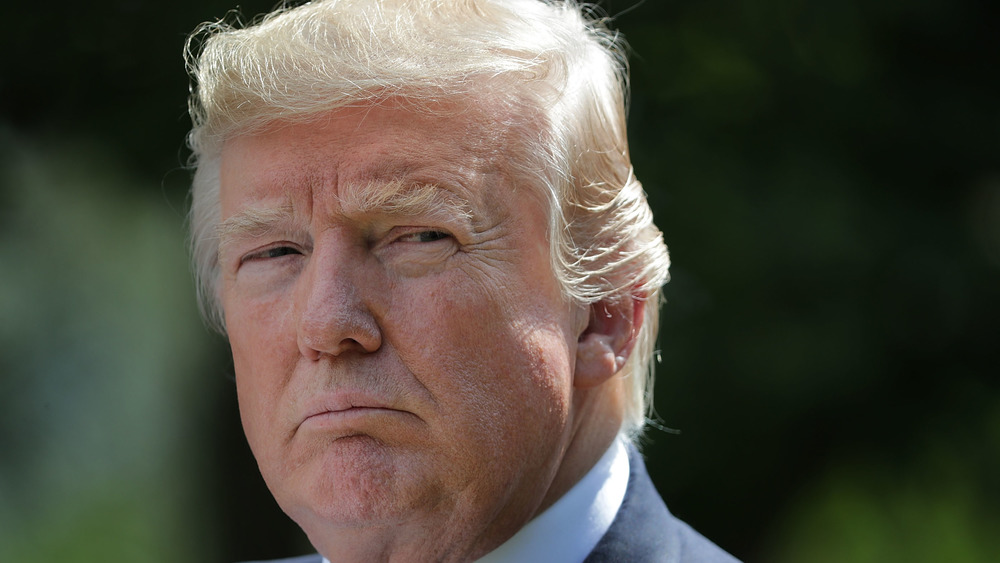 Chip Somodevilla/Getty Images
On Jan. 19, 2021, the Screen Actors Guild moved to expel former President Donald Trump. They charged him for inciting violence on the United States Capitol building earlier that month and for creating a misinformation campaign that threatened the credibility of journalists, and ordered a disciplinary hearing. "Donald Trump attacked the values that this union holds most sacred — democracy, truth, respect for our fellow Americans of all races and faiths, and the sanctity of the free press," SAG-AFTRA President Gabrielle Carteris said in a press release. "There's a straight line from his wanton disregard for the truth to the attacks on journalists perpetrated by his followers."
In response, Trump announced his resignation from SAG-AFTRA through a letter on Feb. 4, telling Carteris that he did not care about calls for expulsion (via Fox News). "I write to you today regarding the so-called Disciplinary Committee hearing aimed at revoking my union membership. Who cares!" the former president wrote. Trump also added that he was "proud" of his work on movies like Home Alone 2 and on television shows like The Apprentice which he hosted from 2004 – 2017.
The former president concluded his letter by writing, "Your organization has done little for its members and nothing for me — besides collecting dues and promoting dangerous un-American policies and ideas." He concluded, "I no longer wish to be associated with your union."
While Trump had probably thought or hoped his letter would be the end of it, the union responded. Keep scrolling to find out what they said.
The SAG issued an unexpected statement about Trump's resignation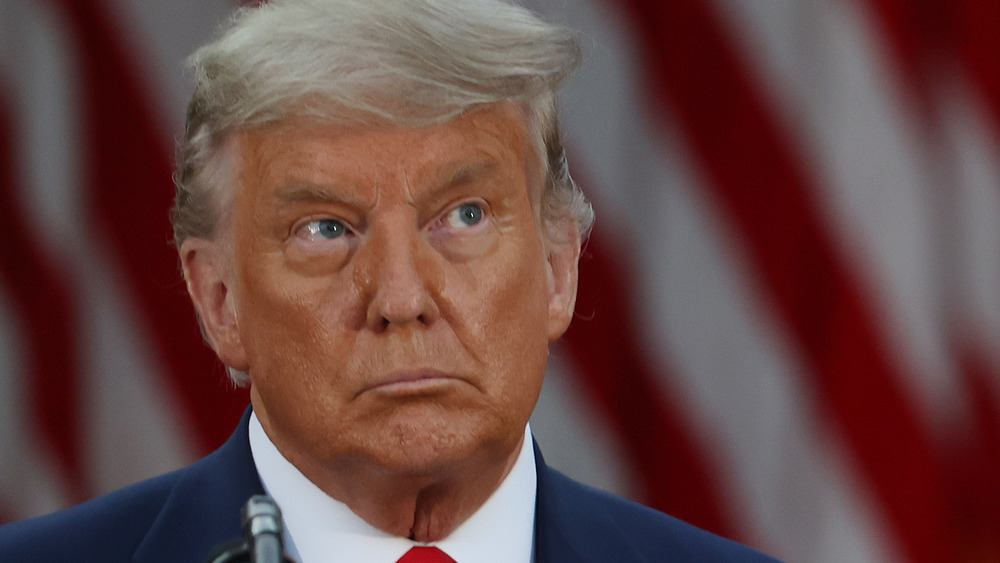 Tasos Katopodis/Getty Images
Before SAG-AFTRA called for Donald Trump's expulsion, the former president had been a member of the union since 1989, according to the Associated Press. The union's full name "stands for Screen Actors Guild – American Federation of Television and Radio Artists," and "represents over 160,000 actors, broadcast journalists, and other media professionals," according to Screen Rant. SAG decided to remove Trump as a way to protect the journalists and other media professionals whose jobs and livelihood were threatened by the former president's claims following the 2020 election.
It seems there was no love lost between both parties because, shortly after Trump released his letter to Gabrielle Carteris, SAG-AFTRA responded swiftly with a short but sweet statement, simply writing "Thank you." 
Trump shouldn't be too worried about being excluded from the television and film world if news of him creating a digital media empire are true. After all, Trump has hinted at some sort of a comeback after leaving office. While we don't know exactly what that comeback might look like, we do know it will be mounted without the involvement of SAG-AFTRA.