The Truth About The Scary Intruder At Suzanne Somers' Home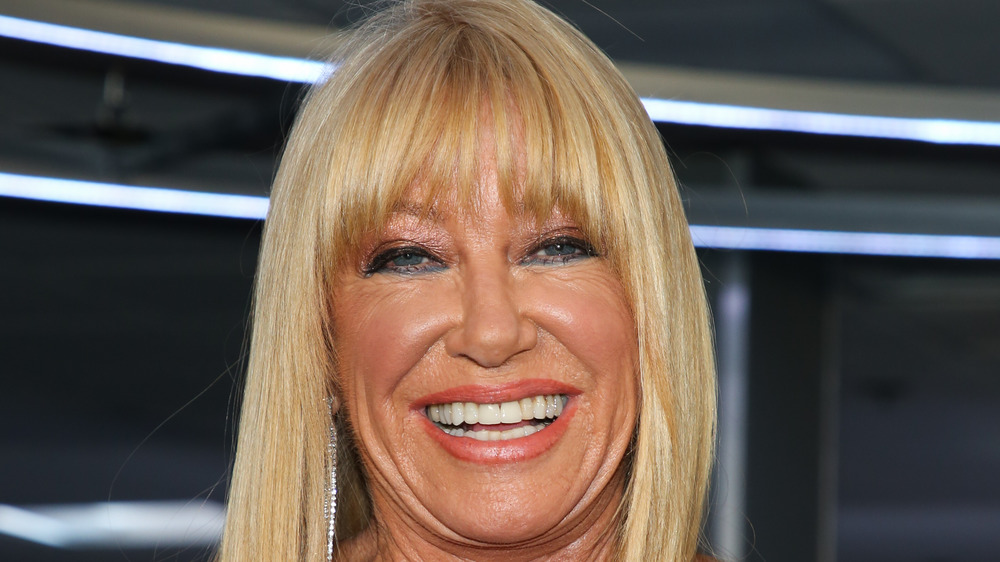 Paul Archuleta/Getty Images
Suzanne Somers' makeup livestream on Feb. 5, 2021, was interrupted by a home intruder. The bleach-blonde actress, author, and entrepreneur had been "doing a contouring demonstration for her organic makeup line" for fans on Facebook Live, per Page Six, when the Three's Company star began hearing noises. What happened next is both bizarre and truly frightening.
According to Deadline, Somers was recording the tutorial with husband Alan Hamel at their Palm Springs, Calif. home (which sits on 28 acres and was listed in Jan. 2021 for $8.5 million), when the disturbance took place. Though Hamel told his wife that the noise was "just a frog," Somers exclaimed, "I think I heard a voice." As Deadline reported, she then "turned to her left ... and viewed the intruder, who remained off-camera" and was "near-naked." When Somers asked the man in question, Aaron Carpenter, how he got in, he said "there were ghosts following me" and later added he had a "gift" for Somers. 
"You shouldn't be here. This is our house," Somers replied, encouraging the man to exit, while keeping cool, calm, and collected — all with the camera still rolling. She added, "You don't scare me." According to Page Six, the man was escorted out by crew members. Well, there's a new scary story for your next campfire. Scroll down for more details about Suzanne Somers' home break-in.
Suzanne Somers kept calm during the frightening disturbance
So, what else should you know about Suzanne Somers' home invader? According to Deadline, "police later caught up with the intruder" in the Palm Springs, Calif. area "and advised him not to trespass on private property, but no citation was issued." Afterwards, Somers commented under her Facebook video, "All clear and safe! Thanks for your concern." Fans shared their relief and praised Somers for her ability to stay calm. "Him saying he had a gift for her was super creepy," one wrote. "That is quite disturbing," said another. 
For her part, Somers later told Page Six she was "friendly at first," because she was "expecting dinner guests. ... [But] when he came closer, he barely had any clothes on." That said, since the intruder was "almost naked," Somers knew that he wasn't armed. The star added, "I had a few hundred thousand people watching, and I wanted to keep them calm." 
Meanwhile, husband Alan Hamel told the outlet that he thought the man "obviously got lost," saying, "Oftentimes people come to Palm Springs ... they go hiking, and they don't take any water ... He was very odd. But he wasn't threatening." Regarding her impressive poise, Somers added to Page Six, "I've written several books about being a child of an alcoholic ... one thing that happens ... you become crisis oriented. When things get crazy you want to be around someone like me."