Here's Who Played Vince Lombardi In The Super Bowl Preshow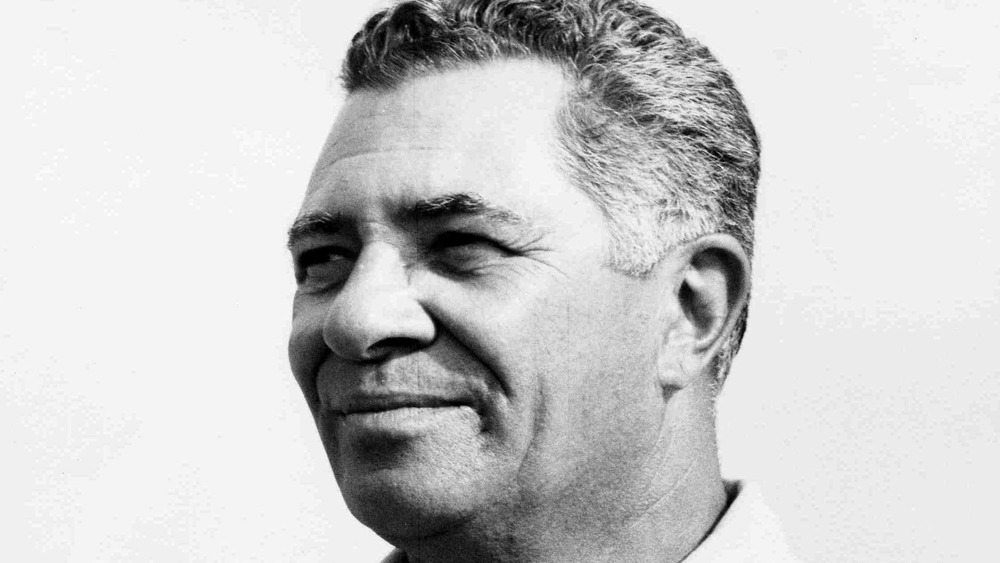 Nate Fine/Getty Images
The Super Bowl is full of surprises, and not just in the form of football plays. Fans tune in for the commercials, music, and celebrity appearances and special guests, too. 
The Weeknd headlined the 2021 Super Bowl, and rumors swirled for weeks that he would be bringing in a special guest during his longer-than-usual halftime show. Theories ranged from Doja Cat to Daft Punk.
The Super Bowl commercials pull in plenty of non-football fans each year. Some thought the 2021 ads wouldn't be as good as their predecessors, thanks to the COVID-19 pandemic making filming more difficult. However, one of the first spots to air definitely lived up to the hype and triggered a mix of strong reactions. 
The pregame message, which aired on TV and in the stadium, showed famed football coach Vince Lombardi walking through a modern America. Here's the catch: Lombardi died in 1970. Producers used a mix of historical footage and audio and newly filmed footage to create the piece, per CBS. What about the actor who played Lombardi? What's his story? Read on to find out.
The actor who played Vince Lombardi is a football fan
The opening message of Super Bowl LV stood against all the others. The use of special effects, modern actors, and historical footage of Vince Lombardi impressed all those who watched. Most impressive, though, was the actor tapped to play Lombardi. Russ Hutchison looked remarkably like the late great football coach. 
If you were one of the many who tried to find out who the look-alike was, then you very likely landed on his Twitter page, which includes the helpful bio: "Just finished filming Super Bowl LV commercial portraying the late great legendary NFL Hall of Fame coach Vince Lombardi." According to his website, Hutchison began acting at the age of 29 when he appeared in a Topeka Civic Theatre production. He's built a rather successful acting career, starring in a PBS production of Hound of the Baskervilles and landing a small role in Truman. 
Who's Hutchison rooting for in the Super Bowl? He's a hardcore Kansas City Chiefs fan. In fact, it's the whole reason he auditioned in the first place. "The only reason I put my name in the hat," he told KSNT, "was because Lombardi had a gap in his teeth."