Where Can You Buy The Jason Alexander Hoodie From Tide's Commercial?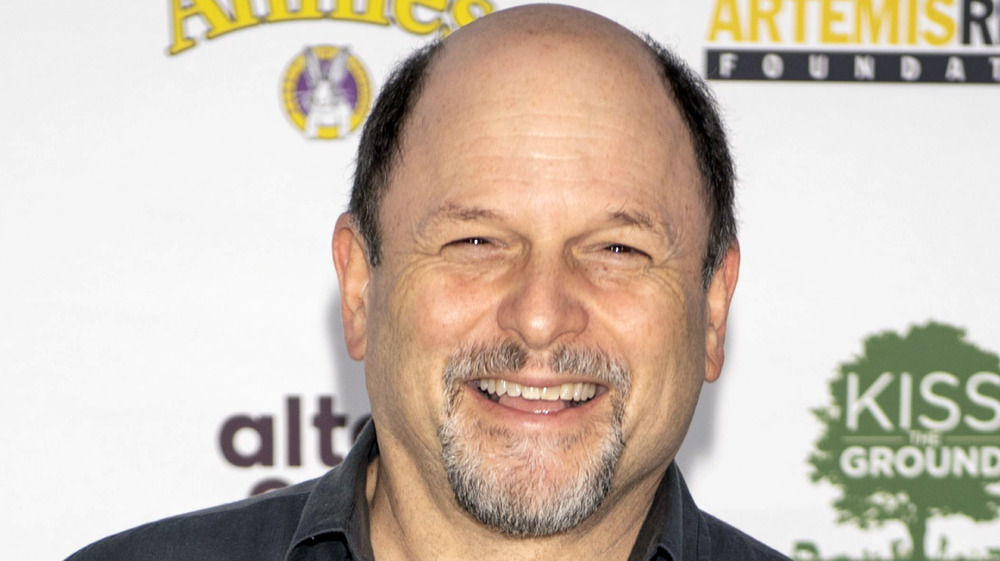 Michael Bezjian/Getty Images
On Feb. 7, 2021, Super Bowl LV showcased some pretty hilarious, nostalgic, and downright quirky commercials. One commercial in particular that is stealing the show, though, is Tide's detergent pod commercial that features Jason Alexander, the actor best known for playing George Costanza on the hit sitcom Seinfeld — well, his face, we should say. The commercial is all about a teenage boy's "Jason Alexander hoodie," which features the actor making his character's iconic "disgusted" facial expression. Classic.
The commercial starts off with the boy's mother telling him, "You have to wash Jason Alexander hoodie," to which he responds, "It looks clean to me." The mother hilariously retorts, "Is it, though?" which sets up a series of gross incidents involving the hoodie, including a dog drooling on it, chewed gum falling on it, smelly gym socks being thrown on it, and much more. It concludes with the boy using Tide's power pods to wash it and the mother remarking, "You owe Jason Alexander hoodie an apology." Even Alexander himself makes an appearance at the end to shout at the boy, "Hey, that's my face! You can't just wear my face!"
The commercial had just the right amount of humor and Seinfeld references to make it a hit, but it seems people are more interested in getting their hands on a "Jason Alexander hoodie" of their own than some of the detergent pods themselves. So, can you buy this unique hoodie and if so, where? Keep reading to find out the details.
You can't buy the Jason Alexander hoodie yet — but you can win one!
Considering the commercial was intended to sell detergent and not a hoodie with Jason Alexander's face on it, you cannot buy the exact hoodie yet. However, Seinfeld fans can rejoice knowing there are a few hoodies out there that serve as an ode to the lovable character George Costanza. According to Elite Daily, there's a hoodie with George in his memorable Gore-Tex coat printed on it that you can buy from Redbubble. There's also a "Summer of George" hoodie available at Teepublic, or you can shop their "I Think It Moved" hoodie. There's even a "It's A Festivus Miracle" hoodie available at Pinmart.
A lucky few, however, can win one of Tide's limited edition "Jason Alexander hoodies" by donating to the brand's newly launched fundraiser. "You asked, we delivered. Tide is giving away a limited supply of the same hoodie from our Super Bowl LV commercial," Tide wrote on the giveaway's homepage. "All you need for your chance to win is to contribute to a good cause. Believe it or not, doing a little good can be a lot of fun." As the site explains, "All contributions will be split evenly between Feeding America® and Matthew 25: Ministries to help families in their time of need." Fans only have until Feb. 10, 2021 at 11:59 p.m. to enter! It looks like this viral ad will bring in plenty of money for those whom the charities serve.
Jason Alexander dished about his Tide commercial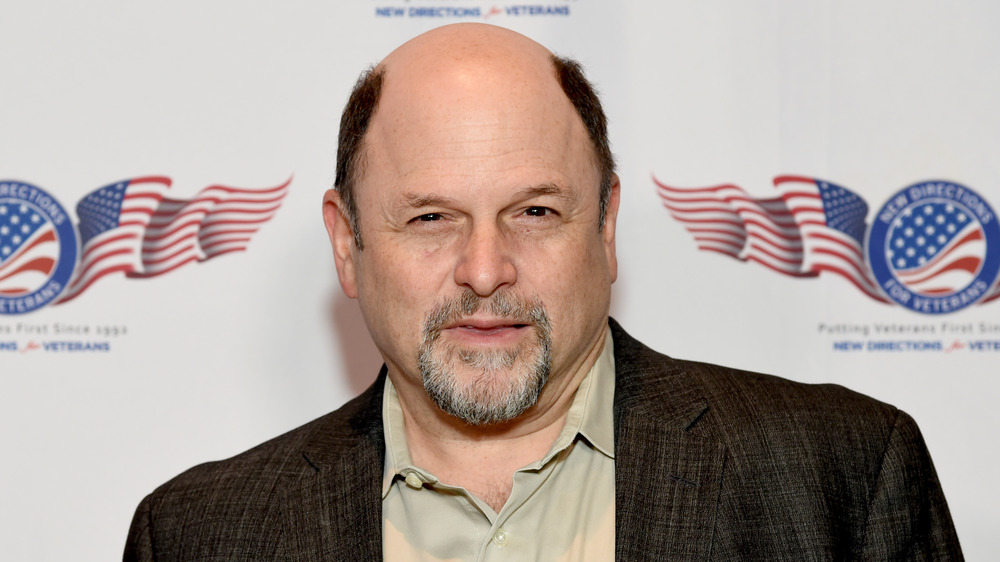 Michael Kovac/Getty Images
While acolytes of the classic sitcom Seinfeld might be grappling to get their hands on the now-iconic Tide commercial hoodie featuring Jason Alexander's ever-changing facial expressions, what does the actor himself think of the fracas? According to a January 2021 exclusive with People, which was published before the commercial aired during the Super Bowl on Feb. 7, the man most commonly linked to his character George Costanza finds the situation "flattering." 
"It's kind of like when you're doing a TV show and they give you the best slot in television," Alexander said of the matter during the interview with the magazine. "So to get one of those is, first of all, it's great. But second of all, it's really flattering to be thought of as someone that can satisfy that audience, because it's very large, and there's a lot of competition for who had the best spot that day."
Alexander, who acted in the commercial by providing a series of shots featuring his face in various stages of disgust, surprise, and even delight, also shared his experience in participating in the Tide commercial shoot. "I think I've used every facial muscle I have to create those expressions," the Seinfeld actor recalled, adding that the process was a little more grueling than meets the eye. "I think there are maybe a dozen expressions in the finished commercial, but I can tell you that there were close to 1,500 photographs taken in that one day."