Who Plays Don Cheadle's Lookalike In The Michelob ULTRA Ad Might Surprise You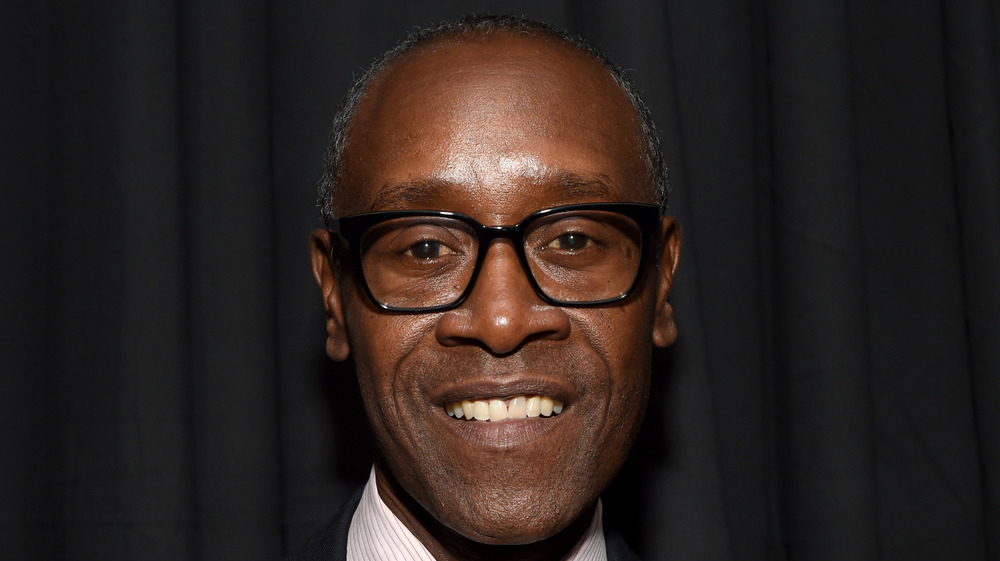 Michael Kovac/Getty Images
Actor Don Cheadle calls out celebrity copycats and wannabes in Michelob ULTRA's Super Bowl 2021 commercial. The playful ad begins with different shots of people who are supposed to look like Serena Williams, Sylvester Stallone, Lucy Liu, Megan Fox, Maluma, and Usher. A voiceover says, "Who knows what goes through their minds when the stakes are this high, when their legacy is on the line," followed by these lookalikes saying they simply want a low calorie, hard seltzer during such troubling times. 
The commercial then shows Cheadle riding a zipline from a helicopter to a private yacht, saying, "In a world where most things seem real, sometimes they're not." When he lands on the boat, he confronts a lookalike turning the pages of a script who then gets super excited to be meeting the real life actor. 
While all the actors in the commercial look strikingly similar to the real-life celebrities they play, Cheadle's lookalike bears a close resemblance for a surprising reason. Keep reading to learn the shocking person who plays Don Cheadle's lookalike in the Super Bowl LV Michelob ULTRA ad.
Don Cheadle recruited someone very close to him to play his lookalike
Don Cheadle's lookalike in the Michelob ULTRA ad is none other than his own brother, Colin Cheadle. In a February 2021 interview with Fox News, Don said working with his brother for a Super Bowl commercial was the "super icing on the cake" and that it was something that he never believed would happen. He also admitted that his wife was the mastermind behind casting Colin to play Don. "[I remember] my wife pulled up a picture of us standing next to each other and going, 'They need somebody that looks like you. How about this dude?' I was like, 'Oh, yeah. That makes sense.' And thankfully, the brand was on board. Now I get to be in a Super Bowl commercial with my brother, which is amazing."
Furthermore, Don was ecstatic to be featured in a Super Bowl commercial during a time period in which many could use some positivity in their lives. "People have always been into this particular game, and it's always held a special place for everybody who watches sports ... and this particular one is going to be amazing," he said. "It's just a great time, and it's a nice way to have three hours away from everything else. And then you can drop back and remember about COVID again and everything else that we're dealing with. So it's a good distraction."