How Jill Biden Is Making Valentine's Day Special At The White House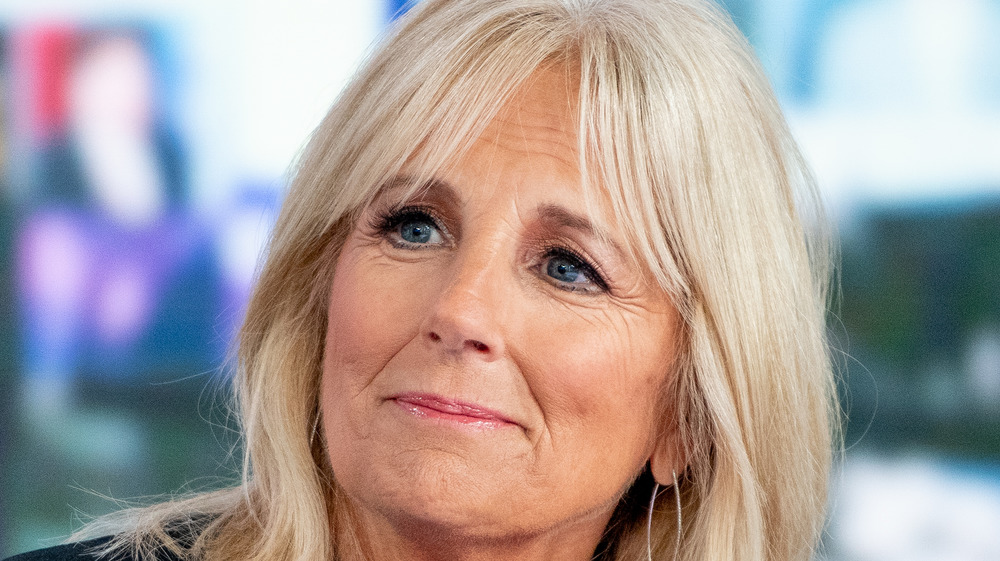 Roy Rochlin/Getty Images
It looks like first lady Dr. Jill Biden is putting her own spin on her role in Washington D.C., and is settling into the White House with ease. In an effort to spread some love for Valentine's Day 2021, the professor decorated her front lawn much like the heart-covered cork boards some might remember from their days in the classroom. "Healing, Courage, Love, Compassion, Gratitude, Peace, Amor, Strength, Kindness, Family, Unity," she wrote on Instagram with photos of her heart-shaped lawn décor featuring the words of positivity mentioned by the first lady. She hand-painted, "Love, Jill," on one of the decorations for a more personal feel.
Of course, her Instagram followers praised her creativity and act of kindness, with one user commenting, "Cause a LADY fulfills her duties with LOVE. And class. Yes, Doctor!" Others pointed out her teacherly touch, with one person writing, "This looks like a teacher designed this," while another added, "This is what happens when there is a TEACHER in the White House." Aside from wanting to share the love, Valentine's Day holds a special place in the first lady's heart.
Valentine's Day is Jill Biden's favorite holiday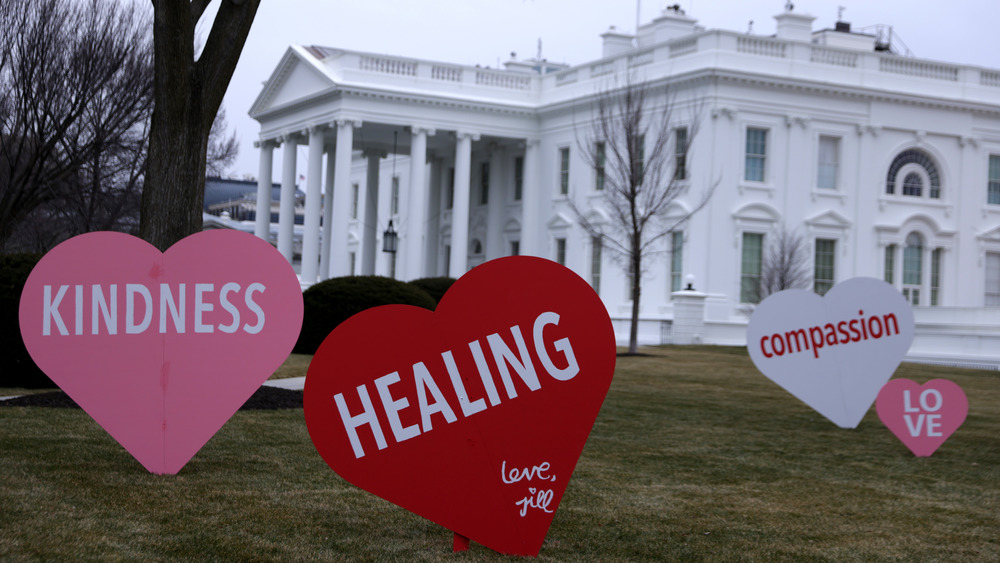 Alex Wong/Getty Images
With a heart as big as first lady Dr. Jill Biden's, it's no surprise she has the utmost regard for the holiday of love. "Valentine's Day is a big. Jill's favorite day. For real," President Joe Biden told reporters, as he and his wife admired their lawn decorations while walking their dogs and sipping on their morning coffee. As for what he got the first lady for the special day, he said he's keeping that a surprise.
However, Jill said the White House décor goes far past her love for the holiday. "I just wanted some joy," she told reporters about her inspiration for the festive heart design, and while first ladies are traditionally in charge of handling holiday decorations, she seems to be the first one to go all out for Valentine's Day, per E! News. "With the pandemic, just everybody's feeling a little down. So, it's just a little joy. A little hope. That's all," she explained. If her decorations made you smile, then the clip of the president handing off his coffee to a reporter sure will too.