90 Day Fiance: What Russ And Paola's Relationship Is Like Today
Russ Mayfield and Paola Mayfield were one of the original beloved couples from Season 1 of TLC's 90 Day Fiance. The couple originally met in Paola's native Colombia when Russ was visiting for work and fans were able to watch them grow on the show, and witness how cultural differences often caused rifts in their relationship.
Originally, when Paola moved to the United States she stayed with Russ Tulsa, Okl., which was a culture shock to the Colombian. "A realization for me was bringing Paola to Oklahoma, and how naïve I was in that moment, but I wouldn't change anything," he told Good Housekeeping in 2019 after Season 4 of 90 Day Fiance: Happily Ever After aired.
In order for Paola to pursue her modeling career, and to be closer to a larger Latin community, the married couple moved to Miami, Fla., as per ScreenRant. After spending a few years in the Sunshine State the couple was ready for a change of scenery. In December 2020, Paolo posted a photo on Instagram with the caption "Bye bye Florida." Both Paola and Russ made posts in several cities, including Tulsa and Colorado Springs, but the couple made no indication where they intended to put up a full-time residence.
Despite the geographic mystery, that hasn't stopped Russ and Paola from expanding their family.
Paola Mayfield's sultry pregnancy photos caused a stir
After Russ Mayfield and Paola Mayfield's appearances on 90 Day Fiance and the subsequent spin-off shows, they began to each grow a large online following. The Colombian bombshell started to garner additional online attention in 2018 when she became pregnant with the couple's first child. Paolo had posted several salacious photos flaunting her curvaceous figure during pregnancy. In a November 2018 Instagram post, she addressed the haters.
Paola took a bathroom video selfie while sporting a tiny cropped tank top that showcased her belly and hugged onto her chest. "No, I'm not worried what my kid's friends will say about me when they see my photos or videos," she wrote in the lengthy caption.
When speaking to Us Weekly in May 2018, Russ had mentioned wanting to add more children to their family, but Paola was adamant that she was fine with just one. "I need a break ... I'm done," she jokingly told her husband. The model and influencer seemed to change her tune in June 2020. A fan commented on a family photo (via InTouch) that Axel "needs a sister or brother." Paolo responded, "He does!!!"
One factor that made the Mayfields hit the pause button expanding their family was Russ' job situation.
Who is the breadwinner in the Mayfield family?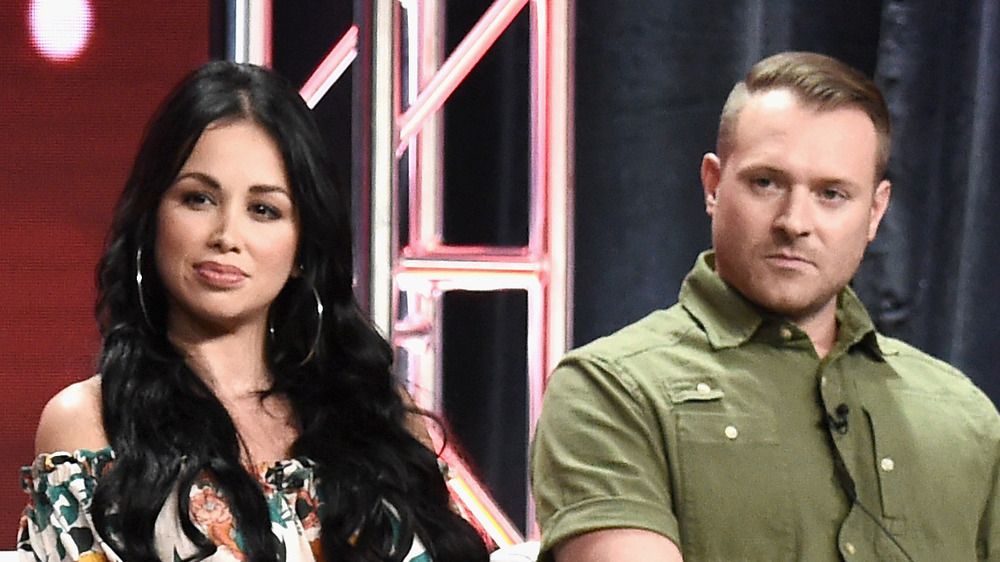 Amanda Edwards/Getty Images
Enough time had passed for Paola Mayfield after having baby Axel Mayfield that she seemed ready to have another kid, but a sticky job situation for her husband Russ Mayfield got in the way. In December 2020, Paola appeared to be the breadwinner in the family. The fitness trainer posted an adorable snap of her and Axel on Instagram and one follower asked if Paolo wanted more kids. "I do, but someone has to work," she replied (via Soap Dirt).
Both Russ and Paola use Instagram to engage with their fans, and one of the Colombian beauty's income streams is as an online influencer. She has come under scrutiny for showcasing her curves in revealing outfits and defended herself by firing back at one Instagram user who questioned her choice of outfits. "Do you know I am a personal trainer? What you see is what I sell, a body who lives a healthy lifestyle, who loves working out, who love[s] motivating people to make healthy choices," she wrote (via InTouch). 
The lovable family appeared on 90 Day Fiance: Self-Quarantined during the early months of the COVID-19 pandemic. Russ noted that initially, it was great to have free time together, but eventually, it took a toll. "This quarantine started off nice to the point we all get to spend time with each other and it's bringing the family closer," he said as per InTouch, "But then over time, it's starting to wear and tear on us." We're sure plenty of viewers relate.