The Truth About Lil Kim's Controversial VMAs Outfit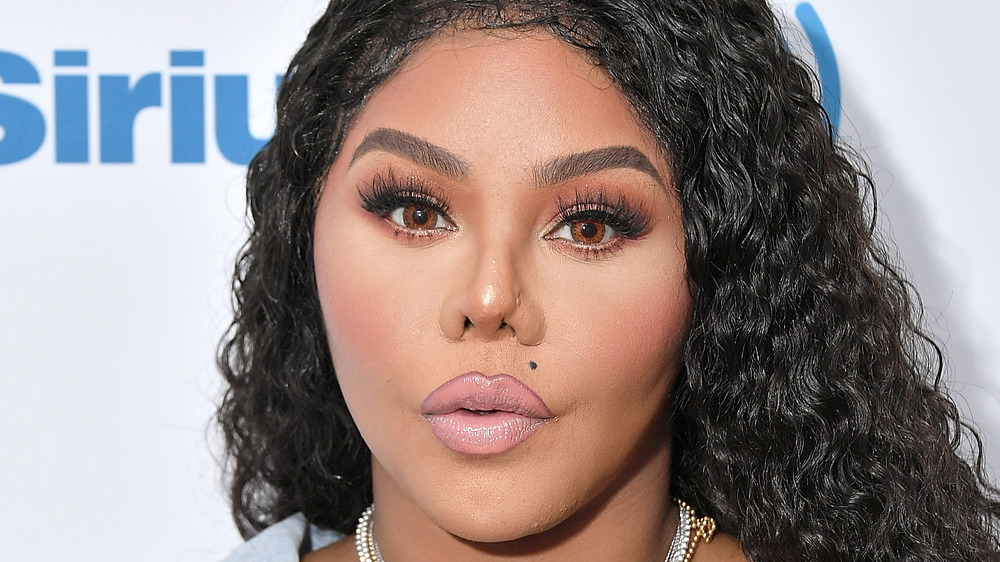 Michael Loccisano/Getty Images
These days, Cardi B, Nicki Minaj, and Megan Thee Stallion are among the leading ladies of hip-hop. But once upon a time, it was Lil' Kim who was the undisputed "Queen Bee" of rap. Fans couldn't stop talking about her music, her relationships, and her looks. While many fans now focus on the (arguably drastic) cosmetic procedures that Lil' Kim has undergone over the years (which apparently damaged her career), Lil' Kim used to cause much more of a stir with her fashion choices. And there's no denying that her most famous outfit is the one that she wore to the MTV Video Music Awards back in 1999.
Misa Hylton was the stylist responsible for the memorable VMAs look, which "featured a one-sleeved jumpsuit made of an iridescent, sheer, lilac Indian bridal fabric with silver and purple seashells embroidered throughout" as well as a "bell sleeve," according to PopSugar. However, the ensemble — which was topped off with a lavender wig and glittery Steve Madden heels — stood out for another specific reason. That's because Hylton opted to leave "left one breast exposed, and covered Kim's nipple with a seashell pastie cut out from the extra fabric."
"I wanted to make something really ornate and feminine and pretty, to offset the fact that she had one breast out," Hylton explained to PopSugar. But why did the rapper have a breast out in the first place? Well, it turns out that the decision to bare a boob was inspired by something that another celebrity said to Lil' Kim.
Lil Kim's famous VMAs look was a result of a joke and a mistake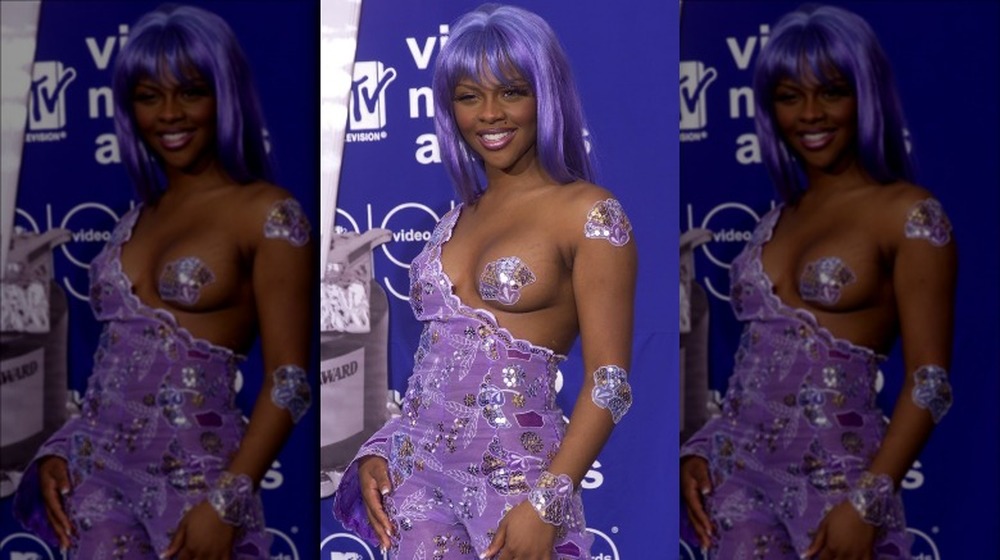 Scott Gries/Getty Images
When Lil' Kim showed up on the red carpet at the 1999 MTV VMAs in a breast-baring jumpsuit, the look (understandably) stirred up some serious reactions. However, it turns out that the initial idea for the outfit was a nip-slip joke made by fellow star Missy Elliott. While opening up about her iconic look on BET+'s American Gangster: Trap Queens (via People), Lil' Kim revealed, "The girls used to laugh at me and Missy said, 'Girl, your nipples pop out so much. One day, you need to just come outside with one nipple out." Apparently, while the others were left laughing, stylist Misa Hylton's "lightbulb went off and she just went from there."
As for Lil' Kim's matching wig, well, that was actually a mistake. While the wig was meant to be blonde, the star explained that the hairstylist "oversaturated something and the whole blonde wig came out lavender." Although there was a bit of a panic due to the fact that they "were literally 45 or 30 minutes away from showtime," Kim recalls that Hylton apparently soothed the situation, saying, "Did you say lavender? Kim's outfit is lavender. It's perfect!" As for Lil' Kim, she noted, "I'm always with the s**t. I was like, 'Let's do it! Put it on me.' I'm always excited to see what I'll look like in different colors."
What the team ended up with was a look that will forever be a part of VMAs history.