The Truth About Megan Thee Stallion's Rumored Boyfriend, Pardison Fontaine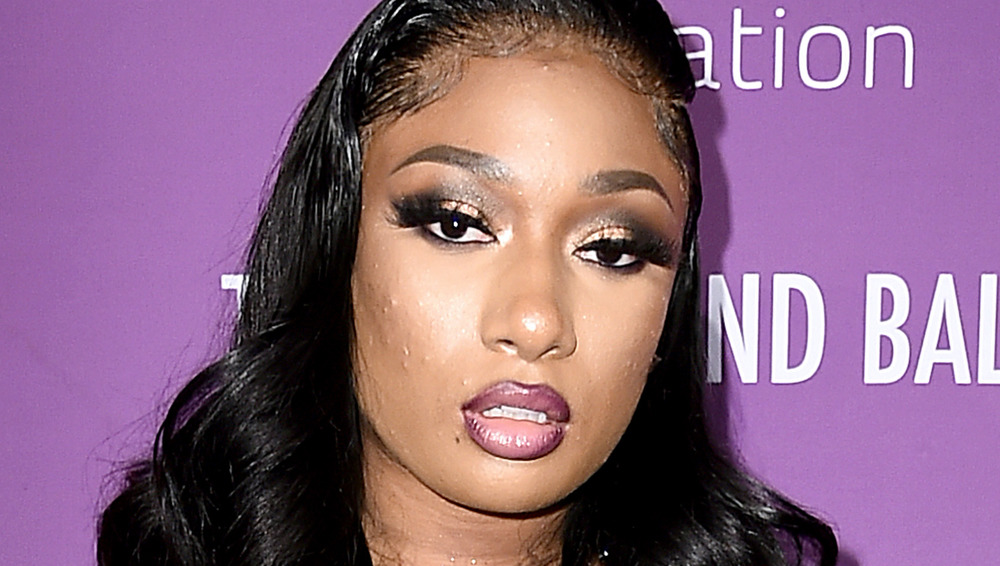 Steven Ferdman/Getty Images
From what we've seen of Megan Thee Stallion lately, she has had tunnel vision on securing the bag. In addition to inking a deal with Revlon in August 2020, Megan became the first global ambassador for Mielle Organics in February 2021, per Teen Vogue. Although it seems like the "Don't Stop" rapper is sticking true to what she's saying in her songs, clearly "thee hot girl coach" is taking the bench. Following her quarantined 26th birthday celebration, Megan tweeted a pretty curious message: "I'm healthy, I can take care of myself, my friends & family love me, my boo love me (he mad at me rn but he still love me) shiddd Beyoncé love me, I'm just happy and blessed lol."
Of course, fans everywhere couldn't seem to get over the mention of Megan potentially having a boyfriend. One user tweeted, "BOO????" Another commented, "Nah I'm not okay, she really gotta man now dawg." It's not the first time she has admitted to having a man since her split from rapper Moneybagg Yo. In July 2020, the Good News crooner casually revealed that she has a boyfriend during an Instagram Live, as p The Shade Room posted. "For all the n****s, stop hitting my phone 'cause I got a man. ... Nah, but I do got a n**** that don't like that s**t."
Although the Houston rapper has yet to confirm who her boyfriend is by name, some fans are speculating whether the mystery man is fellow rapper and songwriter Pardison Fontaine. We break down why the rumors might hold some water.
Pardison Fontaine's name is inspired by this movie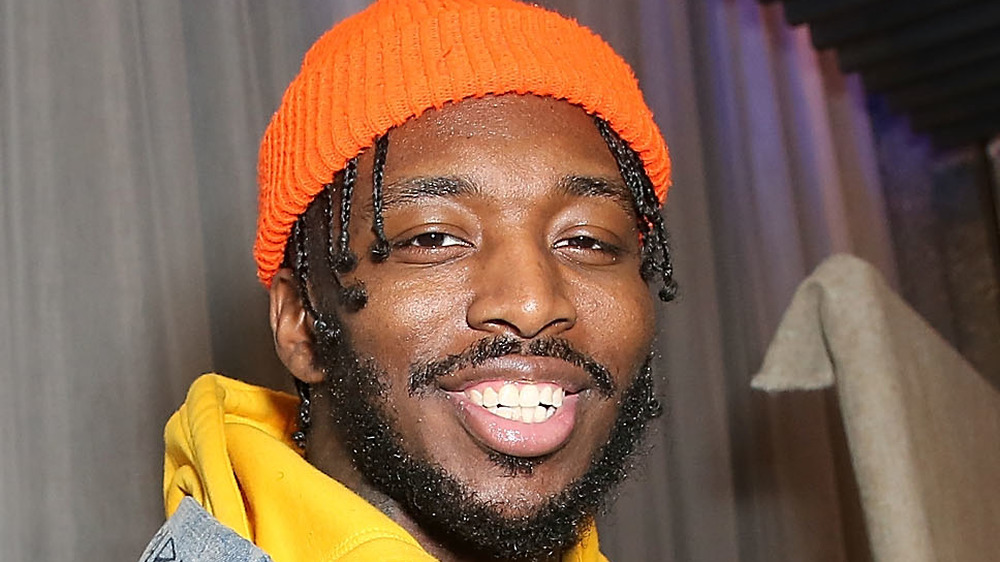 Rachel Murray/Getty Images
Megan Thee Stallion's alleged boo, Pardison Fontaine, isn't just a random regular joe. Before branching out to become an artist, Fontaine was a ghostwriter for artists such as Cardi B, Ed Sheeran, and Kanye West. You may remember Fontaine's breakout collaboration with Cardi B on "Backin' It Up" in 2018.
Fontaine, whose real name is Jordan Kyle Lanier Thorpe, says his stage name was originally supposed to be Pardi McFly — yes, it is inspired by Marty McFly from Back to the Future. "Then, I thought to myself, 'JAY-Z is not going to do a song with somebody named Pardi McFly,'" Pardi told People in November 2019. "So, I just dropped the McFly and I kept the Pardi."
As for the latter half of his stage name, the UNDER8ED rapper says the name came from a store he would walk past. After doing research, he realized Fontaine was the last name of French poet Jean de la Fontaine, which seemed fitting for him when he came up with his name. The de-facto sex symbol continued, "I used to walk past this Anne Fontaine store all the time, and I didn't know exactly what it meant or what it sold, but I just knew Fontaine sounded hella important." Cut to the late 2000s, and Pardison Fontaine's stage name was born.
Pardison Fontaine isn't shy about flirting with Megan Thee Stallion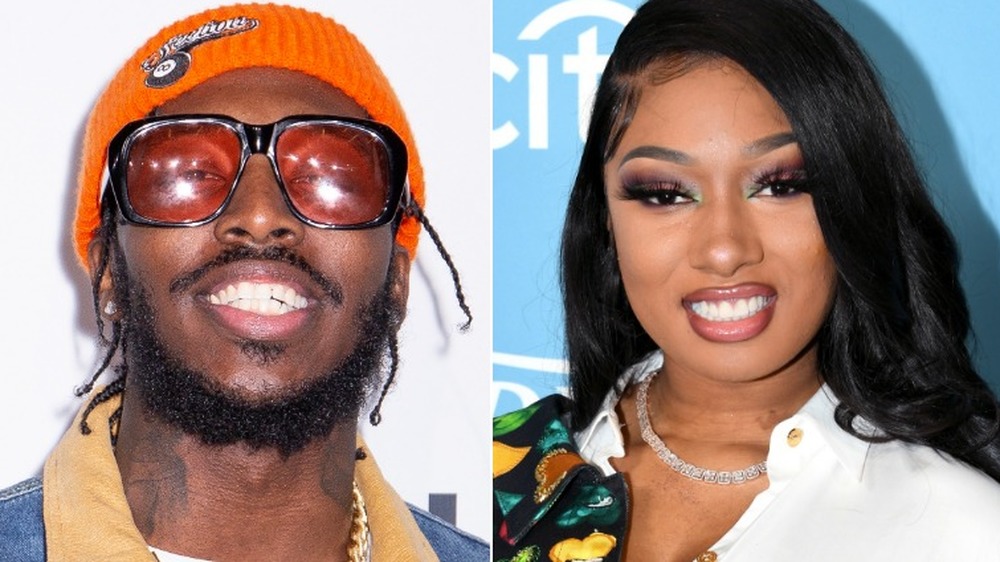 Arturo Holmes, Jon Kopaloff/Getty Images
It's not clear when Pardison Fontaine and Megan Thee Stallion first met. However, fans can't help but point out the apparent flirtation going on between them. Fontaine's not afraid to publicly shoot his shot with a fellow celeb either, considering his previous relationship with Detroit rapper Kash Doll. Previously, the "Backin' It Up" rapper posted photos of Megan on his Instagram Story, accompanied by flirty emojis. In January 2021, the rapper was spotted wearing a mask from Megan's Fashion Nova collaboration, per Hot 97. Pardi also shared a photo of him in New York carrying several Chanel shopping bags. Ironically, Megan posted a photo of her new Chanel bag on her Instagram Story, leading fans to believe Pardi gifted her the purse. 
The flirting didn't stop there, however. After Fontaine posted a shirtless video on his Instagram in February 2021, Megan commented, "Body ody." Fontaine responded with, "You look how Lamborghinis drive !!!," along with car and eyeball emojis (whatever that means). Fans were confused by his corny pick-up line, but it didn't stop The Shade Room from posting their short interaction. Fontaine doubled down on his comment in response, writing under the post, "Song lyrics ... but mine drives amazing .. she looks amazing [heart eyes emoji]." Now that's what we call applying pressure.