The Truth About Meghan Markle's Last Conversation With Her Half-Sister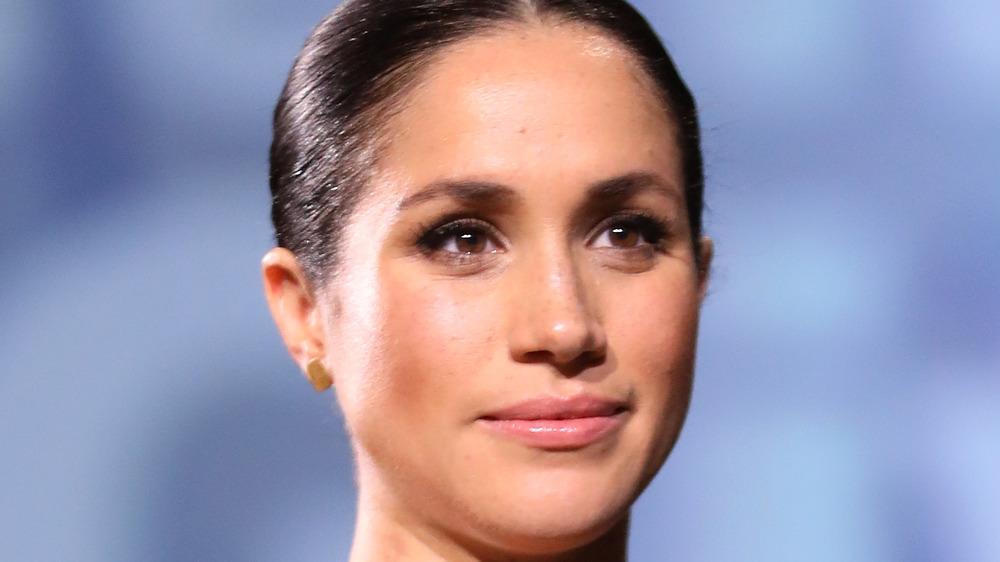 Tristan Fewings/bfc/Getty Images
As Meghan Markle created a bond with the British royal family, her relationship with her own kin weakened. In 2016, once Meghan's relationship with Prince Harry was public, her half-sister, Samantha Markle, who is 17 years her senior, became comfortable sharing details about the actress and their relationship to the press. One of the first things Samantha said, per The Sun, was that the two had not spoken "since she was diagnosed with multiple sclerosis in 2008." In 2017, she announced she would release memoirs about her life growing up with the "social climber," and warned that her famous half-sister should prepare for some truths to be revealed.
Meghan's relationship with her family ran into serious turbulence when her father, Thomas Markle, was caught staging paparazzi photos as he tried on a suit for Meghan and Harry's May 2018 wedding. He then reportedly suffered a heart attacked and missed out on walking his daughter down the aisle. Samantha later admitted to encouraging her father to stage the photos, per the Daily Beast.
Perhaps Samantha's most public attempt to reconcile with her sister was when she showed up to Kensington Palace a few months after Meghan and Harry's nuptials unannounced and uninvited. She was turned away. Now that her first memoir, The Diary of Princess Pushy's Sister — Part 1, is out, readers get a closer look into the tumultuous relationship between Meghan and her family, including the last time Samantha actually allegedly talked to her half-sister.
Meghan Markle's last conversation with her half-sister was over the phone
In The Diary of Princess Pushy's Sister — Part 1, Samantha Markle revealed that her last conversation with Meghan Markle occurred in December 2015 when she called Meghan at her apartment in Canada. "It seemed as though she was excited to hear from me," Samantha wrote (via US Weekly), adding that their "completely different schedules" were the reason for their infrequent conversion. However, Samantha's contact with her half-sister had been almost nonexistent prior, as she said they "really lost contact" following Meghan's 2013 divorce from her first husband, Trevor Engelson. 
Meanwhile, the last time Meghan spoke to her father, Thomas Markle, is believed to be via the five-page letter she sent him in August 2018 following her wedding to Prince Harry, per the Daily Mail. In the letter, she told her father he broke her heart "into a million pieces" due to his shocking behavior and asked him to reflect on his actions.
Thomas previously commented on Samantha's book deal, telling US Weekly in January 2021 that he was "very pleased" with his daughter's writing. The same month, Samantha revealed to US Weekly her intentions behind the tell-all. "Contrary to troll gossip and aggregate news rumors, my book has never been designed to attack my sister," she said. "It's relatable. There's a lot to learn — the good, the bad and the ugly. I've been very forthcoming that I was never writing a hardbound tabloid."