The Truth About Donald Trump's Relationship With Ted Cruz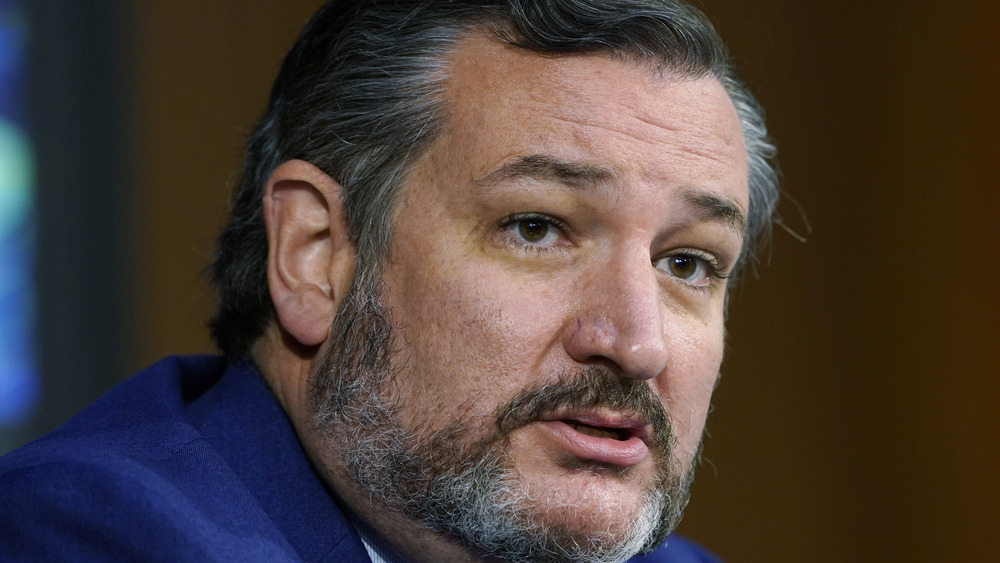 Pool/Getty Images
Ted Cruz has been one of Donald Trump's most loyal allies throughout the turbulent end of his presidency, including the second impeachment trial where Cruz reportedly advised the former president's legal team, per Insider.
The Texas senator, who faced a barrage of criticism for flying to Cancun while his state struggled with a deadly winter storm in February 2021, hasn't always felt the same way about Trump, however. When the two Republicans were rivals in the 2016 primary campaign, their relationship was less than cordial.
As CNN recorded, Trump regularly referred to the other man as "Lyin' Ted," and implied that Cruz only won the Iowa caucuses through fraud. He also retweeted a follower's post implying that Heidi Cruz, the senator's wife, was unattractive. Trump even alleged that Cruz's father Rafael had ties to Lee Harvey Oswald and therefore involved with the assassination of John F. Kennedy.
In return, Cruz had his own harsh words for the former reality star. As The Guardian reported, he called Trump a "braggadocious arrogant buffoon", "a sniveling coward" and a "pathological liar". Cruz also suggested that Trump could have Mafia connections and refused to endorse his rival at the 2016 Republican National Convention, according to CNN. It wasn't long after that, though, that the relationship changed. 
Despite the president insulting his wife, Cruz defended Trump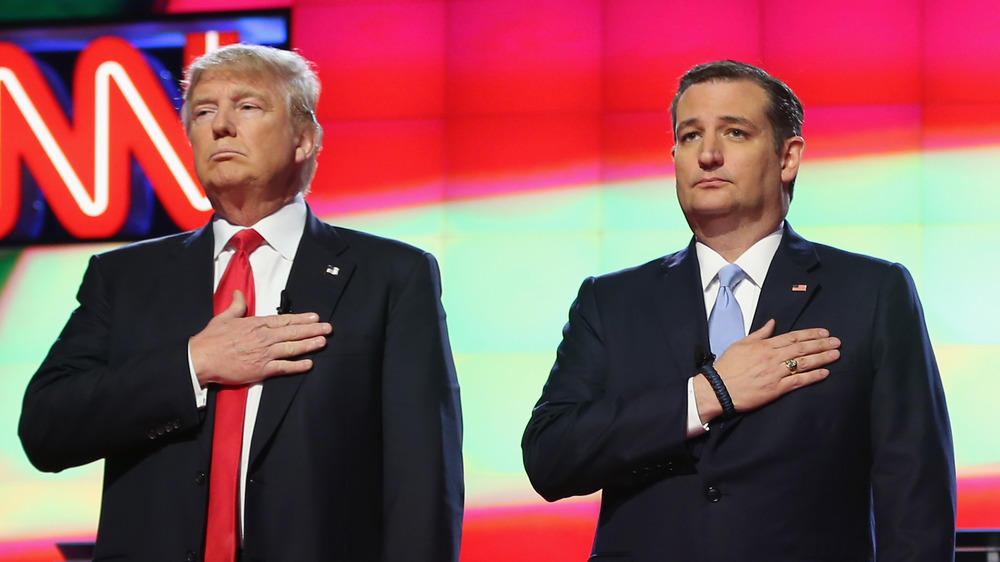 Joe Raedle/Getty Images
Once Donald Trump was elected president, Ted Cruz began to warm up to his former enemy. In March 2017, he called Trump's address to Congress "positive" and "unifying," per The Washington Times. And when the president faced impeachment for the first time in 2020, Cruz used his legal expertise to form a defense strategy.
"My attitude is, I've got a job to do," Cruz argued, according to The Washington Post. "To do my job, I've got to work with the president. And, you know, I could have made the choice to allow my feelings to be hurt, to take my marbles and go home. But I think that would've been an irresponsible choice." As the Texas Tribune reported, Trump recognized Cruz's efforts on his behalf. "Thank you, Ted, for everything," he said in January 2020. "You've been incredible."
Cruz also attracted criticism in January 2021 for filing objections to Joe Biden being certified as president, supporting Trump's conspiracy theories about the election. As The Guardian wrote, there were calls for the Texas senator to resign. If Cruz can ignore Trump's insults to his wife and father, however, it seems unlikely that he would give in to the public's reaction to any of his scandals — including the impromptu trip to Cancun.