AOC Has Something To Say About The Ted Cruz Scandal
Win Mcnamee/Getty Images
Texas Senator Ted Cruz has seemingly jumped ship following a winter storm that has left at least 24 people dead, per BBC, and caused power outages across the South. Despite the unrest happening at home, the politician was spotted boarding a flight to Cancun with his family, with multiple witnesses sharing evidence of his travels on social media, per Newsweek.
"Just confirmed @SenTedCruz and his family flew to Cancun tonight for a few days at a resort they've visited before," Former MSNBC anchor David Schuster tweeted with a photo of Cruz finding his seat on the flight. "Cruz seems to believe there isn't much for him to do in Texas for the millions of fellow Texans who remain without electricity/water and are literally freezing."
Although Cruz has yet to address the timing of his travel plans, people have a lot to say about him skipping town while Texans are in need. In fact, Democratic Representative Alexandria Ocasio-Cortez, who's developed a reputation for being at odds with Cruz, slammed the politician for seemingly fleeing the scene. The two were never known as pals, but their feud gained traction following the senator's alleged involvement in the Jan. 6, 2021 Capitol insurrection, which had threatened AOC's safety and wellbeing. Keep scrolling to see what she said about Cruz's vacation plans.
AOC still thinks Ted Cruz needs to go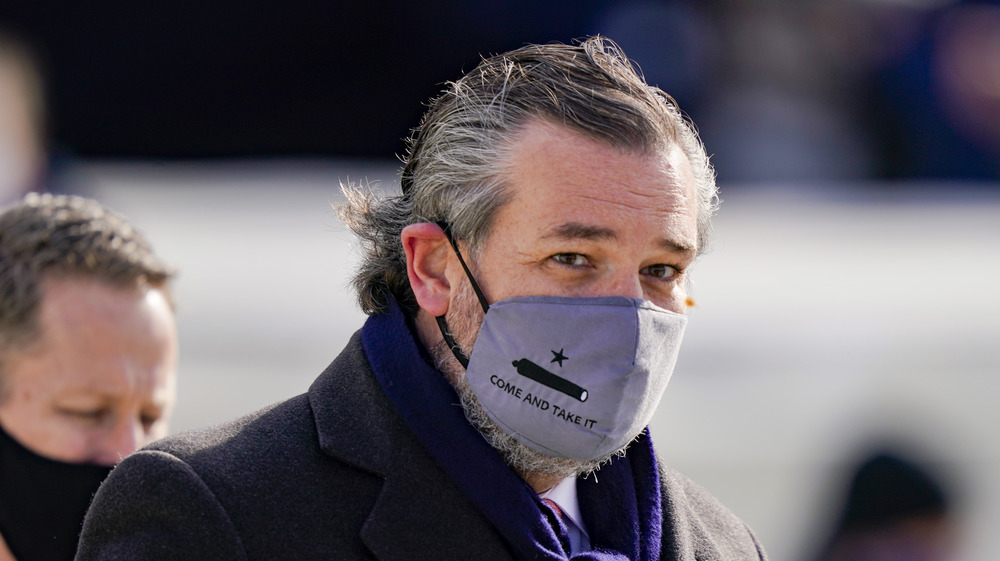 Drew Angerer/Getty Images
With the disorder in Texas and Sen. Ted Cruz's apparent decision to sit this one out, Rep. Alexandria Ocasio-Cortez has more evidence to campaign for his departure. It started with a tweet from George Takei, who wrote, "In fairness, @AOC booked him the flight to Cancun. It's really her fault." Takei's tweet was a joke poking fun at Cruz's feud with AOC; however, the congresswoman saw the tweet and had thoughts of her own. 
"If Sen. Cruz had resigned back in January after helping gin up a violent insurrection that killed several people, he could've taken his vacation in peace," she tweeted on Feb. 18, 2021. "Texans should continue to demand his resignation." She continued to add to Takei's joke, "But don't blame me for this, my points are on Amtrak!" 
AOC made it clear she's done with Cruz following the insurrection at the Capitol, despite both calling for an investigation into the Robinhood trading app on Jan. 28, 2021, per NBC News. She addressed the issue via Twitter, but when Cruz expressed his approval, she wasn't about to let go of his involvement in the Capitol riots. "I am happy to work with Republicans on this issue where there's common ground, but you almost had me murdered 3 weeks ago so you can sit this one out," she tweeted in response. "Happy to work w/ almost any other GOP that aren't trying to get me killed. In the meantime, if you want to help, you can resign."