Inside Jennifer Love Hewitt's Friendship With Betty White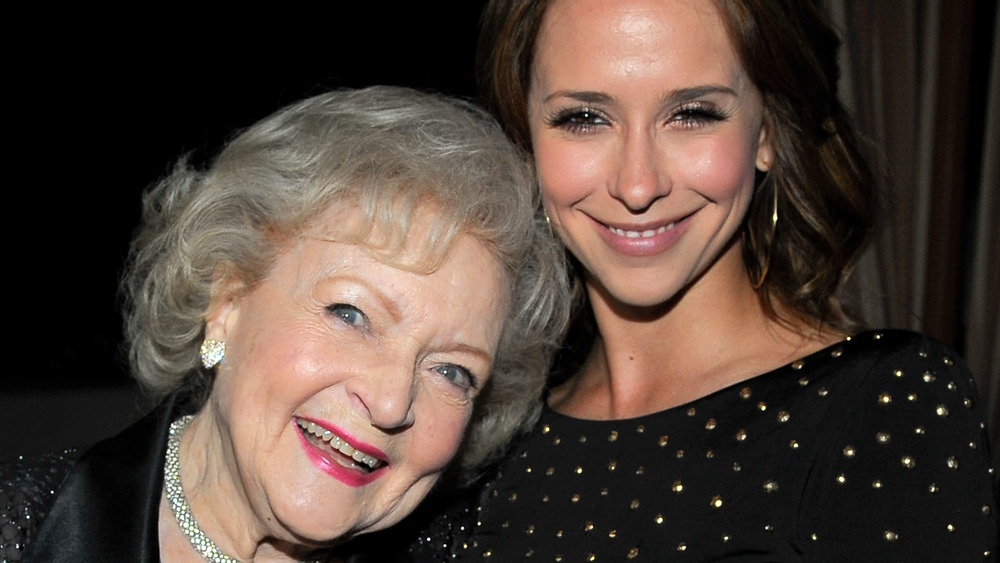 Charley Gallay/Getty Images
Did you know Betty White and Jennifer Love Hewitt are real-life gal-pals, and they have even enjoyed a Golden Girls night out or two? Following in the footsteps of Snoop Dogg and Martha Stewart, or Clay Aiken and Tyra Banks (they get together and sing Christmas Carols; seriously), Betty White and Jennifer Love Hewitt are yet another example of unexpected celebrity friendship goals. 
The legendary Golden Girls alum, who celebrated her 99th birthday on Jan. 17, 2021, and the I Know What You Did Last Summer star worked together on the Hallmark movie The Lost Valentine in 2011, as Screen Rant noted. Whether that's where they first crossed paths in Hollywood is unclear, as well as where or when they've hung out. But one thing is obvious — these two have seriously kicked it. Whether it was White's hilarious charm or Hewitt's iconic and nostalgic movie roles that brought out the #90skid (and we don't mean age) in White, we also can't say. But apparently, Hewitt and White have had some good times. And now Hewitt is sharing one of those hangouts with fans! 
Scroll down for the tale Jennifer Love Hewitt unearthed about Betty White during a February 2021 appearance on The Drew Barrymore Show. Her story involves cheating at Scrabble, gummy bears, and even a little nighttime debauchery. Here's what you should know about Jennifer Love Hewitt and Betty White's friendship.
Jennifer Love Hewitt and Betty White whooped it up
So what story did Jennifer Love Hewitt share that gives us a glimpse into her incredible friendship with Betty White? Well, strap yourself in for a wild ride. The actor revealed to Drew Barrymore during a Feb. 17, 2021, appearance on The Drew Barrymore Show that she and White are pals, with Hewitt calling her "a national treasure" with whom she shares "Pizza and vodka nights." Hewitt revealed, "Pizza and vodka's her favorite. She also loves hot dogs, and she cheats at Scrabble, horribly. But she's Betty White, so you just let her win!" Aw! Can we get in on game night? 
Jennifer Love Hewitt even added that one time, the pair's drunken debauchery (White might be 99, but she is living life to the fullest, apparently), veered toward... danger?! "One of the only times that I've been like super drunk was with Betty in public and she veered off into a bush and I thought, 'Oh my gosh I'm going to kill the national treasure Betty White,'" she joked. Hewitt continued, "And then she loves to end her nights with you by eating gummy bears."
Jennifer Love Hewitt seemingly isn't shy about her wild nights with Betty White. But there's also a genuinely sweet connection there. "She's everything you want her to be, she's the best and I just love her to pieces," Hewitt added. Well, you gotta love these two!