Who Are Nick Jonas' Famous Ex-Girlfriends?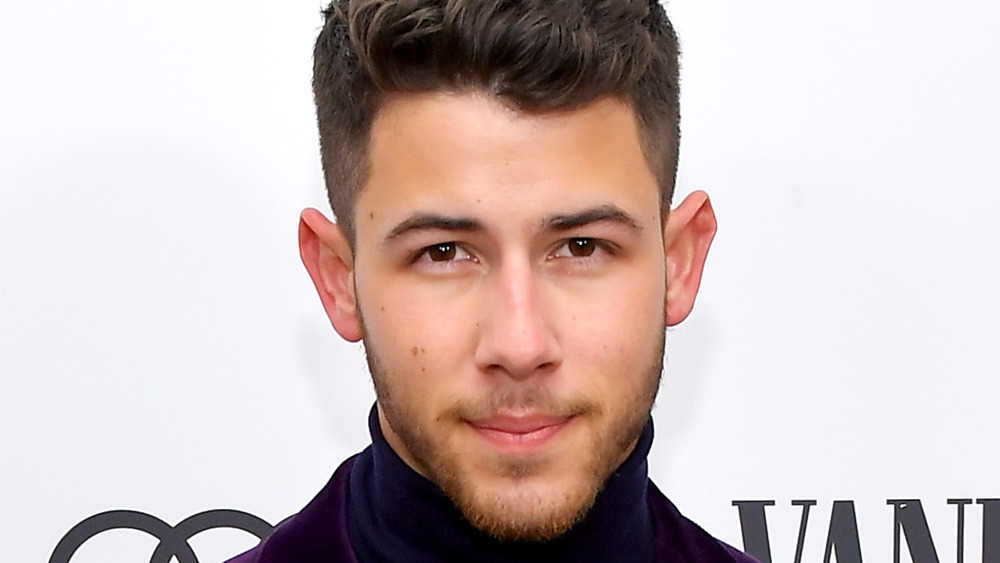 Matt Winkelmeyer/Getty Images
Who knew that when Miley Cyrus sings the chorus of her 2008 smash breakup anthem "7 Things," the cutting line "Your friends, they're jerks, and when you act like them, just know it hurts" — supposedly — refers to ex Nick Jonas? (The necklace Cyrus is seen wearing and kissing in the video is, as Jonas told BBC Radio 1, his diabetes necklace). The youngest Jonas Brother has never been known for any bad-boy antics. As friend and fellow Disney alum Demi Lovato said in 2013 about her 2010 stint in rehab (via Hollywood Life), "With Nick, I feel like I can call him when I'm really struggling... and he'll be there for me."
The apparently well-behaved pop star married actor Priyanka Chopra in 2018, surprising some as Chopra is a decade his senior. While the two have been self-quarantined together during the ongoing coronavirus pandemic, Jonas has also been supportive of his wife's (largely virtual) book tour promoting her 2021 memoir, Unfinished. "My beautiful wife @priyankachopra just added PUBLISHED AUTHOR to her already long list of achievements!" Jonas cheered on his wife in a February 2021 tweet.
What was he like with his flames of the past? Find out who Jonas' other exes are, in addition to the perennially headline-making Cyrus.
Nick Jonas had a string of ex-lovers before wife Priyanka Chopra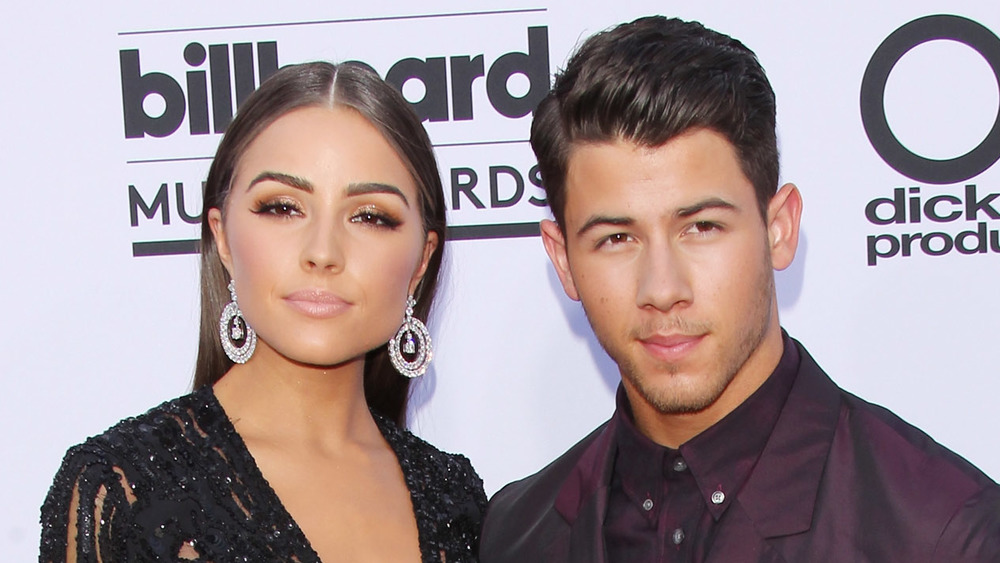 Michael Tran/Getty Images
Nick Jonas had built quite the portfolio of high-profile relationships before wife Priyanka Chopra. The star was actually involved in a teenage love triangle with exes Miley Cyrus and Selena Gomez. Per Us Weekly, Jonas and Cyrus dated after meeting at 13 years old in 2006, before splitting in 2007. Jonas quickly moved on with Gomez in 2008 before those two ex-Disney darlings called it quits in 2009. Gomez laughingly dismissed any Cyrus rivalry, telling W in 2016 (via Billboard), "We never feuded. We both liked the same guy when we were 16... We are now completely settled in our own lives."
As Jonas got more settled in his adult life as well, he continued to date the hotties du jour, with his longest pre-Chopra relationship being with former Miss Universe Olivia Culpo (2013 to 2015), according to The Blast. Culpo, as it turns out, inspired Jonas to write his hit "Jealous" after one encounter with "a guy who was looking at her... a little too long," as he told Wendy Williams (per Us Weekly).
Although dalliances with Kendall Jenner and Lily Collins were rumored, one confirmed hook-up was Kate Hudson. "Kate's incredible. We had an unbelievable connection as two humans," Jonas told Complex in 2016 without commenting on the physical nature of said connection.
Well, all's well that ends well. It seems Jonas' myriad of celebrity girlfriends have brought him to the one, Chopra, at last.