This Statue Of Donald Trump At CPAC Is Turning Heads. Here's Why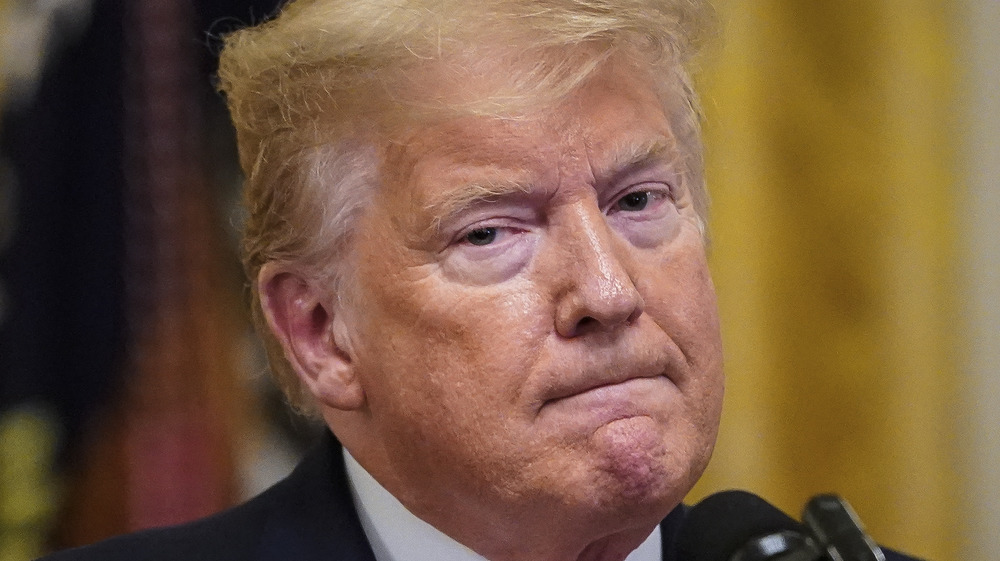 Drew Angerer/Getty Images
As the Republican party faces a schism (and a precarious future) in the wake of the presidency of Donald Trump, the legacy of the ex-commander-in-chief's four-year term in office has been, per USA Today, a thick, atmospheric omnipresence at the 2021 Conservative Political Action Conference held in Orlando. CPAC, which kicked off on Feb. 25 and was chaired by well-known Trump lobbyist Matt Schlapp, will feature Trump himself as a keynote speaker on Feb. 28 in his first public address since leaving office, per NBC News. But only three days before Trump is due to give his address, a mere likeness of the twice-impeached president has gone viral on social media — and for reasons that might not have entirely been anticipated by any of those involved.
On Feb. 25, footage, filmed by Bloomberg reporter William Turton, of a full-fledged golden statue made in Trump's image being wheeled through CPAC's 2021 Orlando venue quickly made the rounds on Twitter. As the Independent noted, the statue of Trump was met with fanfare from onlookers, with one heard calling it "awesome" and another proclaiming it "so cool." The statue's presence prompted other observers to chant "four more years," a rallying cry Trump supporters regularly invoked during Trump's 2020 presidential campaign.
Despite the positive reception the statue received at CPAC, others outside of the conservative arena took its aesthetic differently. Read on to find out.
A Trump 'statue' drew major comparisons to a famous bible story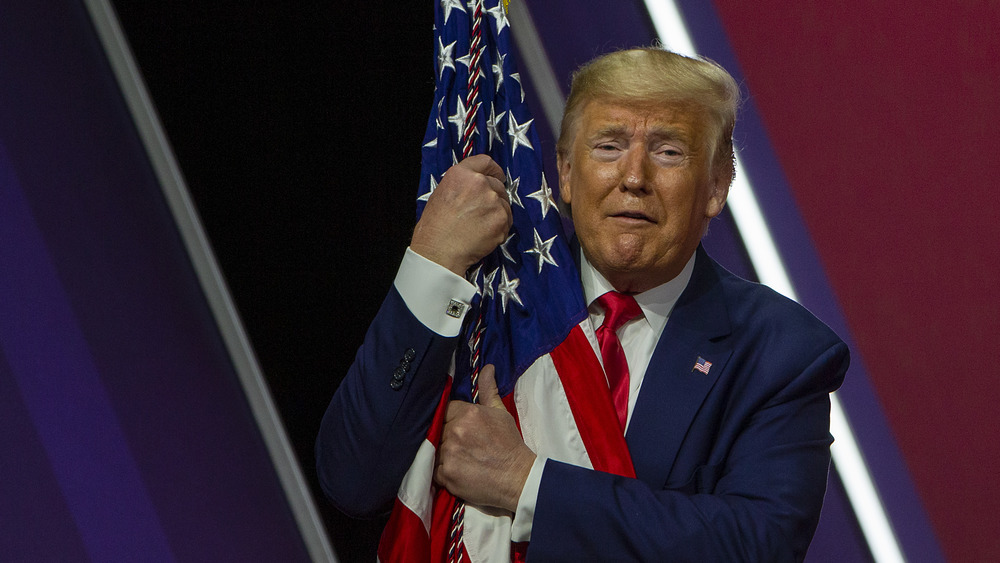 Tasos Katopodis/Getty Images
After going viral, the golden Trump statue at CPAC quickly drew comparisons to the biblical story of the golden calf from the Book of Exodus, which has largely been interpreted as an allegory for the dangers of worshiping false idols (like demagogues) in the Jewish, Muslim, and Christian faiths. A number of media outlets took their own spin to the metaphor — and maybe even a step further. 
At The Forward, culture reporter PJ Grisar opined that, following Trump's election loss to President Joe Biden, "the Golden Trump is an avatar of a defeated party and a rejection of a decisive victor now in leadership." Twitter users Molly Jong-Fast, an editor at large for The Daily Beast, posted her own (subsequently viral) commentary straight to the social media platform. "Oh this is so very on brand for cpac," she tweeted, with an accompanying video clip of the golden Trump statue being rolled down a hall at the Orlando convention venue. 
Others pointed out the irony that the golden statue and its accidental connotations made such a dynamic impression at CPAC, which has also historically been influenced and attended by a large Christian evangelical contingent. Vox senior correspondent Zack Beauchamp argued that CPAC attendees seemingly "missed" the story of the golden calf in their reading, and overlooked the metaphor in their commitment to Trump as their icon, and in doing so "construct idols of him, literally, to stand up at their premier political conference."
The latest 'statue' of Trump to go viral isn't the first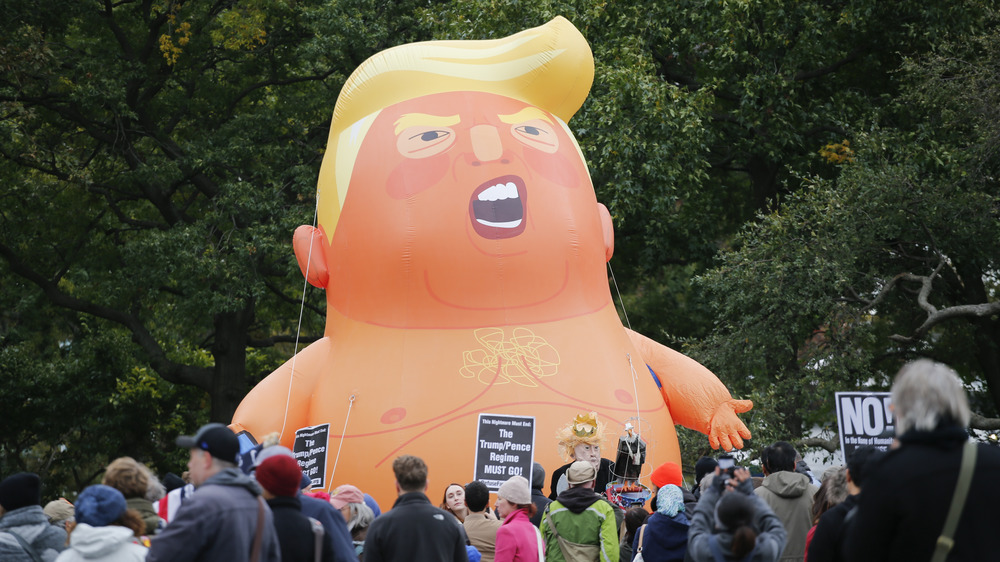 Kena Betancur/Getty Images
This is hardly the first time a likeness of twice-impeached ex-President Donald Trump has gone viral in the news cycle, but it's one of the very few that has been constructed for the purposes of celebrating Trump, rather than critiquing him. 
In March 2016, a number of Mexican citizens memorably burned papier-mache effigies of Trump in an effort to symbolically protest the construction of a wall between Mexico and the southern U.S. border. Effigy-burning is a symbolic tradition practiced by many in the country on the Easter holiday, the date on which the protest took place that year. 
Over two years later, a large parade float designed and constructed by British artist Matthew Bonner — and affectionately nicknamed "the Trump baby balloon" by the media — made its first flight on the streets of London in June 2018, and appeared in other anti-Trump protests around the globe since its debut, including a 2019 counter-protest at a Trump rally held in Florida. As CBS News reported in January 2021, the same inflatable effigy was acquired by the Museum of London, with plans for it to be preserved and "potentially displayed" for visitors.