Selena Gomez's New Costar Has A Hilarious Reaction To Trolls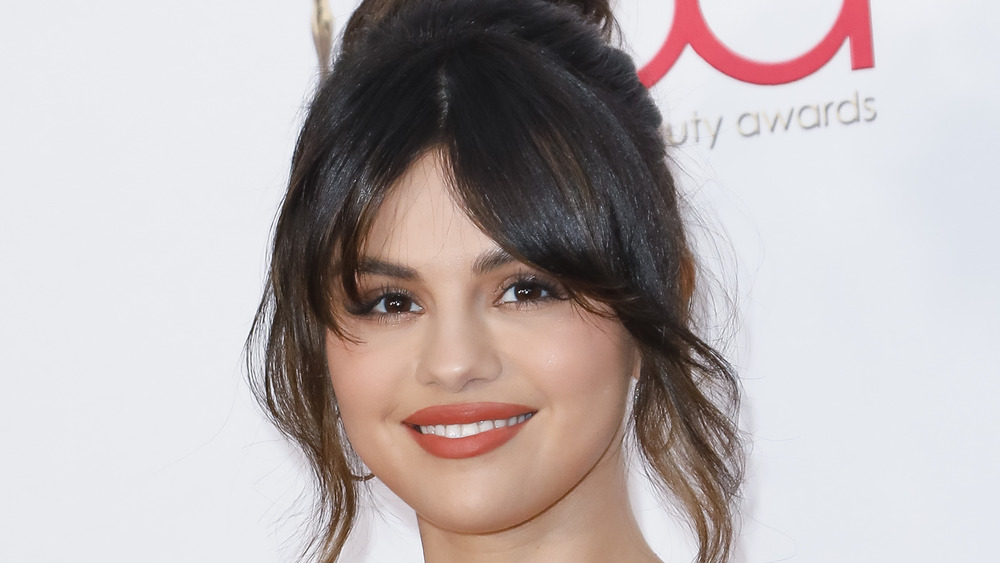 Tibrina Hobson/Getty Images
Actor Aaron Dominguez, known for his starring in Like a Boss and Words on Bathroom Walls, is filming Hulu's Only Murders in the Building series alongside megastar Selena Gomez, per Us Weekly. Since he is associated with the popular singer, actress, and all-around business mogul, he has also dealt with some haters.
Dominguez used his Instagram story to share a hate-filled DM he received from a troll on Feb. 25, 2021, that said "Yo ugly a** boy, stay the f**k away from Selena. She deserves better." Dominguez kept it simple and wrote "LOL" over the top, adding the crying face emoji.
Unfortunately, the trolling didn't stop there. The following day, he posted another negative message from another account. This time, Gomez's ex, Justin Bieber, was mentioned, "Selena really went from Justin to @theaarondominguez. We love to see the downgrade." Dominguez kept his cool and replied in a since-deleted post, "Good morning. These kids don't take a break." That same day, he posted two snapshots of himself within one upload on Instagram with the caption "Remain Unfazed Happy Friday." 
Dominguez also responded by turning the comments section off in the post in question to avoid any more negativity. Along with sharing those images to his feed, he asked his followers to "spread love" on his story. As his co-star once sang: kill 'em with kindness!
Gomez has remained quiet and has not responded to the incident, but fans are already speculating about her relationship with Dominguez. 
Aaron Dominguez's defense of Selena Gomez leads to rumors
Jon Kopaloff, Tasia Wells/Getty Images
The trolling came one day after Selena Gomez was photographed filming a scene for In Only Murders in the Building in New York City with Aaron Dominguez. The 10-episode comedy series will follow a trio of strangers who, sharing an interest in true crime, join forces to solve a murder that occurred in their Manhattan apartment building. Dominguez plays the role of Oscar and Gomez portrays Mabel with comedy legends Steve Martin and Martin Short will also set to star in the series.
Off-screen, Gomez and Dominguez appear to have grown close to one another, with fans speculating that their relationship may be more than just professional. As reported by Us Weekly, the duo both caught up with each other for an Instagram Live during the final week of February. While neither has confirmed that they are anything more than just friends, Gomez's love life always seems to be a discussion point. 
In December 2020, there were rumors that the former Disney Channel star was dating NBA player Jimmy Butler after they were spotted having dinner together in New York, per Harper's Bazaar. That same year, in August, there was speculation she was seeing her longtime friend Dylan O'Brien. The "Same Old Love" hitmaker's last high-profile relationship was with musician The Weeknd, who she broke up with in Oct. 2017.