Laverne Cox's Daring Golden Globes Outfit Is Turning Heads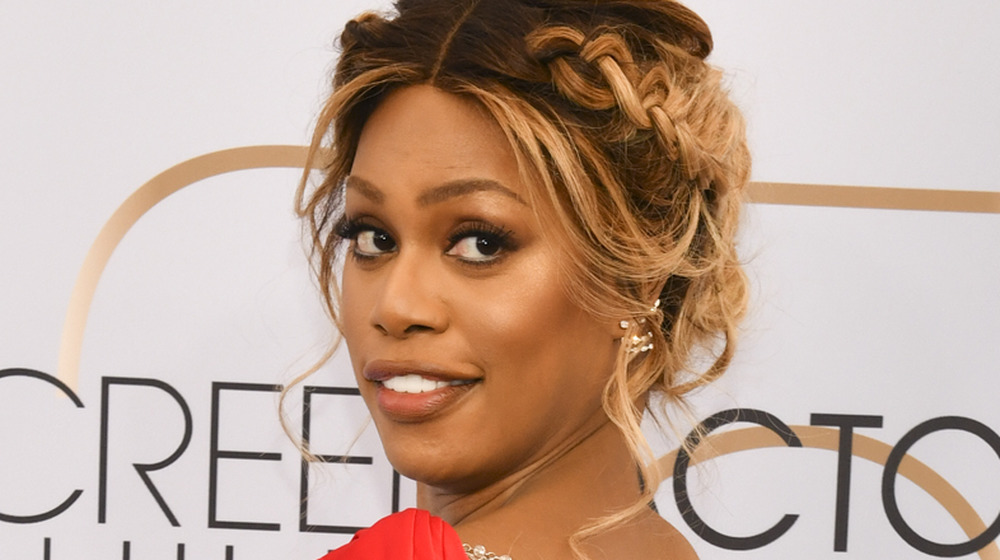 Rodin Eckenroth/Getty Images
Actress Laverne Cox was a vision in red during her virtual red carpet interview with host Karamo Brown ahead of the Golden Globes.
Unlike some of the other famous interviewees on the carpet, Cox really leaned into the virtual moment and opted to conduct the Q&A standing up and in front of a floor-length mirror so as to give viewers optimal angles of her beautiful 2021 Golden Globes gown. As reported by Page Six, Cox was going for a Bridgerton vibe for this year's star-studded event, referring to her updo as "a little 'Bridgerton' hair." "I've been giving a little period moment," she added.
While her hair was swept up and away from her face, she also opted to include a braided crown. Very Bridgerton, indeed. The dress itself included long, flowing sleeves and heavy beading. Bustle noted that the gown's larger-than-life sleeves gave off a superhero vibe. Wonder Woman who?!
Laverne Cox's love for Bridgerton took over her red carpet interview
When asked to elaborate further about her love for the popular Netflix series, Laverne Cox had this to say (via Page Six): "What I think is brilliant about it is that it's a period piece that is so much fun. The music when it's extradiegetic — Google it — it could be a Britney Spears song with a string quartet and played in a very baroque way. So, I love the music."
Perhaps the real inspiration behind Cox's Golden Globes lewk, however, was more so inspired by the Bridgerton star, Regé-Jean Page, whom she referred to as "insanely fine." The actress then appeared to backpedal and try to downplay her fondness for Page. "I'm trying to like, pull it back. I've said a little too much about the Duke publicly," Cox explained. "I respect him so much as an actor, who's an incredible artist and very, obviously, easy on the eyes."
And if you're already beginning to play matchmaker in your mind, just as red carpet host Karamo Brown did, don't waste your time. "Karamo, I'm dating someone now," Cox confessed. "I actually have a man. We are not disrespecting my man. I can admire the beauty of someone else, but I am taken at the moment," she declared. Well, okay then. At least we'll always have this iconic red carpet look!