Here's Why Rudy Giuliani's YouTube Account Just Got Suspended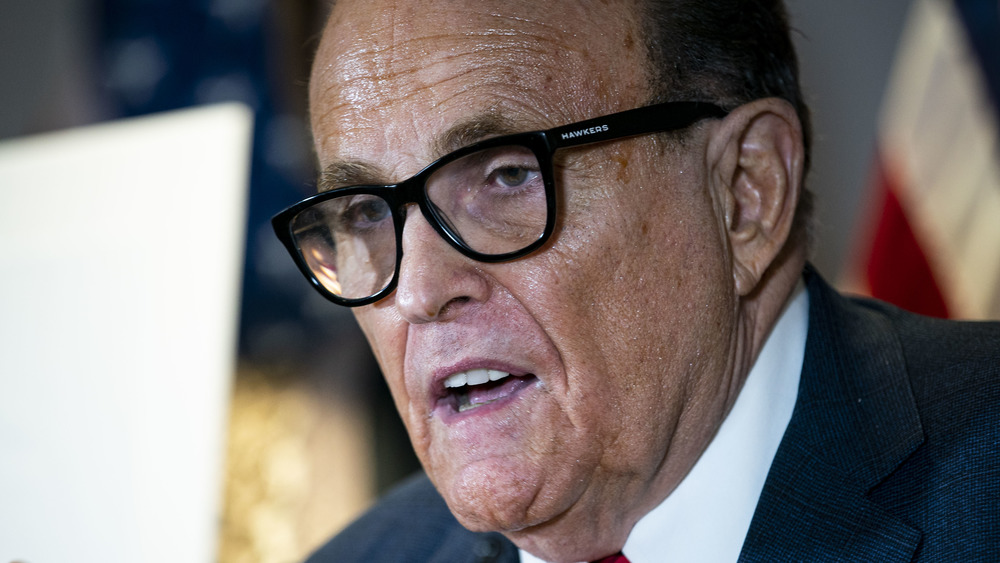 Bloomberg/Getty Images
Former New York City Mayor Rudy Giuliani has not been having a great week so far. Shortly after making headlines for being mocked at the 2021 Golden Globes on Feb. 28, 2021, Forbes reported that Donald Trump's attorney has been temporarily suspended from YouTube for continuing to push falsehoods about the 2020 presidential election. On March 1, 2021, a YouTube spokesperson explained that Giuliani's ban arose from violations to YouTube's presidential election integrity policy, which prohibits "content that advances false claims that widespread fraud, errors or glitches changed the outcome of any past U.S. presidential election" (per Forbes).
Thus far in 2021, social media platforms have been cracking down on posts that glorify violence or falsely claim election fraud as fact ever since a pro-Trump rally culminated in an attack on the U.S. Capitol on Jan. 6, 2021. The most famous victim of this social media smackdown is former President Donald Trump himself. As of this writing, the ex commander-in-chief has been banned by Facebook, Twitch, and Twitter. Like Giuliani, Trump was also briefly banned from YouTube.
Now, it looks like Giuliani's allegations of election fraud are coming back to bite him in the behind. In addition to facing a lawsuit from House Democrats, the attorney is also battling defamation lawsuits from voting machine companies Dominion Voting Systems and Smartmatic. But will he also be banned from YouTube for good? Let's take a closer look.
The YouTube ban is strike two for Rudy Giuliani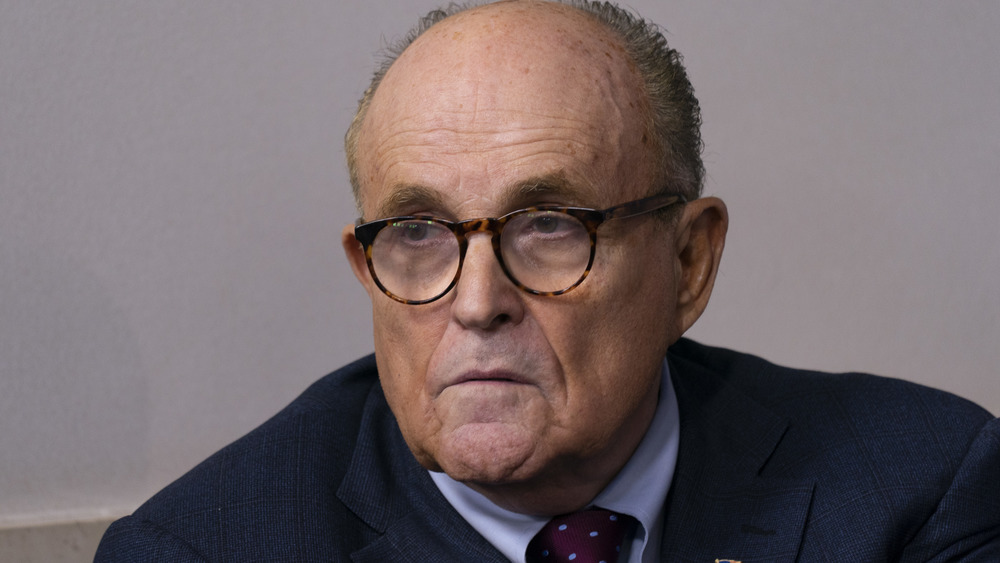 Bloomberg/Getty Images
YouTube gives users multiple chances to behave by operating on a three-strikes policy. That means that anyone who is issued a third infraction within the specified time period will be permanently banned from the Google-owned platform. According to Forbes, this instance marks  Rudy Giuliani's second warning for spreading election misinformation. The outlet reports that he earned his first strike in January 2021 and was subsequently barred from YouTube's Partner Program, which allows users to monetize their videos. 
This time around, Giuliani was also penalized for violating YouTube's "sale of regulated goods policy," aka "content facilitating the use of nicotine" (via Forbes). Under YouTube's three-strikes policy, Giuliani is blocked from uploading or livestreaming videos for the next two weeks.
So what does Giuliani think about his forced social media hiatus? Not much, apparently. The attorney slammed YouTube's actions around the time of his first ban in January 2021, calling the platform's decision "predatory" and "dangerous," per The Washington Post. "It's a very, very seductive road to authoritarianism," he added. Personal opinions notwithstanding, Giuliani will have to be on his best behavior, at least for the next 90 days, if he wants to retain a presence on YouTube.