The Truth About Giannis Antetokounmpo's Girlfriend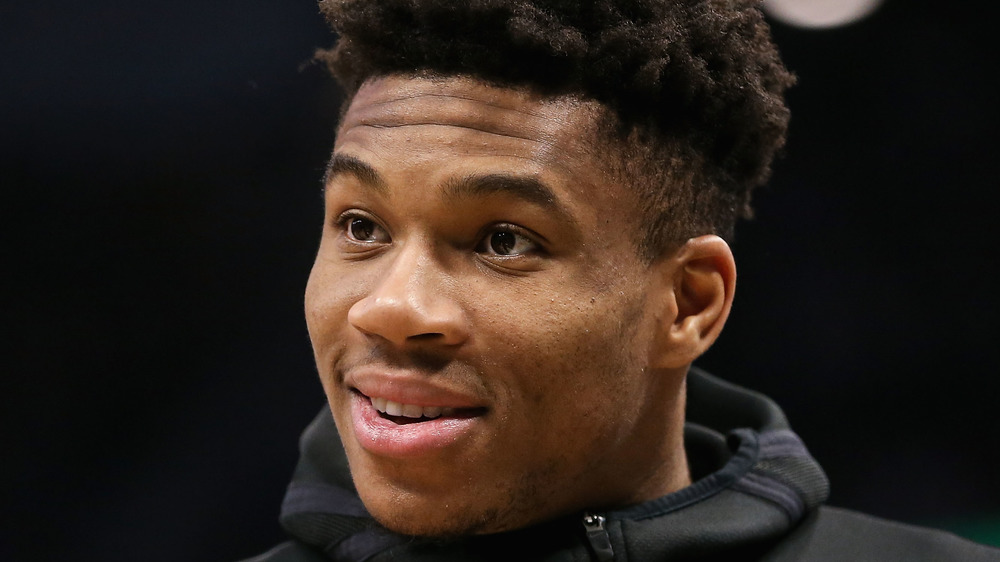 Dylan Buell/Getty Images
Despite complicated seasons on and off the court because of the coronavirus pandemic, NBA superstar Giannis Antetokounmpo is having quite an outstanding year. The Greece-born basketball player, who plays for the Miami Bucks, was named NBA Player of the Week on March 1, 2021 and voted Most Valuable Player in 2020. The Greek Freak, as Bucks fans call him, was also named the 2020 NBA Defensive Player of the Year, according to ESPN, and at only 25 years old (he is now 26). According to Forbes, only Michael Jordan has won both of those titles in the same year by that age.
Antetokounmpo also had to miss a game in February 2020 for personal reasons when his girlfriend Mariah Danae Riddlesprigger gave birth to their baby boy, Liam Charles Antetokounmpo, who she calls Baby Freak (via RepublicWorld). The couple — who is very open (and totes adorable!) on social media — confirmed Riddlesprigger's pregnancy in October 2019 (per RepublicWorld), and both proud parents have shared photos and videos online. He posted videos of her baby bump on Instagram a few days before the birth, and she shared photos of the child and her belly on Twitter a month after young Liam was born.
The pair has a very cute relationship, and Riddlesprigger is an important character on her own. Let's find out a bit more about Antetokounmpo's partner.
Mariah Riddlesprigger has an affinity for Giannis Antetokounmpo's biggest rivals
In some ways, the pandemic struck at a good time for Giannis Antetokounmpo, because the NBA suspension allowed him to spend more time with his live-in girlfriend, Mariah Riddlesprigger, and their new-born son Liam. Twenty-seven-year-old Riddlesprigger is both a sports fan and practitioner: She played volleyball and was team captain in high school (per Essentially Sports), and continued playing while at Rice University in Houston, Texas. In fact, Antetokounmpo isn't the only MVP in their family; Riddlesprigger also won that title in her senior year of high school.
Riddlesprigger's father Pat was also a basketball player with Fresno State University in the late 1980s. She studied sports as well, receiving her Bachelor of Arts in sports management and sociology at Rice in 2014, according to her LinkedIn profile. She also interned for the Philadelphia 76ers in 2015 and 2016, one of the Miami Bucks' biggest rivals.
Riddlesprigger seems to have an affinity for her partner's primary rivals. She also admitted to Antetokounmpo (via Twitter) that she was a Los Angeles Lakers fan when she was a kid. Clutchpoints lists the Lakers and the 76ers among the Miami Bucks top 5 rival teams of all time. She clearly likes to tease him too, posting a video on Twitter of Antetokounmpo playing the guitar with the caption, "This ladies and gentlemen is why we all need basketball back..."
Fortunately, the endearing pair don't let their teasing of each other get in the way of their loving relationship.