The Real Meaning Behind Selena Gomez's 'Selfish Love'
Tibrina Hobson/Getty Images
Are you the sort of casual Selena Gomez fan who enjoys singing along to her popular tunes? Or are you the kind of super-fan who not only listens to her music on repeat, but also loves to breakdown the meaning of songs like "De Una Vez," "Baila Conmigo," and "Ice Cream," her delicious collaboration with Blackpink? If the latter sounds like you, then you surely already adore "Selfish Love," the song that she put together with DJ Snake and released in March 2021.
Coming after Gomez's prior collaboration with DJ Snake (along with Ozuna and Cardi B), 2018's "Taki Taki," Billboard notes that the newer tune is set to "appear on Sel's ... seven-song Revelación EP." The outlet also pointed out that the EP will be the star's "first all-Spanish release" and will give listeners a chance to check out "previously-released singles 'Baila Conmigo' ('Dance With Me') with Puerto Rican rapper/singer Rauw Alejandro, as well as 'De Una Vez' ('At Once'), a collab with Puerto Rican rapper/singer Myke Towers on 'Dámelo To' ('Give it To Me') and the songs 'Buscando Amor' ('Searching For Love'), 'Vicio' ('Vice'), and 'Adios' ('Goodbye')."
As for "Selfish Love," it's not only worthy of immediately being added to your favorite playlists thanks to its catchy sound, but you may or may not have noticed that the lyrics also delve into a sticky yet sizzling situation.
Selena Gomez sings about a confession in 'Selfish Love'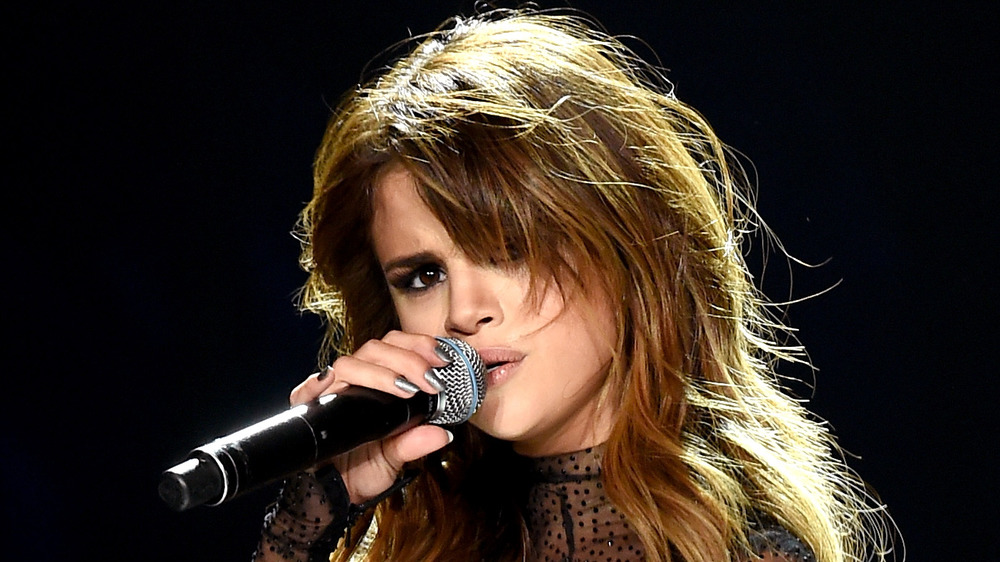 Kevin Winter/Getty Images
If you want to sing along to Selena Gomez and DJ Snake's "Selfish Love," then you'll find yourself grooving in both English and Spanish, which is so utterly perfect for this particular tune. However, if you're not bilingual, you might miss some of the meaning behind what she's really saying. Fortunately, we can help you out there!
"Nadie tiene que decírmelo / Hablas con otra que no soy yo / Y te confieso que viéndolo / Baby, me dan ganas de tenerte," Gomez sings, according to Billboard. With the help of Google Translate, it turns out that the lyrics give us a glimpse into the possibility of someone being less than faithful, with an arguably unexpected result. "No one has to tell me / You talk to someone else who is not me," she sings. "And I confess that seeing it / Baby, it makes me want to have you."
Gomez switches over to English, per Genius, to add, "Just a little crush / Got me over here thinkin' / 'Does somebody else care/Somebody else care/ I know we got trust / But you be gettin' me thinking / Does somebody else care/Somebody else care." She also admits that along with having "that selfish love," both people in the relationship like to make each other jealous. Eek!
While this song seems to focus on a rather tricky relationship, there's no doubt that it includes plenty of croon-worthy lyrics.