The Real Reason Meghan Markle Turned Oprah Down For An Interview Before Her Wedding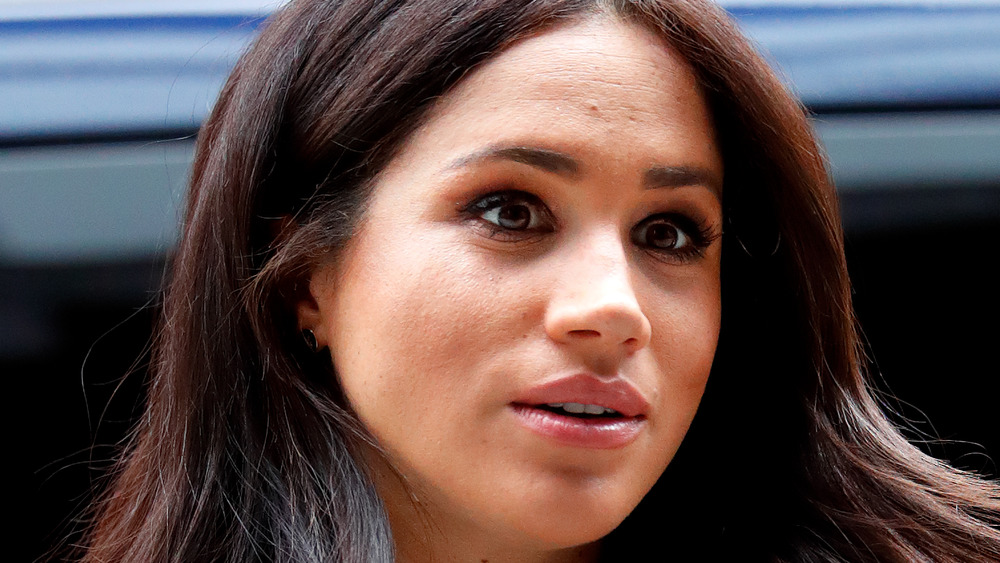 Max Mumby/indigo/Getty Images
It's pretty clear that Meghan Markle's time with the British royal family has been filled with more drama than we could have ever imagined. In addition to rampant rumors of tension with the powerful (and allegedly controlling) family members themselves and accusations of bullying from the staff, Meghan has also had to deal with issues with the press, not to mention rocky relationships with her own father and her estranged half-sister.
That's why it shouldn't be surprising to find out that Oprah Winfrey was eager to sit down with Meghan, and her husband, Prince Harry, to get some honest answers about their situation. And it turns out that the famous host has been wanting to do so for a while now. In fact, according to the Daily Mail, the royal pair's eventual interview with Oprah in March 2021 apparently confirmed that the media mogul, who was a guest at the couple's 2018 wedding, "had been wooing Meghan for a tell-all interview for at least three years." 
Frankly, she wanted to sit down with Meghan before the Suits alum tied the knot and reached out to Meghan to possibly set something up. In a clip that was released ahead of the full interview, Oprah "revealed she called Meghan in February or March 2018 — two or three months before the royal wedding at Windsor Castle in May that year — to ask for an interview, but she declined ..." However, during Meghan's 2021 sit-down with Oprah, the royal revealed why it hadn't been "the right time" before her wedding, and her answer is incredibly telling.
Meghan Markle wasn't 'allowed' to speak to Oprah
Even before Meghan Markle's highly revealing interview with Oprah Winfrey aired in March 2021, clips of the chat were released, providing eye-opening glimpses at the world that Meghan married into. For instance, in a clip of the pair's interview (via CBS This Morning) it was revealed that when it came to Oprah wanting to interview the duchess before the wedding, Meghan "claimed royal aides blocked her from having a personal conversation with ... Winfrey," per the Daily Mail. Meghan added that she "wasn't even allowed to have this conversation with [the host] personally" about a potential interview because others were observing the royal and therefore dictating certain actions.
Meghan told Oprah, "I couldn't have said 'yes' to you then. That wasn't my choice to make." She continued, "As an adult who lived a really independent life to then go into this construct that is different than I think what people imagine it to be, it's really liberating to be able to have the right and the privilege in some ways to be able to say, 'Yes, I'm ready to talk."
She continued, "To be able to just make a choice on your own and just be able to speak for yourself." And it seems like that's exactly what she intends to do from now on.