The Real Meaning Behind Black Pumas' Colors
Erik Voake/Getty Images
In their feel-good, bluesy bop "Colors," everyone's new favorite band Black Pumas sing, "A good day to see / My favorite colors, colors / My sisters and my brothers," which sounds suspiciously upbeat for a song released in the past year. So what's the deal? Is there secretly a dark meaning hidden beneath all those good vibes?
Up until recently, nobody had heard of the Black Pumas duo, consisting of 40-something industry veteran Adrian Queseda and vocalist and songwriter Eric Burton, who is 31 and a virtual unknown. The band didn't even exist until 2018, and their self-titled debut album dropped in 2019.
Standout single "Colors" jumped to the top of the charts in February 2020, per Vulture. And if you were watching the inauguration special in January 2021, you may have caught the band performing the song alongside legendary acts like Bruce Springsteen and John Legend. They were nominated for their first Grammy in 2020 for Best New Artist and were nominated again for the 2021 Grammys for Album of the Year and Record of the Year for, you guessed it, "Colors."
The gospel sound in Black Pumas' "Colors" is no accident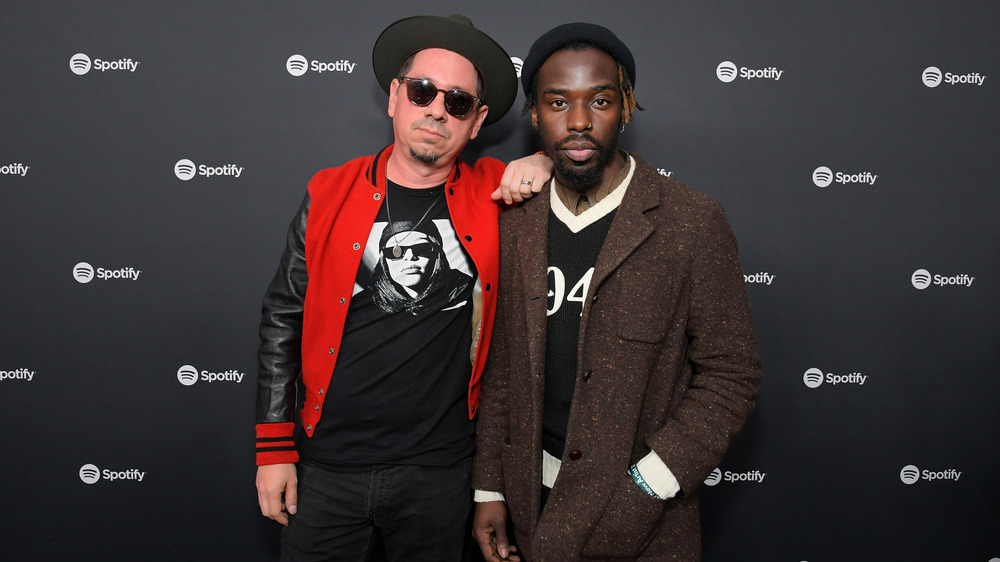 Charley Gallay/Getty Images
In a video on their YouTube channel, Black Pumas' Adrian Queseda and Eric Burton break down how they made their Grammy-nominated song "Colors," including the meaning behind the soulful sound and lyrics.
The track was actually first written by Burton years ago, who came up with melody by inspiration. "This was something that I had written just learning how to play guitar. I had woke up from a nap on my uncle's rooftop in Alamagordo, New Mexico," he said. "I was just playing note after note, whatever sounded good."
If the melody was divine inspiration, the gospel sound and spiritual lyrics were no accident. While Queseda said he imagines parts of the song as "offerings to the gods," Burton is a little more literal.
"When I was writing this song, I was actually leading worship at a church," he explained. "And I was trying to figure out, 'How do I write a song that explains the plight of someone who is spiritual trying to find their truth?'" That's also the reason for the backup gospel singers you might hear in the chorus, who help round out that uplifting, church-like sound.