The Text That Meghan Sent Oprah As Their Interview Was Airing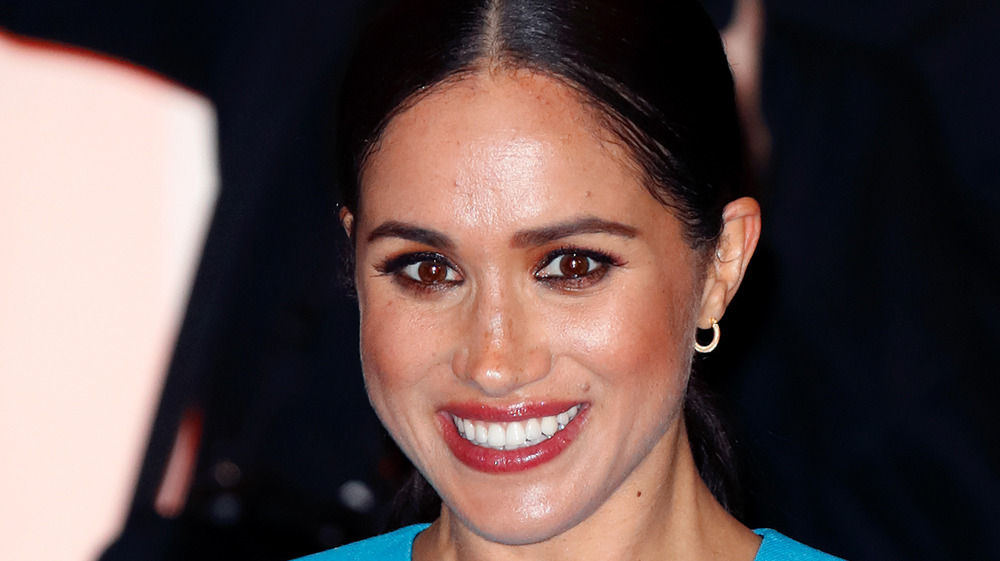 Max Mumby/indigo/Getty Images
The following article includes mentions of suicide ideation.
Meghan Markle and Prince Harry captured the world's attention when they spoke with Oprah Winfrey for the two-hour Oprah with Meghan and Harry television special. There were many bombshell moments throughout the lengthy discussion, including when Meghan revealed that she had suicidal thoughts from coping with the media scrutiny and the pressure she faced. "I just didn't want to be alive anymore," Meghan told Oprah (as per E!), "and that was a very clear and real and frightening and constant thought."
Another shocking moment was when Meghan and Harry said that a member of the royal family had expressed concern over the skin color of the couple's baby before he was born. Harry would not reveal the person's name. "He did not tell me who were a part of those conversations, as you can see I tried to get that answer, on-camera and off," Oprah said while appearing on CBS This Morning the day after the interview aired. Although Harry did not name names, he made it clear that it was not his grandparents, Queen Elizabeth and Prince Philip. "He wanted to make sure that I knew ... that it was not his grandmother, nor his grandfather that were part of those conversations," Oprah told CBS.
The Duke and Duchess felt comfortable opening up to Oprah on-air because they had formed a friendship in recent years (they are also each other's neighbors in California). Keep reading to see what Meghan texted her as the interview aired.
If you or someone you know is having suicidal thoughts, please call the National Suicide Prevention Lifeline at 1-800-273-TALK (8255) or text HOME to the Crisis Text Line at 741741.
What did Meghan say in her text to Oprah?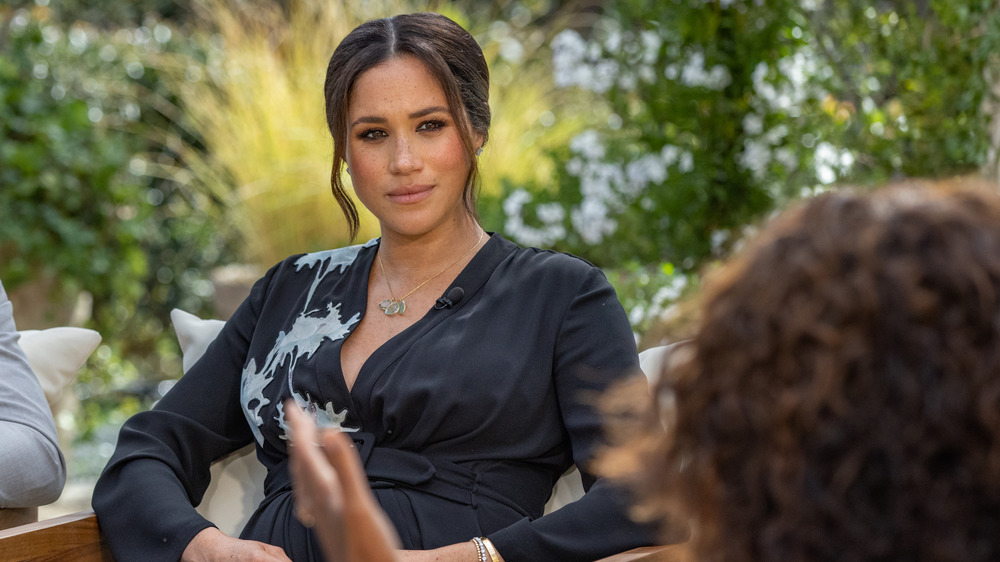 Handout/Getty Images
Before Meghan Markle and Prince Harry were married, Oprah Winfrey spent a day with Meghan's mom, Doria Ragland, where the two did yoga together, as per Entertainment Tonight. The TV show host was also in attendance for the royal couple's wedding, which she described to the outlet as "a cultural moment." After the nuptials, Oprah stayed in contact with the Duke and Duchess, and gave them a special gift of a hand-crafted bookcase filled with children's books when Meghan was pregnant in 2019. " ... This baby will have enough books to last a lifetime!" Oprah told Access Hollywood.
After the Duchess invested in the Clevr Blends coffee company, she sent a care package to the television icon in December 2020, as per People. Following the gift, Oprah shared an Instagram post where she made the coffee for herself. 
During her appearance on CBS' This Morning, Oprah revealed that she and Meghan texted each other as the interview aired. Oprah said that she had yet to actually speak to Meghan, but did receive a text from her, as per E!. "I got a text from Meghan yesterday saying, 'How's it going?' Because she was putting Archie to bed waiting on the West Coast feed and had no idea what was happening on the East Coast." The Beloved actor added, "And I said, 'I don't either, from what I can tell it's going well, I know it's airing.'"