Did Meghan Markle Complain About Piers Morgan To His Network Bosses?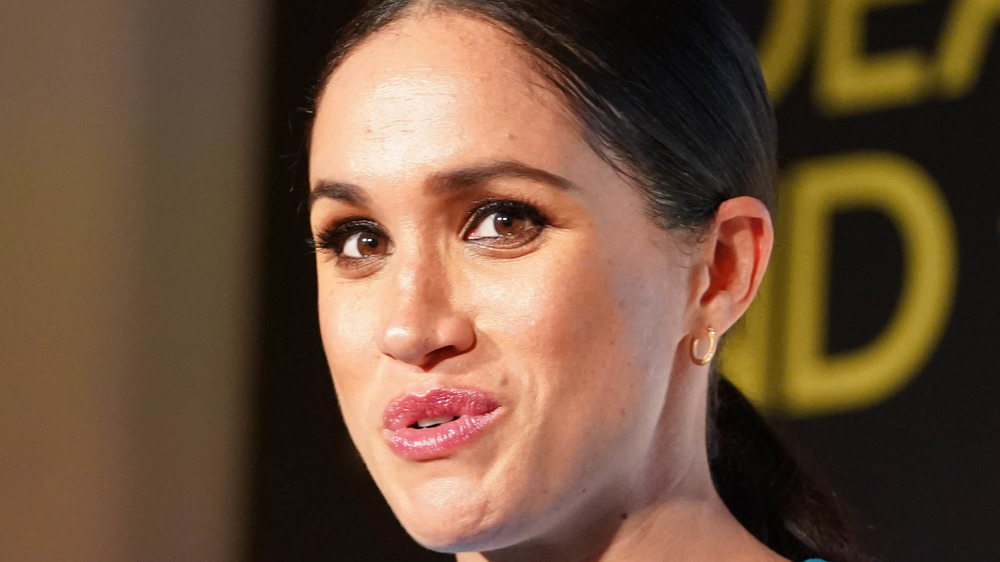 Wpa Pool/Getty Images
The aftermath of Prince Harry and Meghan Markle's explosive sit down with Oprah Winfrey on CBS — which aired on March 7, 2021 — is still snowballing. Directly following the interview, Meghan's estranged family unsurprisingly slammed the conversation. Her half-sister, Samantha Markle, claimed Meghan was lying about how well they know each other and her father, Thomas Markle, fired shots at Prince Harry for not being supportive enough of his daughter while she was struggling with her mental health.
While viewers and the media were bound to have their different takes on the interview, controversial former Good Morning Britain co-host Piers Morgan's opinion stuck out to many. "I don't believe a word she says," he stated on Good Morning Britain on March 8, 2021, about Meghan's remarks during the tell-all (via Metro U.K.). "I wouldn't believe her if she read me a weather report." 
His comments received harsh criticism, and even led to co-host Alex Beresford condemning his words on air. Morgan was less than pleased with Beresford and consequently stormed off set, saying, "OK, I'm done with this ... sorry, can't do this." ITV, which produces the news and morning talk show, then issued a statement that Morgan had officially resigned from the show, per AP News. A new report points toward other factors as having led to Morgan's departure — including Meghan Markle herself. 
Keep reading to learn how Meghan may have played a role in Piers Morgan's departure.
Meghan Markle reportedly spoke to Piers Morgan's boss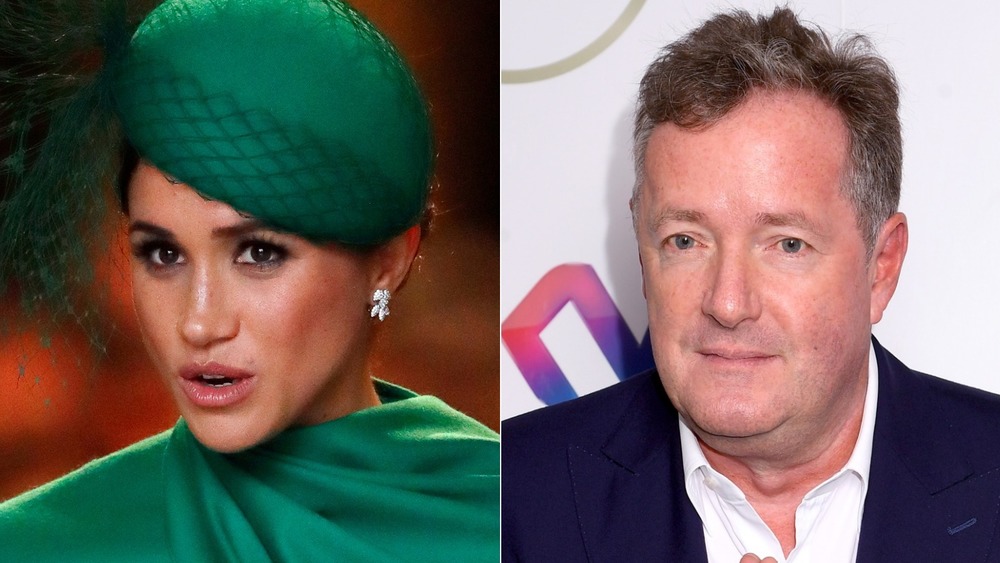 Max Mumby/indigo, Dave J Hogan/Getty Images
On March 10, 2021, the Daily Mail reported that Meghan Markle "went directly to ITV's CEO Dame Carolyn McCall" following Piers Morgan's comments about not believing her tell-all interview. According to the outlet, she is not upset that he doesn't believe her, but is concerned that his comments "could affect people attempting to deal with their own mental health problems." 
Meghan admitted during the interview that she had suicidal thoughts during her time as a senior royal, and was refused help. She was told ITV was "dealing with" Morgan. The Daily Mail also believes that Morgan was asked to apologize for his remarks. His refusal to back down also led to more than 41,000 complaints made to Ofcom, and The Office of Communications in the U.K. Ofcom consequently launched an investigation into the show under its "harm and offense rules," according to Variety.
As of this writing, Morgan is still refusing to apologize, telling reporters (via the Daily Mail) on March 10, 2021, that he stands by his right to freedom of speech. "If I have to fall on my sword for expressing an honestly held opinion about Meghan Markle and that diatribe of bilge that she came out with in that interview, so be it," he said. The same day, Morgan tweeted a similar message. "Freedom of speech is a hill I'm happy to die on," he wrote. "Thanks for all the love, and hate. I'm off to spend more time with my opinions."
If you or someone you know is having suicidal thoughts, please call the National Suicide Prevention Lifeline at 1-800-273-TALK (8255) or text HOME to the Crisis Text Line at 741741.