The Truth About John Mulaney And Pete Davidson's Friendship
Alberto E. Rodriguez/Getty Images
John Mulaney and Pete Davidson's friendship has often been celebrated as an adorable case of opposites attracting, but the pair have more in common than many people might assume.
Although Mulaney has joked that he looks like Davidson's "lawyer" when they're seen together, the pair actually met through Saturday Night Live, as Vulture reported. They first began attending basketball games and concerts together in 2018, when Mulaney tweeted about going to a Steely Dan concert with Davidson, who apparently broke tradition by standing up and dancing.
Later that year, they attended the show of another dad-rock staple, Bob Dylan. "He said, 'I do not know one of these songs,'" Mulaney shared on The Tonight Show. "During 'Like a Rolling Stone,' I turned to him and I said, 'This is a very famous song,' and he said, 'Okay."' He added: "I love him very much and he's a wonderful friend."
Their connection led to a mini "Sundays With Pete & John" comedy tour. Mulaney entertained fans with an Instagram post highlighting the difference between his green room and Davidson's, which appeared to contain some illicit substances. They also posed for a picture in each other's clothes: Mulaney appeared in oversized graphic streetwear, and Davidson wore the Midwestern stand-up comedian's usual dapper suit.
All this bonding happened while Davidson was going through a turbulent time. After a difficult breakup with Ariana Grande, the comedian had a social media suicide scare, which he and Mulaney addressed together on SNL's Weekend Update in 2019.
John Mulaney and Pete Davidson have both spent time in rehab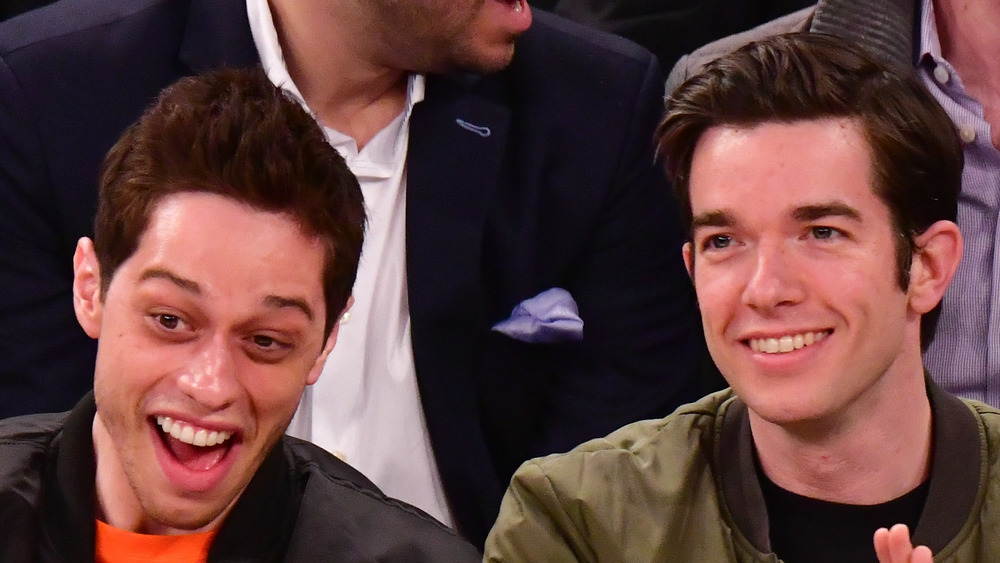 James Devaney/Getty Images
"I've been spending time with Pete [Davidson] to try to show him that you can have a life in comedy that is not insane — a sober, domestic life," John Mulaney revealed on SNL's Weekend Update, adding, "Pete, look at me. You are loved by many, and we are glad you are okay." 
In a 2020 interview with Vanity Fair to promote his film The King of Staten Island, Davidson joked that he and Mulaney had a "Make-A-Wish Foundation" friendship. Mulaney argued that people shouldn't be so shocked by their fondness for each other. "It's not that ridiculous that two people who have worked in the same places and have met several times decided to become friends," he pointed out.
Sadly, the pair have more in common than their place of work. Davidson has previously been very public about his ongoing mental health struggles, drug use, and trips to rehab, per the Los Angeles Times. John Mulaney has also talked candidly about his path to sobriety: according to Entertainment Weekly, the Big Mouth star started drinking when he was only 13. Eventually, he quit cocaine and alcohol at age 23, but Mulaney relapsed in 2020 and went into rehab.
Mulaney emerged from his rehab at the end of February 2020, and a source told People that the comedian was "committed to getting better." Hopefully, his affectionate relationship with Davidson will be a positive factor in his recovery.