Pete Davidson Addresses Suicide Scare In Saturday Night Live Return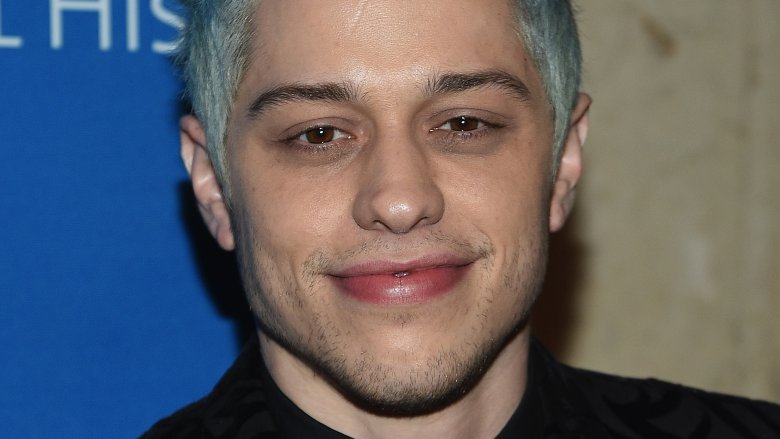 Getty Images
Comedian Pete Davidson is breaking his silence.
On Saturday, Jan. 19, 2019, the Saturday Night Live star returned to the popular sketch comedy show during a segment of "Weekend Update" after appearing to experience suicidal thoughts in an alarming Instagram post last month.
"I've had a really crazy month, and I want to talk about something that matters a lot to me," Davidson began. "Okay, mental health?" co-anchor Colin Jost replied, to which the stand-up comedian said, "No, the new Clint East movie, The Mule." 
He then brought out his pal, fellow comic and former SNL writer John Mulaney, to help him hilariously deliver a review of the film. However, the surprising duo first addressed the more serious matter at hand. "I've been spending time with Pete to try to show him that you can have a life in comedy that is not insane, a sober, domestic life," Mulaney explained. "Yeah, and after observing John's life, I publicly threatened suicide," Davidson quipped with a laugh, before adding, "I'm sorry, I know I shouldn't make that joke, but it is funny." 
At this, the Oh, Hello Show star went on to say, "Pete, look me in the eye: You are loved by many and we are glad you are okay."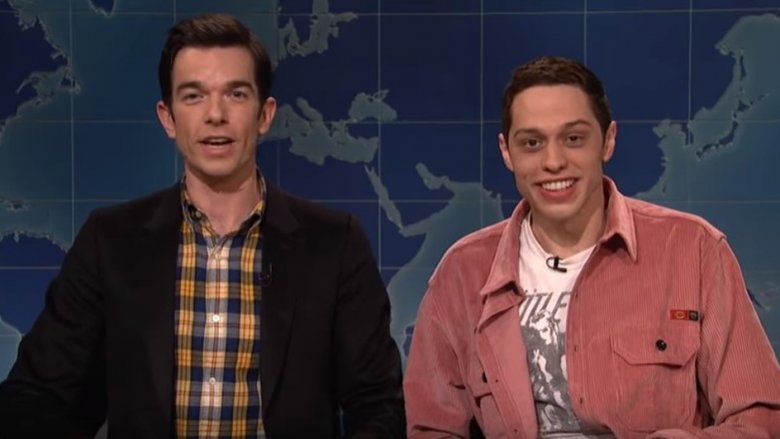 YouTube
As Nicki Swift previously reported, Davidson, 25, sparked widespread concern for his well-being when he shared a cryptic text-post on Instagram in mid-December 2018. "I really don't want to be on this earth anymore. I'm doing my best to stay here for you but i actually don't know how much longer i can last. all i've ever tried to do was help people," read Davidson's troubling message, which was later deleted along with his account on the popular social media platform. Alongside a heart emoji, the stand-up comic added, "Just remember I told you so." 
After receiving an outpouring of love and support from celebs and fans alike, Davidson briefly appeared on SNL hours later to introduce a performance by musical guest Miley Cyrus, in what may have been an attempt to put everyone at ease.
Readers may be aware that Davidson, who opened up about his mental health struggle with borderline personality disorder in 2017, previously spoke out about being bullied on social media following his high-profile split from ex-fiancée Ariana Grande. The former couple famously called off their engagement in mid-October 2018 after five months of dating.
"I've kept my mouth shut. Never mentioned any names, never said a word about anyone or anything," he wrote, in part, at the time on Instagram, captioning a lengthy text-post with a blue heart emoji. "I'm trying to understand how when something happens to a guy the whole entire world just trashes him without any facts or frame of reference," Davidson continued, before adding, "No matter how hard the internet or anyone tries to make me kill myself. I won't. I'm upset I even have to say this."
For her part, Grande addressed the online hate on her Instagram Stories soon after. "I know u already know this but i feel i need to remind my fans to please be gentler with others. i really don't endorse anything but forgiveness and positivity," the 25-year-old wrote. Noting that she cared "deeply about pete and his health," the "Thank U, Next" singer added that she "will always have irrevocable love for him."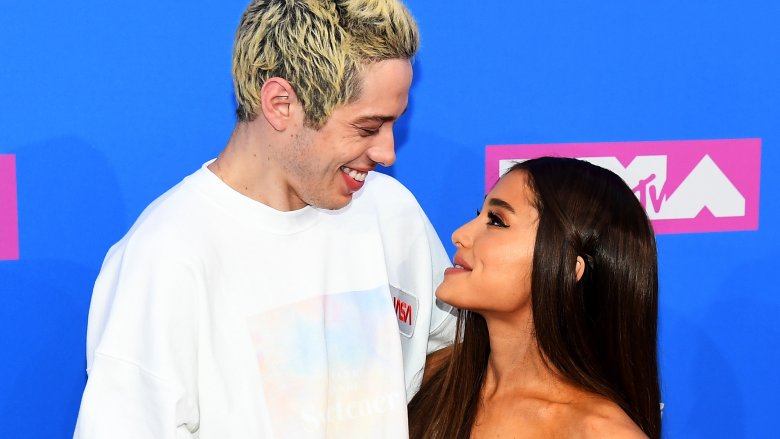 Getty Images
Considering the sensitive yet highly publicized matter, a number of social media users appeared divided when it came to Davidson's joking tone this weekend. "Pete davidson's suicide joke literally made me physically cringe," one person tweeted, while comedian Michael Rapaport, who recently faced backlash after commenting on Grande's appearance, wrote, "Suicide threats are funny now?" 
However, multiple other fans have since shown support for Davidson's approach. "Pete and the show handled this wonderfully!" one fan wrote on Twitter. "Let's face it-it's awkward to show your face and have people applaud simply bc we're all so glad you didn't end your life. Pete (and John) acknowledged the situation AND made the segment the funniest,laugh out loud bit in the show!" Meanwhile, another Twitter user jokingly shared, "I'm so happy john mulaney adopted pete davidson."
To echo John Mulaney's recent sentiment, we're so glad to see that Pete Davidson is doing well these days.
If you or anyone you know is having suicidal thoughts, please call the National Suicide Prevention Lifeline at 1-800-273-TALK (8255).