Twitter Resurfaces A Sweet Moment Between The Queen And Meghan Markle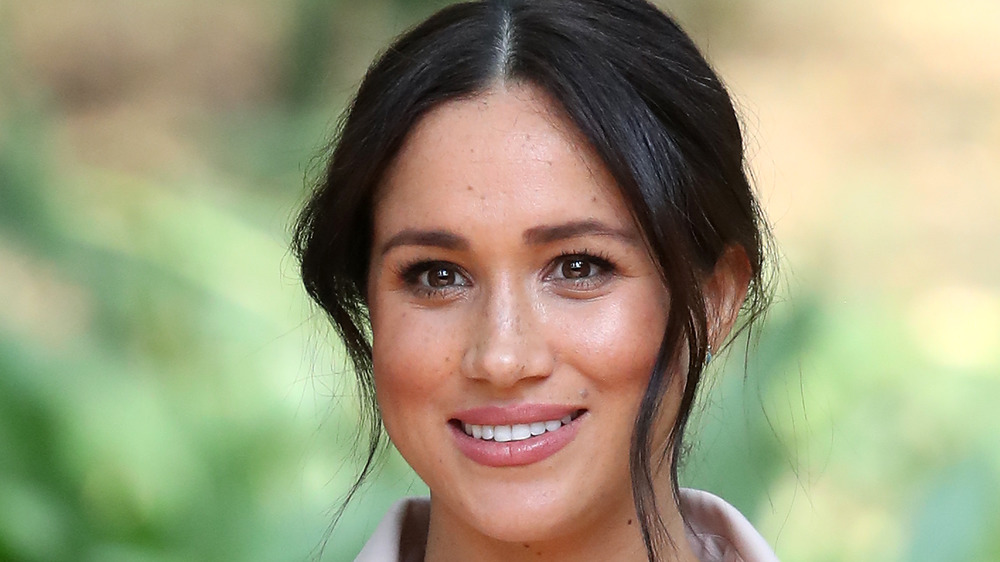 Chris Jackson/Getty Images
The Twitter world is smiling back on times when relations weren't so tense in the British royal family.
After CBS aired the revelatory tell-all interview with Prince Harry and Meghan Markle, many were concerned that it may create a deeper divide between the now bi-continental family, especially with Us Weekly reporting that Prince William and Kate Middleton were "appalled" and "utterly aghast" by the interview. During the special, Meghan and Harry made shocking revelations, like that the duchess was denied help when she told a high-ranking official that she had suicidal thoughts and that there were concerns about baby Archie's skin color after Meghan announced her pregnancy. In response, Prince William told reporters on March 11 that his family is "very much not a racist family," per CNN.
However, not everything in the interview was troublesome, and Meghan even talked about a sweet moment she shared with Queen Elizabeth II during their first outing in England after Meghan tied the knot with Harry. Like the investigative machine that it has proven to be time and time again, Twitter found the sweet moment on video. Keep reading to learn more about the touching moment.
Queen Elizabeth II made a kind gesture to Meghan Markle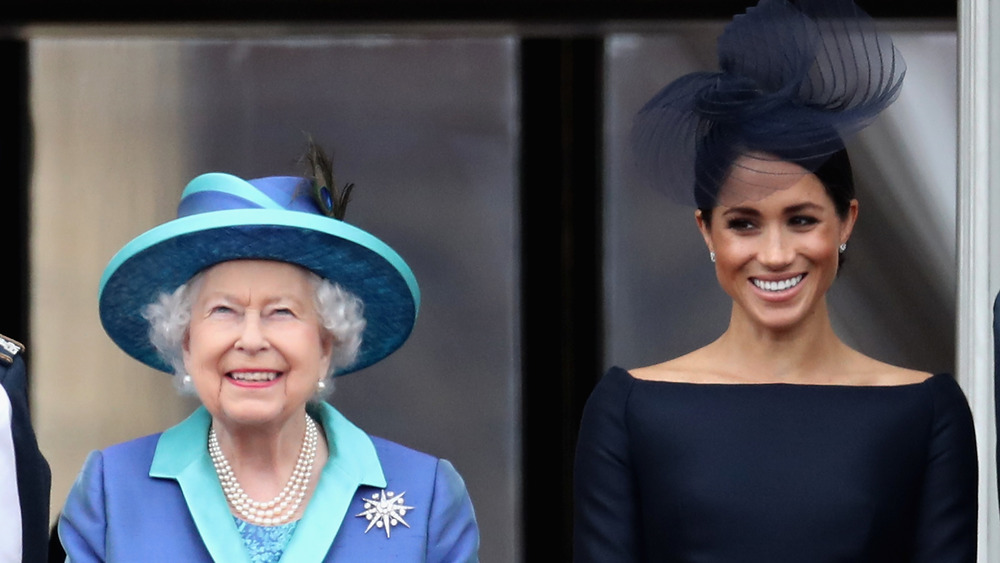 Chris Jackson/Getty Images
During the tell-all interview, Meghan Markle reflected on a time that Queen Elizabeth II acted like a grandmother to her. "We were in the car going between engagements, and she has a blanket that sits across knees for warmth, and it was chilly," the former actress said, according to People. "She was like, 'Meghan, come on.' And she put it over my knees as well." She added that it reminded her of her own grandmother. "She's always been warm and inviting and welcoming."
A video of the exact moment Meghan was speaking about during the interview was found by NowThis on Twitter. The clip shows Meghan and the Queen getting into a car, after which the Queen pulls a blanket onto her lap before sharing it with Meghan — and people could not get enough of it. "Meghan!!! Awwww," one person exclaimed after viewing the footage. "Happy to see this," another user commented.
However, not everyone was excited to see the video and expressed that it was suspicious that the clip was not circulated when it was first recorded. "Oh so you mean they had this video for 3 years and never showed it? Because it didn't fit the palace-approved narrative of 'Kate good, Meghan bad'?" one person tweeted, with others agreeing.
Regardless, it was refreshing for many to see such a genuine moment between a pair so often pitted against each other in the media.
If you or someone you know is having suicidal thoughts, please call the National Suicide Prevention Lifeline at 1-800-273-TALK (8255) or text HOME to the Crisis Text Line at 741741.