The Truth About President Joe Biden's New Nickname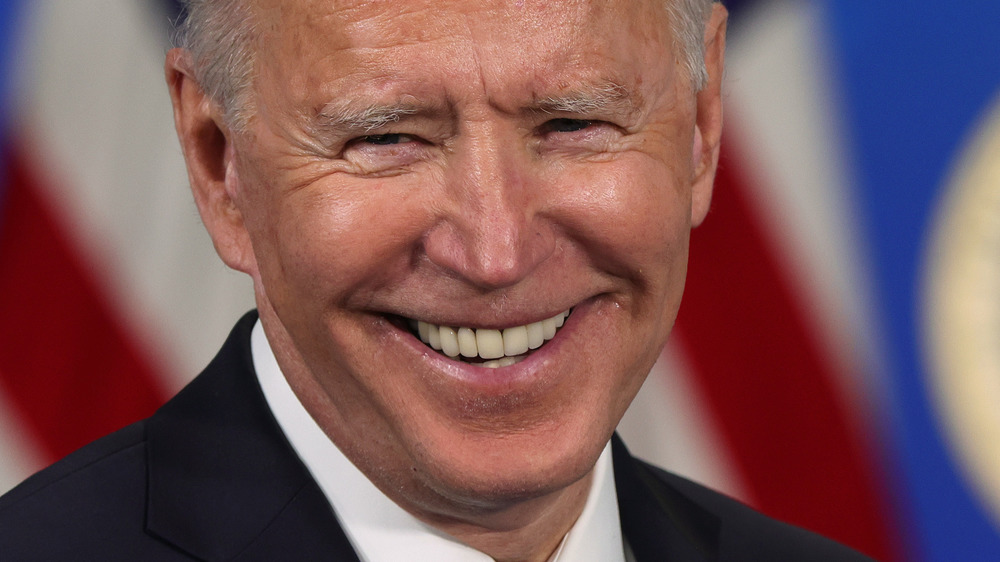 Alex Wong/Getty Images
President Joe Biden is back in the good graces of many people. In early March 2021, President Biden officially signed a $1.9 trillion COVID-19 relief bill, which is the largest to date, per the Houston Chronicle. Biden's push for the COVID-19 relief bill did not come with ease. According to The Boston Globe, not a single Republican voted for the legislation; the Democrats passed the bill with a simple majority 50-49. Sen. Dan Sullivan (R-Alaska) didn't cast a vote due to a family emergency (via NBC News).
Per an official statement from the White House, Biden's signing of the American Rescue Plan intends to "change the course of the pandemic, build a bridge towards economic recovery, and invest in racial justice." The bill entails a plan to contain the COVID-19 virus through mass vaccinations, reopening schools, and providing relief to families and communities that are impacted by the pandemic.
Social media celebrated President Biden for signing the COVID-19 relief bill immediately — most importantly, for signing a third round of stimulus checks valued at $1,400. Additionally, President Biden received a hilarious nickname out of it. Keep scrolling to find out what it is.
Black Twitter nicknames President Biden 'Moneybagg Joe'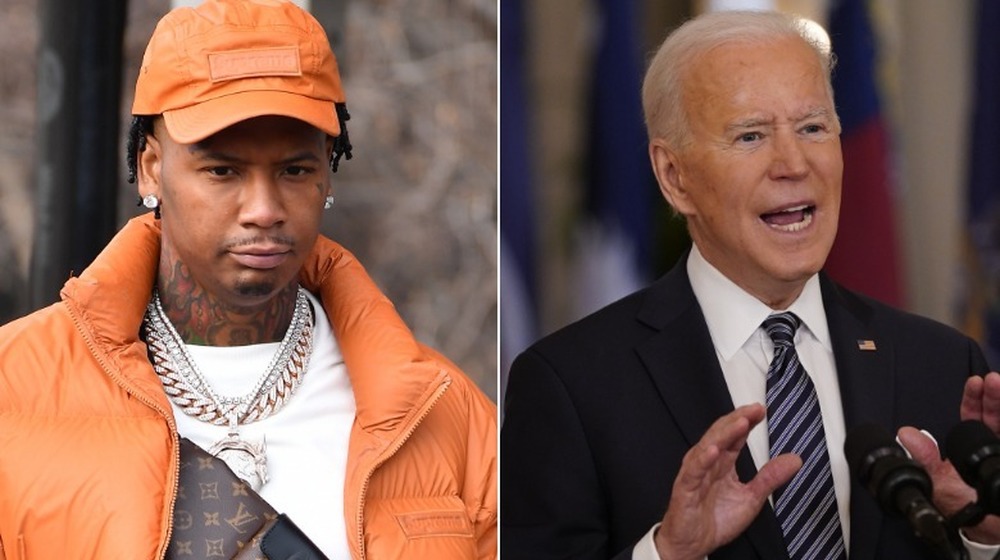 Paras Griffin, Bloomberg/Getty Images
Allow us to reintroduce President Joe Biden as "Moneybagg Joe." Following the signing of the popular COVID-19 relief bill, Black Twitter users joined forces to dub President Biden his new nickname in a series of funny memes. One user tweeted, "YESSSIR STIMMY JUST HIT THANK YOU MONEYBAGG JOE!" Another commented, "Black Twitter calling Joe Biden 'Moneybagg Joe' after passing the stimulus package is why I'll never delete this app."
"Moneybagg Joe" is a play on the moniker of rapper Moneybagg Yo. The nickname trended widely on Twitter alongside GIFs and Photoshopped images of President Biden's face on the "Time Today" rapper's head. Considering Yo's announcement that he wrapped up his fourth studio album in March 2021 (via HotNewHipHop), the free publicity is definitely a plus. He lightheartedly reacted to the "Moneybagg Joe" memes on Instagram, sharing a news segment of MSNBC's Ari Melber explaining the trend. "National News Manne Wtf," the Memphis-born rapper captioned the post. "S*** done got outta hand."
Who knows? Maybe one day we'll get a collab from Moneybagg Yo and Moneybagg Joe!