Why Trump's New Comment About His Daughter-In-Law, Lara, Is Causing A Stir
Bloomberg/Getty Images
While former President Donald Trump's seemingly permanent residence at the private golf club and resort Mar-a-Lago might still be a point of contention among many in the nearby Palm Beach community of Florida, it still looks like the club itself has continued to be a nexus for fundraising events thrown by the Trump brood, and would-be donors and others are, by all appearances, continuing to flock to them. 
The latest of these, while not a political fundraiser, was still steeped in the Trump name — and while it wasn't more along the lines of other Trump-helmed fetes, like the 2020 New Years Eve bash-cum-Republican-riddled who's-who of guests where Vanilla Ice and others performed — in the end, it still seemed to trace back straight to the Trump family's future political aspirations. And it was made all the more so by a rare public appearance by the ex-president himself.
As The Hill and others reported, Trump made a surprise cameo at a March 2021 fundraiser for an animal nonprofit that has close ties to Trump's daughter-in-law, Lara Trump. And while the organization ran the event for the purpose of raising $500,000 to relocate 500 dogs from China to the U.S., it was Trump's appearance — and what he ended up saying in an impromptu speech — that shifted the focus away from the mission at hand and towards the future 2022 midterm elections and to Lara Trump herself. 
Donald Trump spurred further rumors about Lara Trump's political future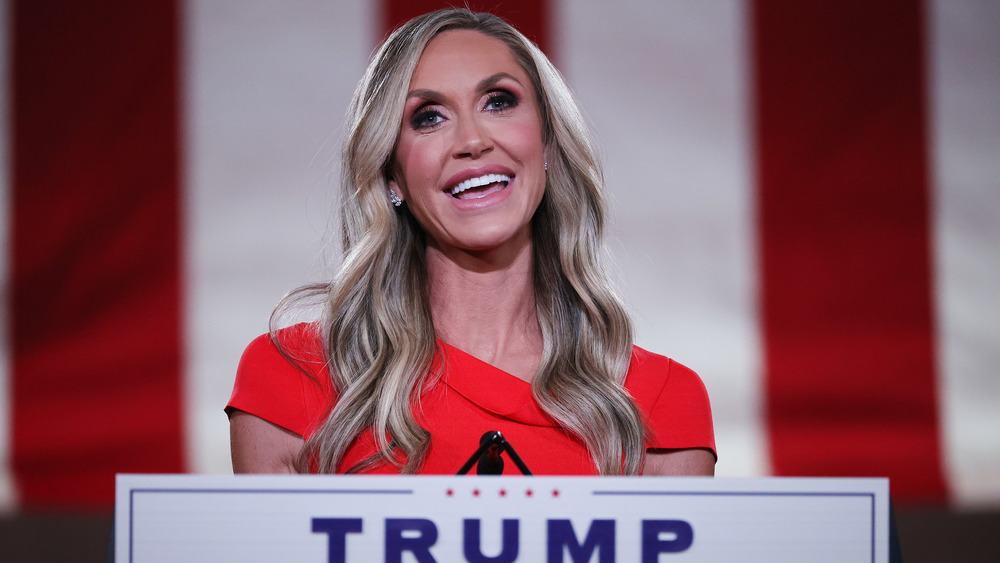 Chip Somodevilla/Getty Images
While it's unclear the reason behind Donald Trump's cameo at a fundraiser for the Big Dog Ranch Rescue, an animal nonprofit that his daughter-in-law, Lara Trump, helped organize, the twice-impeached president seemed primed for making a memorable impression. Though outlets like The Hill and The Independent noted that Trump, who was wearing a MAGA hat, told event attendees that he "didn't exactly prepare" for stopping by his daughter-in-law's fundraiser, but purportedly "heard everyone screaming" while walking by and felt compelled to drop in. 
Trump began his remarks by focusing on the event's purpose, dog rescue, stating, "I'm with you 100 percent" and adding that he and his staff had "many meetings in the White House," as well as the Oval Office, "having to do with saving and helping dogs!" But after mentioning the rescue's purpose, he pivoted to another topic entirely: his daughter-in-law Lara and the rumors that she may or may not run for a senatorial seat in the 2022 midterms in North Carolina. "I want to thank Lara, who's been so incredible, I don't know, you're running for the Senate," Trump continued amid cheers from attendees. "I hear she's going to run for the Senate!" (As The Hill and others pointed out, the wife of Trump's second oldest son, Eric, has not announced publicly whether she will or won't run in the 2022 senate race.)
Lara Trump might be part of the next generation of Trump politicians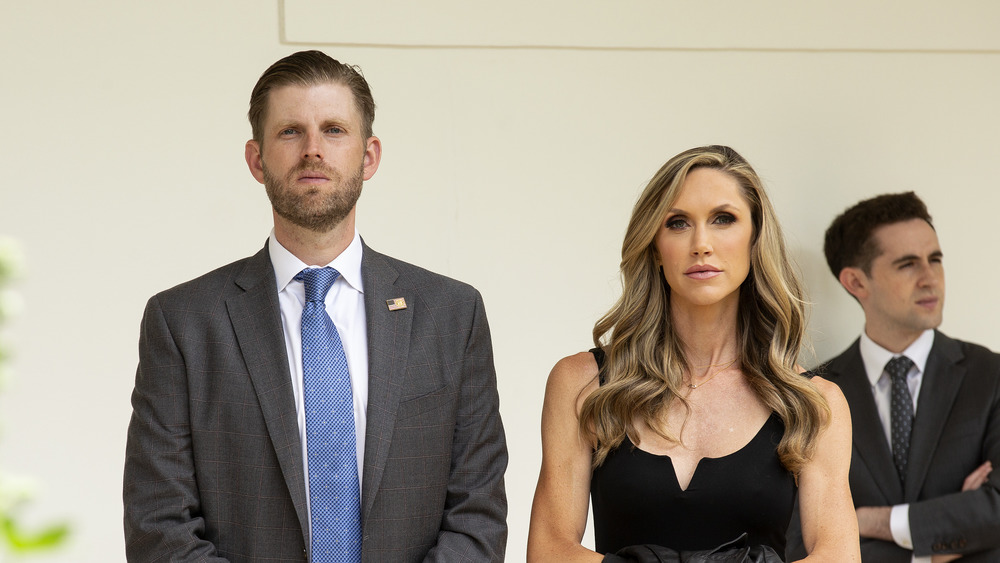 Bloomberg/Getty Images
Lara Trump might not be the only member of the younger generation of Trumps to make her own foray into politics. Though Donald Trump's eldest daughter, Ivanka, has dismissed the idea of a career in politics in order to spend time with her family, Donald Trump, Jr., has become a favorite for candidacy of every stripe, or at least serving as a huge political backer for endorsements and campaigning. Most notably, the push for Lara Trump to enter the race is seemingly directly correlated to that of the current Republican senator in North Carolina, Richard Burr. 
The reason? Burr, who announced in 2016 that he would not run for re-election, was one of few GOP lawmakers to vote to impeach Trump at his second impeachment trial, subsequently receiving a censure from his own party for doing so. If Lara Trump were to run for his vacant seat, it would be another win for the contingent of the Republican party that has remained loyal to Trump, even after Trump stepped down from his first (and possibly only) presidential term.
The appearance Donald Trump made at the Dog Ranch Rescue event might serve another, more revenue-generating purpose: as HuffPost reported in March 2021, the org has spent nearly $1.9 million in fundraising costs at Mar-a-Lago over recent years, making it one of the only businesses and organizations to have not severed ties with Trump or his properties.