Fans Are Loving This Moment Between Lizzo And Trevor Noah At The Grammys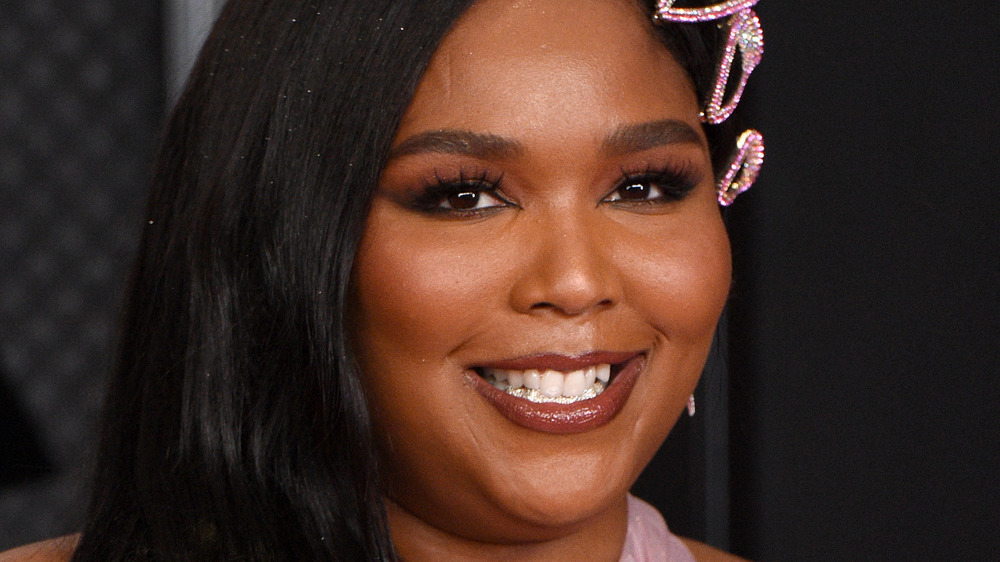 Kevin Mazur/Getty Images
The high-energy and oh-so talented Lizzo helped open the 2021 Grammys in the best way possible. Following Harry Styles' debut performance singing "Watermelon Sugar," Lizzo unveiled the winner for Best New Artist, and in her typical fashion, she charmed us all by being her bubbly, uncensored self. As she walked on stage to present the Grammy, Lizzo tried to hype everyone up, but in the process, she accidentally dropped a curse word on live TV: a big no-no when it comes to broadcasting the highly watched award show.
She belted out "B*tch, I'm back!" Then, within seconds, caught herself and immediately apologized. "Oh god, I'm so sorry," she said to the crowd and viewers at home who were watching. Lizzo was quick to recover and also wasn't afraid to address the mishap. As she opened the envelope to announce the winner, she told everyone, "I'm nervous, y'all." Megan Thee Stallion was then awarded the Grammy and the rest of the show essentially went off without a hitch.
However, fans couldn't get enough of Lizzo and her hilarious blooper. They even picked up on a moment with host Trevor Noah that may have been the reason the "Good as Hell" singer was a bit frazzled. Keep reading to find out what they had to say about the interaction that happened before Lizzo's "oopsy."
Fans are shipping Lizzo and Trevor Noah, thanks to this moment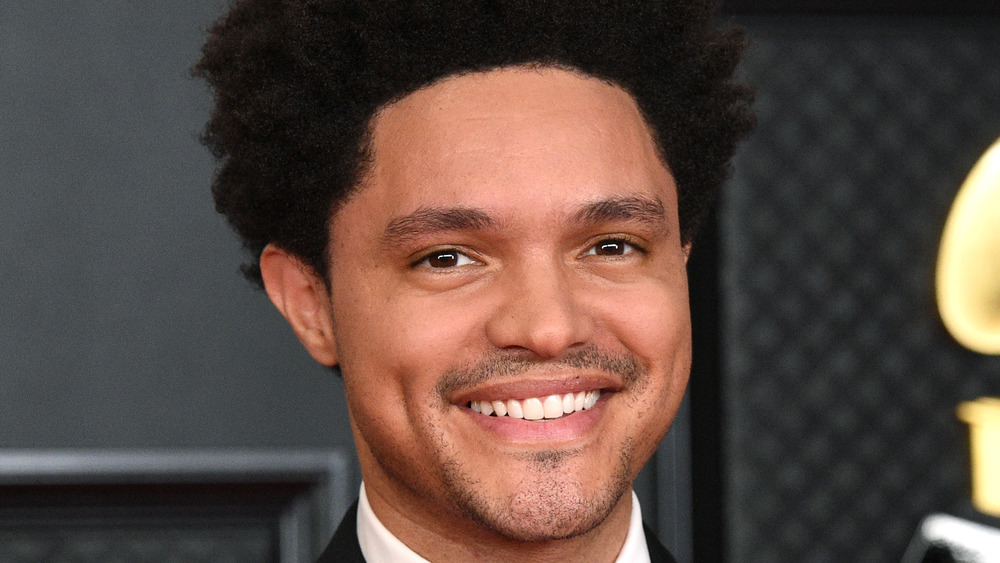 Kevin Mazur/Getty Images
Prior to Lizzo getting up on stage to present at the 2021 Grammys, host Trevor Noah gave the singer a warm welcome. Lizzo replied to Noah's kind remarks as she walked up to the microphone, saying "Thank you, Trevor. I love you, cutie." Noah then reportedly blew the singer a kiss and Lizzo went on to present. This sweet interaction, of course, caused Twitter to blow up with fans shipping these two celebs. Moments after Lizzo awarded Megan Thee Stallion the Grammy for Best New Artist, fans took to Twitter to comment on Lizzo and Noah. 
One fan tweeted, "THE TREVOR NOAH AND LIZZO INTERACTION WAS SO WHOLESOME PLS I LOVE THEM." Another followed, "omg trevor and lizzo so cute." This also isn't the first time the two celebs have been somewhat flirty with one another. Back in April 2019, Lizzo appeared on Noah's The Daily Show where she reportedly (via Stereogum) was extra flirty with talk show host. The outlet writes that Lizzo "started flirting with Noah the second she walked onstage. [...] And she kept it up until her final moment up there, when she kissed him on the cheek while twerking." 
So, based on what happened at the 2021 Grammys, we definitely think there might be some hidden chemistry with these two stars that just can't be denied.