Inside Tiffany Haddish And Nicki Minaj's Feud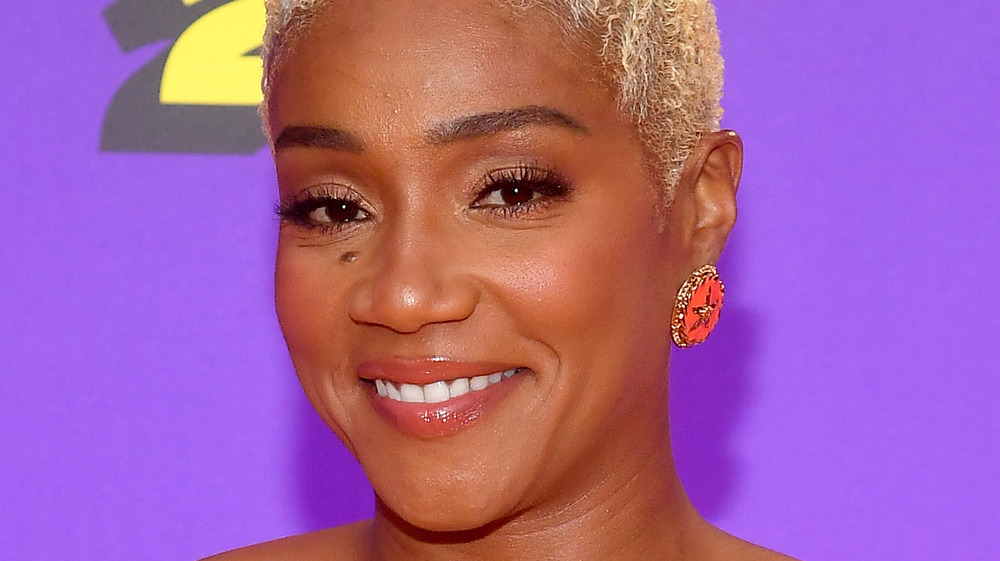 Amy Sussman/kca2021/Getty Images
Comedian Tiffany Haddish is making headlines after she threw shade at rapper Nicki Minaj in a leaked Clubhouse chat, per TMZ. While recently participating in a Clubhouse chat, a guy compared Haddish to Minaj, calling her the "Nicki Minaj of comedy right now." Despite being an incredibly well-established and successful rapper, you would think she would have taken that as a compliment. However, Haddish didn't. After another person within the discussion stated that Haddish is better than Minaj because she "shows up on time," Haddish responded, "And unlike Nicki, I treat everybody with respect and dignity."
Minaj has a very loyal fan base, who she calls her Barbz. Unsurprisingly, they were not pleased with Haddish's words and decided to drag her on social media. "If we being completely honest I've laughed harder at Nicki bars than anything Tiffany ever said. Nicki Minaj funny af. You understand me?" one user tweeted. "Comparing Tiffany Haddish to Nicki Minaj is the weirdest thing to me...at least Nicki's good at what she does," another person shared.
While Minaj's fans have a lot to say, she has yet to respond to the Girls Trip actor's words and seemingly remains unbothered. However, this isn't the first time Haddish and Minaj have clashed with one another.
Nicki Minaj has fired back at Tiffany Haddish previously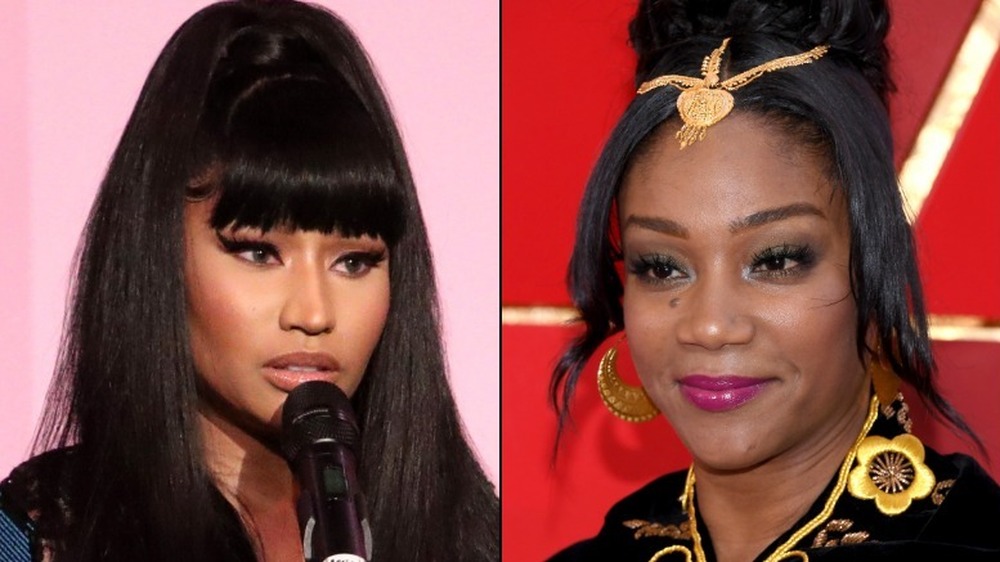 Rich Fury, Kevork Djansezian/Getty Images
While Nicki Minaj currently remains silent over Haddish's most recent words said about her, this isn't actually the first time headlines have been made about the duo.
In 2018, Haddish attended the MTV Video Music Awards and announced on stage that singer Camila Cabello had earned herself five nominations that year, per Page Six. While honoring Cabello's achievement, she threw a dig at her former group Fifth Harmony members by saying, "Those of you watching at home, hi Fifth Harmony!" Haddish soon after presented the award for Best Hip-Hop Video with Kevin Hart. Minaj won the Moonman and used a part of her speech to address some of Haddish's words, firing back with, "Don't be coming for Fifth Harmony because Normani is that b***h!" 
Along with Minaj, former Fifth Harmony member Lauren Jauregui also wasn't pleased with Haddish. The singer took to Twitter and wrote, "Waiting for the day when supporting one successful dope woman does not mean insult to other successful dope women. There is energy and space for us all to beautifully coexist and bless the world with our individual truths, stories and talents."