The Truth About The Royal Family's Shock Over Meghan Markle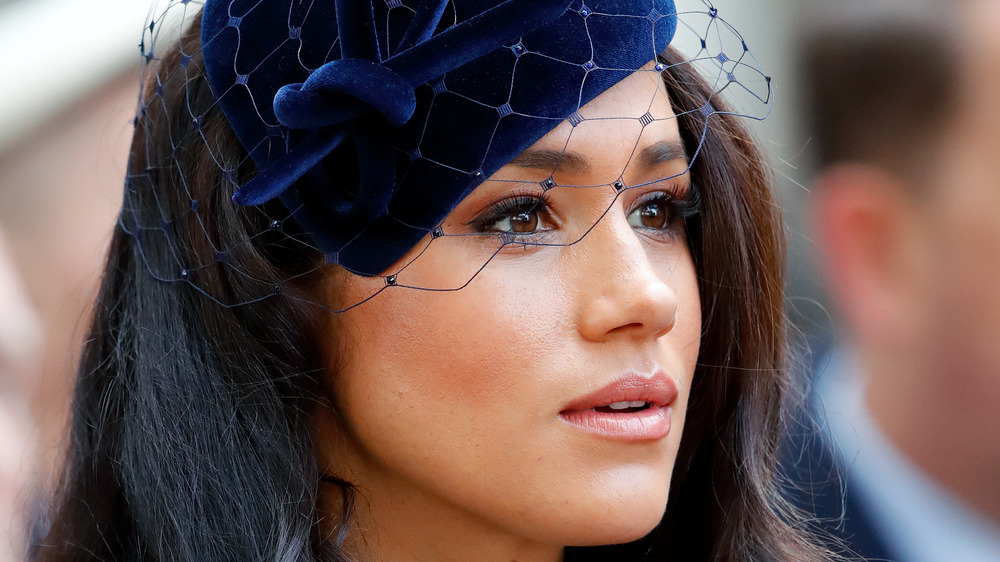 Max Mumby/indigo/Getty Images
The British royal family is still grappling with the statements made in Prince Harry and Meghan Markle's tell-all interview with Oprah Winfrey more than a week after it aired. The interview told viewers what they already knew: Harry and Meghan were unhappy as working members of the royal family and wanted out. What most people didn't know, however, was how much the Sussexes truly struggled while under the strict rule of the monarchy.
Meghan shockingly revealed that she felt suicidal during her pregnancy with her and Harry's first child, Archie, and when she asked for help from palace officials to better her mental health, her request was denied. The couple also alleged that high-ranking members in the royal family were concerned about the possible color of Archie's skin because Meghan is half-Black. Furthermore, Harry quite bluntly stated that he was — and his brother and father, Princes William and Charles, currently are — "trapped" in the family and the duties that come with being royal, per Page Six.
The royal family has been fairly quiet about the interview as they struggle to find words to both publicly or privately say. However, both Queen Elizabeth II and Prince William denied the claim that there was a racist conversation about Archie's skin color before he was born. Meanwhile, there have been reports that the family is in disagreement on what their next move should be. Keep scrolling to dive deeper into the behind-the-scenes conversations happening within the palace, and the truth about the royal family's shock over Meghan Markle's reveals.
The royal family reportedly feels 'mixed emotions' over Meghan Markle's reveals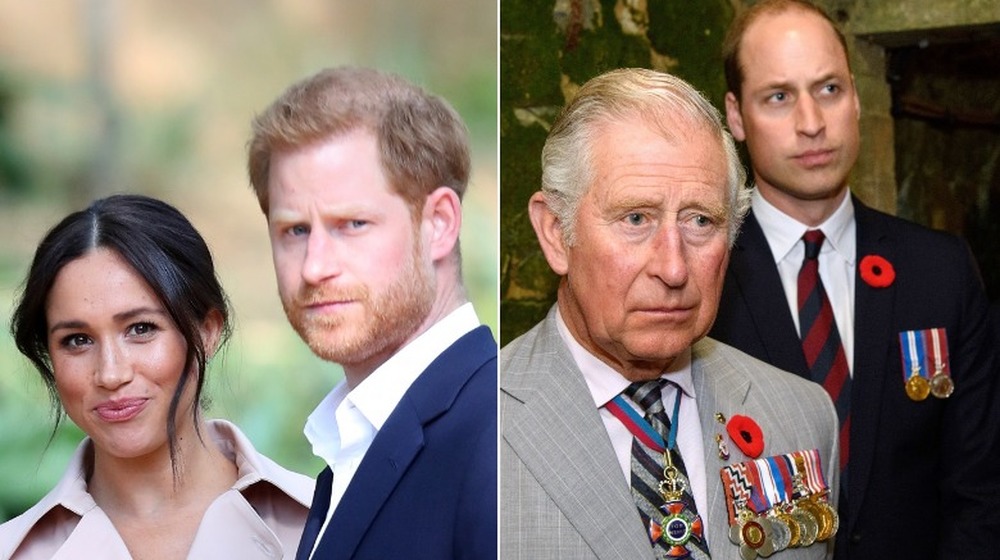 Chris Jackson, Pool/Getty Images
The British royal family reportedly felt a deep sense of "anger" following the head-turning interview with Prince Harry and Meghan Markle, according to a palace insider (via People). "There were genuinely mixed emotions and deep sorrow and shock there too," the source claimed.
Queen Elizabeth II's official statement regarding the interview specifically brought up the allegations of racism, and said matters will be "addressed by the family privately," per AP. Those discussions have begun, according to Gayle King (via CBS This Morning), and involved Prince William, Prince Harry, and their father, Prince Charles. However, King said the talks were "not productive," but that "they are glad that they have at least started a conversation."
Meanwhile, The Sun (via Page Six) reported in a seemingly since-deleted article that the family was in disagreement about how to further respond to the interview. The outlet alleged that Charles wanted a "point-by-point rebuttal" of the topics brought up in the sit-down, but other high-ranking officials disagreed. A source cited by US Weekly claimed that Charles "does not agree with Harry trashing his whole family in public" and believes the issues could have been addressed privately. However, it seems that Harry and Meghan tried to bring up some of their concerns and came to the conclusion that their worries were not going to be taken seriously, as supported by Meghan's comments about her ailing mental health.
Only time will tell what the next move will be for Harry and Meghan or their royal relatives. 

If you or someone you know is having suicidal thoughts, please call the National Suicide Prevention Lifeline at 1-800-273-TALK (8255) or text HOME to the Crisis Text Line at 741741.