Who Is Emily VanCamp's Husband, Josh Bowman?
David M. Benett/Getty Images
Emily VanCamp's popularity has risen over the years, and as her star grows, more and more people are becoming interested in her personal life. According to IMDb, the actor has an impressive résumé that dates back to 2000. That year, VanCamp landed a role on the hit Nickelodeon series Are You Afraid of the Dark? (and our younger selves can feel chills down the spine upon mention of the name).
A few years later, she landed one of her breakout roles in 2002, playing Amy Abbott in Everwood. VanCamp also played the role of Rebecca Walker from 2007-2010 in ABC's popular series Brothers and Sisters. Plenty of other big names like Calista Flockhart, Sally Fields, and Rob Lowe also appeared in the drama. 
VanCamp's next significant role was in Revenge, which ran for four seasons. She switched her gears from family drama to hospital drama in The Resident from 2018-2021. In 2021, VanCamp took on another project in the TV miniseries The Falcon and the Winter Soldier. According to its IMDb page, the Marvel show will follow "the events of 'Avengers: Endgame,' Sam Wilson/Falcon and Bucky Barnes/Winter Soldier team up in a global adventure that tests their abilities — and their patience." It's safe to say that people are SUPER excited about the show.
But alongside successful women there tend to be successful men. So what's there to know about the leading man in VanCamp's life? Keep scrolling to find out.
Emily VanCamp's husband Josh Bowman is also super talented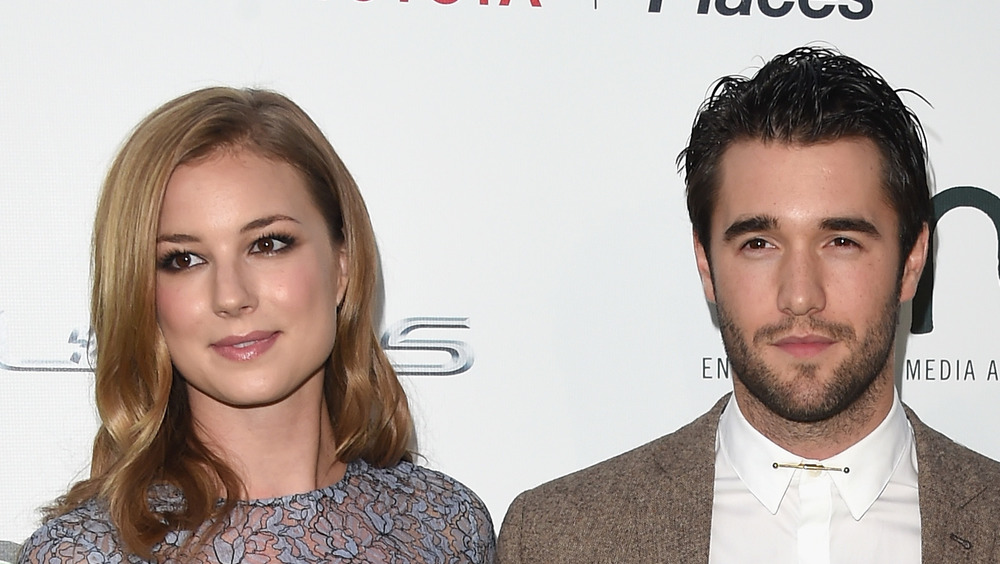 Jason Merritt/Getty Images
According to Us Weekly, Emily VanCamp and Josh Bowman initially met on the set of Revenge in 2011, and soon after developed an off-screen romance. They got engaged in May 2017, and at the time, VanCamp told People, "it's literally only been a couple of days, but it's amazing. I'm really happy!" The pair made things official in December 2018 at a tropical wedding in the Bahamas. VanCamp shared the news with fans on Instagram shortly after.
Like his wife, Bowman is a seasoned actor in his own right. His first role came seven years after his wife's first, according to his IMDb page. He fittingly played the role of "royal hunk" in two episodes of the TV series Genie in the House. A few other television credits to his name include Our Girl, Time After Time, and Make It or Break It. Bowman has also appeared in a documentary.
According to his Instagram page, Bowman is also a member of March Forth Media, which is "an independent production company striving to make character driven content through the medium of film, television, and documentaries." While he keeps his page sparse, VanCamp regularly gushes over her husband on her own Instagram page, sharing glimpses of their seemingly normal life, which includes chess games with dogs. 
What a sweet couple, and we're totally not jealous of their perfect marriage or anything (just kidding... we're definitely green with envy).