Billie Lourd Opens Up About Carrie Fisher And Debbie Reynolds' Deaths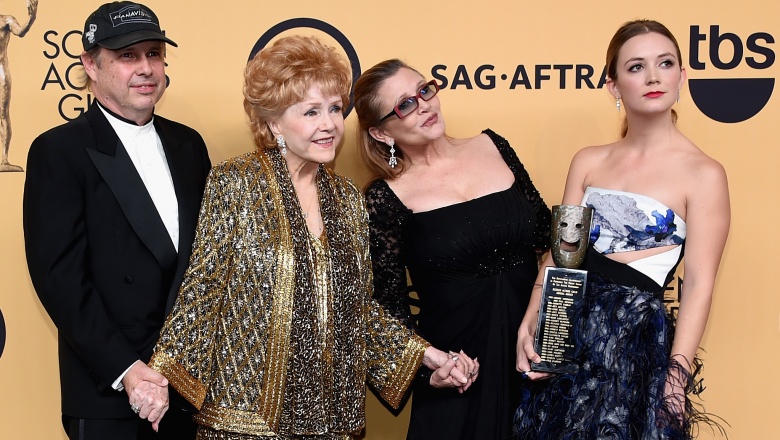 Getty Images
Carrie Fisher's daughter, Billie Lourd, spoke out for the first time about the death of her mother and grandmother.
Lourd, 24, posted a photo on Instagram of herself as a child with Fisher and grandmother Debbie Reynolds, writing, "Receiving all of your prayers and kind words over the past week has given me strength during a time I thought strength could not exist. There are no words to express how much I will miss my Abadaba and my one and only Momby. Your love and support means the world to me."
Fisher passed away at age 60 on Dec. 27, 2016 after suffering cardiac arrest on a flight from London to Los Angeles four days earlier. Reynolds died one day later.
Fisher's family is reportedly seeking out the off-duty emergency workers who attempted to resuscitate her during the flight. TMZ reported that when flight attendants on Fisher's fateful flight called for medical professionals to come forward, an off-duty nurse and another volunteer stepped up and performed CPR. They were reportedly unable to get a pulse from the Star Wars (1977) star for at least 10 minutes, and the family believes if it wasn't for their intervention, they may not have had the last few days of her life to say goodbye. As Nicki Swift previously reported, sources close to the family told TMZ Fisher suffered cardiac arrest once more in the hospital on Dec. 27, 2016. The family had reportedly discussed removing her from life support, but her heart suddenly stopped beating on its own. TMZ reported that the official cause of Fisher's death is unclear because the Los Angeles County Coroner deferred performing a full autopsy at the request of her family.
Insiders told Entertainment Tonight that a private memorial service will be held for Fisher and Reynolds on Jan. 5, 2017, and that Fisher and Reynolds will be buried together at the Hollywood Hills' Forest Lawn Memorial Park. A more public service will be held later. Fisher's brother, Todd Fisher, told 2020 (via Entertainment Tonight), "My mother loves hummingbirds, and had hummingbirds in her yard. We were going all over the place, and we got to this one place to look at this one thing, these hummingbirds came, and it was just like 'fait accompli,' as my mother would say."