Angelina Jolie Slams Brad Pitt In Court Filing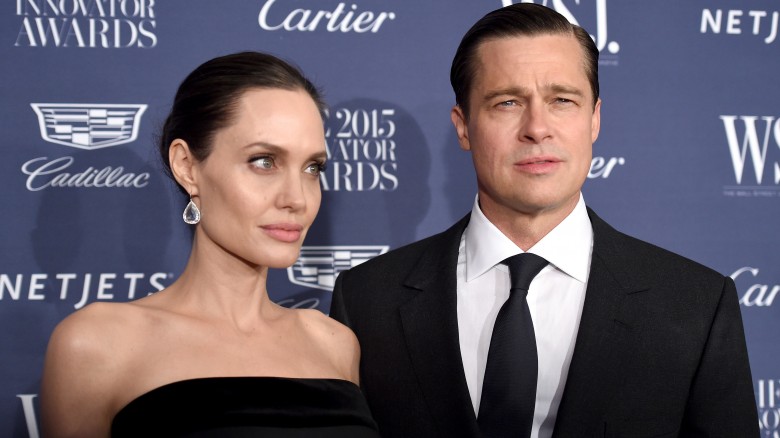 Getty Images
Angelina Jolie finally agreed to seal the custody documents related to her divorce with Brad Pitt, but she didn't do so quietly.
As Nicki Swift previously reported, Pitt, 53, filed for an emergency hearing just before the holidays requesting to seal the documents in the custody case. Jolie, 41, initially refused, and a judge shot down the order—but sources said the judge would likely agree to the move in a non-emergency hearing later. In Pitt's most recent filing from late December 2016, his attorney claimed (via the
In Pitt's most recent filing from late December 2016, his attorney claimed (via the Daily Mail), "[Jolie] apparently has no self-regulating mechanism to preclude sensitive information from being placed in the public record, or she has other motives." The team alleged that Jolie "exposed the children by making public the names of their therapists and other mental health professionals...Although she had already made them public, she did it again."
In court documents obtained by People, Jolie's attorney, Laura Wasser, wrote, "There is little doubt that [Brad] would prefer to keep the entire case private, particularly given the detailed investigations by the Federal Bureau of Investigation and the Dept. of Children and Family Services into allegation of abuse."
Sources close to Pitt countered, "It's nice to see that she has finally come around to supporting the sealing of documents weeks after he requested this action. Considering that both the FBI and child services thoroughly investigated this matter and cleared the father, this line of attack doesn't make much sense."
Indeed, both the FBI and DCFS cleared Pitt of any allegations of abuse that stemmed from an alleged in-flight altercation with son Maddox in September 2016. The argument was rumored to be the catalyst for the couple's divorce.
Still, sources close to Jolie still insist that Pitt doesn't have clean hands. "They keep pointing to him being cleared. While his behavior didn't amount to anything criminal, that doesn't mean he didn't do anything wrong," an insider said. "The kids are traumatized. The mom has been protecting the kids by not revealing what really happened on that plane. Her interest since the outset hasn't changed: to protect the health and safety of the kids."
Still, a source close to the Allied (2016) hunk pointed out to E! News, "He has been cleared after thorough investigations by both FBI and Child Services, which included [Jolie's] cooperation. Clearly her claims were considered in reaching those conclusions and if she held back information, which she didn't, then isn't she then not representing the best interests of her children by holding it back? Thankfully, after four months of on record statements, leaks and unnecessary and intrusive filings, she is coming around to realizing that confidentiality is actually in the best interests of her children and family."
Pitt, who briefly saw his kids for a gift exchange over Christmas, is fighting for joint custody of his six children with Jolie (Maddox, 15, Pax, 13, Zahara, 11, Shiloh, 10, and twins Knox and Vivienne, 8). A source told In Touch Weekly (via MSN) that some of the children are more receptive to Pitt than others, with Maddox and Pax reportedly not desiring much interaction with their father. "Some of the girls are accusing their older brother of being responsible for their not seeing Brad either," the source said. Another source said "[Some of the kids] can't understand why they're being kept away" from Pitt.