Ellen DeGeneres Opens Up About Terrifying Moment She Rushed Wife Portia De Rossi To The Hospital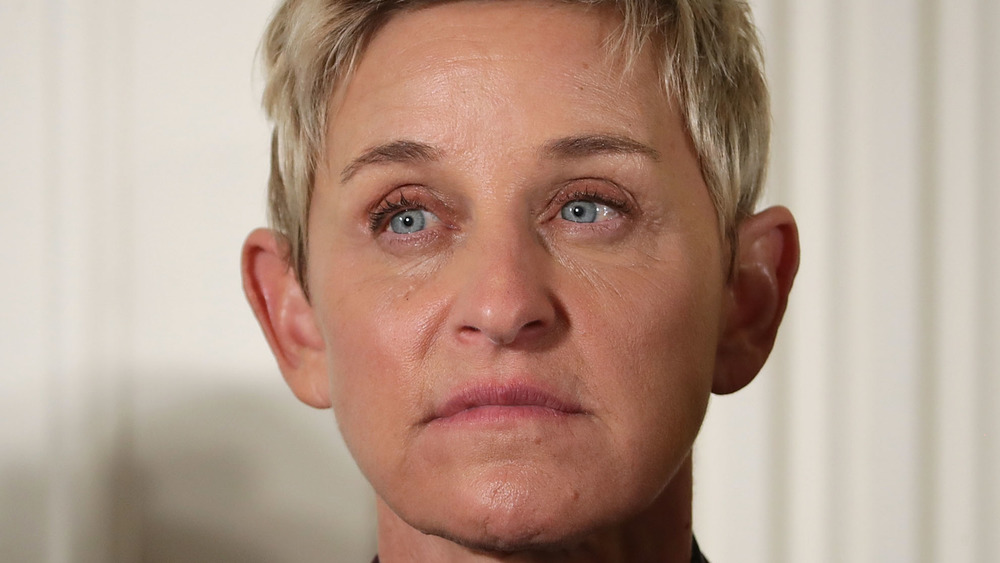 Chip Somodevilla/Getty Images
Ellen DeGeneres has spoken out about the scary moment she had to quickly get her wife, Portia de Rossi, to the hospital for an appendectomy. A rep for the couple confirmed de Rossi's hospital stint to People, saying in a statement that the Arrested Development star was "rushed to the hospital" by DeGeneres on March 19, 2021, and was "in a lot of pain." DeGeneres' wife had appendicitis and underwent surgery, but all went well as her rep confirmed on March 22, 2021, that she was "resting at home and Ellen is taking care of her. It was a scare at first, but all good now."
The whole incident was no doubt pretty terrifying for both DeGeneres and de Rossi, and the daytime talk show host got very candid about what really happened when she recalled the incident on The Ellen DeGeneres Show on March 23, 2021. 
Keep reading to find out what she had to say and why she was so "worried" for her wife.
Ellen DeGeneres was 'worried' about Portia de Rossi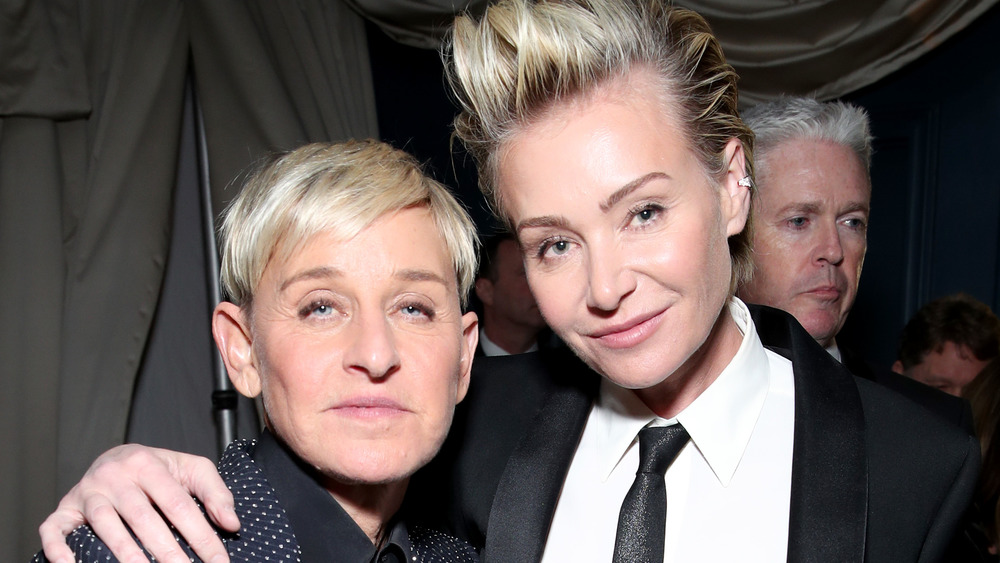 Rich Fury/Getty Images
In her pre-recorded opening monologue for the March 23, 2021, episode of The Ellen DeGeneres Show, Ellen DeGeneres spoke out about the health scare, quipping (via E! News), "Anybody else have to rush their wife to the emergency room for an appendectomy? Anybody? No? Just me? Okay." She recalled how Portia de Rossi wasn't feeling well mere hours before their frantic drive to the hospital, and shared that they went to bed early only for DeGeneres to hear a noise before finding her wife in pain and "on the floor on all fours."
DeGeneres then rushed de Rossi to the emergency room. "We're driving and she's in so much pain, and I'm worried about her, and I don't know what's wrong with her," she said. But no Ellen DeGeneres Show monologue would be complete without a dash of her signature humor, as the host joked, "As you know, I grew up Christian Science, so my best guess was a demon." DeGeneres shared that de Rossi had a CT scan and was then admitted to the hospital, though DeGeneres had to return home due to COVID-19-related restrictions. 
"That's upsetting to me. They sent me home and I'm crying, because someone was chopping onions at the nurse's station," she joked. The next morning, DeGeneres received a phone call saying de Rossi had to have her appendix out. 
So, how is she doing post-surgery? Keep reading for more.
How Portia de Rossi is doing after surgery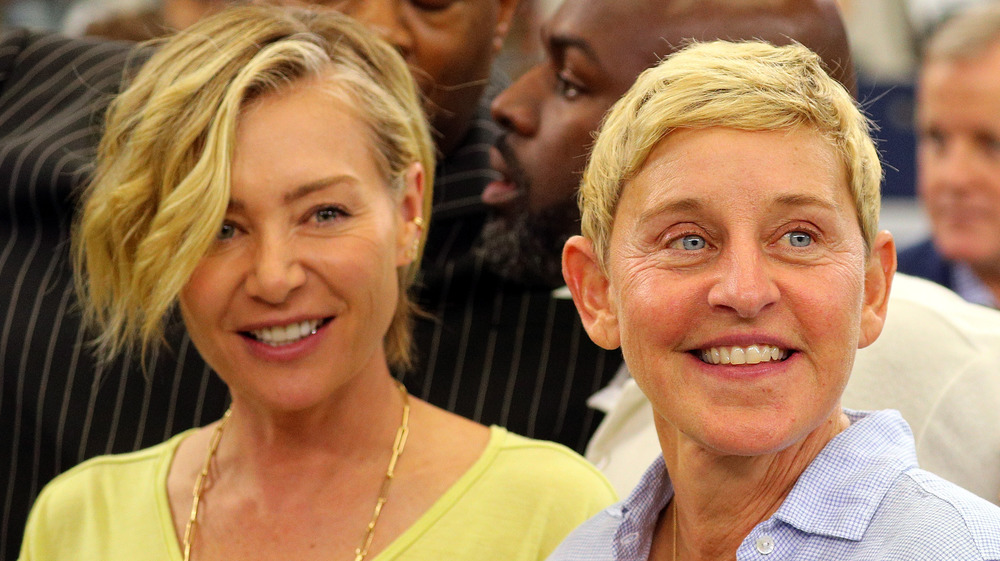 Richard Rodriguez/Getty Images
Ellen DeGeneres also gave an update on how Portia de Rossi is doing after her surgery, sharing (via E! News), "I'm happy to report Portia's feeling much better now."
DeGeneres doubled down on their rep's statement, confirming de Rossi returned home late on March 22, 2021, three days after their frantic drive to the hospital. Proving all really is now okay, the star shared another joke about the scary ordeal and quipped that "not all" of de Rossi returned home because "she left her appendix at the hospital" (via People). She added, "I'm going to auction off the appendix for charity. I'm kidding, it's gonna go on eBay."
DeGeneres and de Rossi married in 2008 and have been through thick and thin together since tying the knot. In August 2020, de Rossi was very much on hand to support her wife after The Ellen DeGeneres Show was accused of having a toxic workplace culture. The star took to Instagram to share the words, "I stand by Ellen" written on a light blue background. She wrote in the caption, "To all our fans .... we see you. Thank you for your support." 
It looks like this is one couple that really does have each other's backs in good times and bad.