Kim Kardashian Speaks Out About Robbery For First Time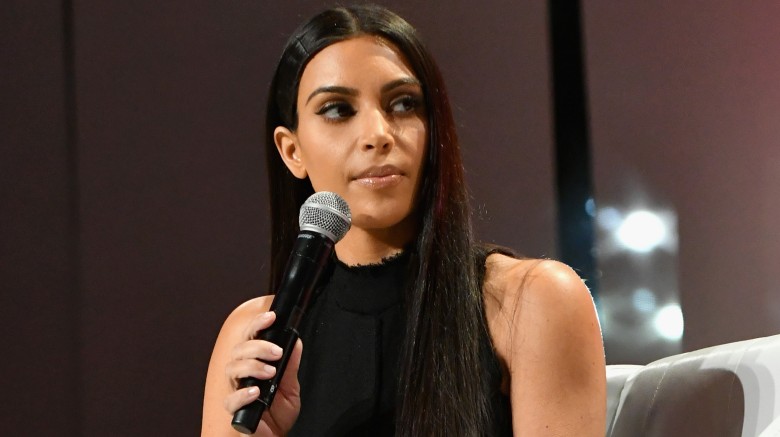 Getty Images
Just days after her return to social media, Kim Kardashian is opening up for the first time about being robbed at gunpoint in Paris.
As Nicki Swift previously reported, Kardashian, 36, was held up at gunpoint at her and Kanye West's apartment in Paris' Hotel de Pourtalès, which is notorious for lacking security, in October 2016. The robbers wore fake cop uniforms and bound and gagged the reality starlet, leaving her in a bathtub while they made off with millions of dollars worth of her jewelry.
Now, in a 30-second preview clip for Keeping Up With The Kardashians, which begins its latest season this March, the family is cashing in on the trauma.
"They're going to shoot me in the back," a weeping Kardashian recounted to her family. "There's no way out. It makes me so upset to think about it."
In another scene, Kardashian hints at West's hospitalization for a psychotic episode in November 2016 during a phone call. "Don't scare me, please," she says in the snippet. "What's going on?" In a subsequent voiceover, she says, "I think he really needs me, and I have to go home."
The stress from the recent months has taken a toll on the couple's marriage, but insiders believe they were already in trouble before the robbery occurred, and that despite Kimye getting along better lately, the romance may be kaput.
"The divorce rumors come from before he had the breakdown. She didn't know what was up with him and they weren't spending time together. She didn't realize it was a mental breakdown," a source told People. "It's not something she would divorce him over...He had a breakdown, but it does not pertain to them not getting along."
Another source told the magazine, "Kim and Kanye continue to spend time with the kids. They act friendly, but the passion seems to be missing," a source said.
Sources told People that Kardashian is enjoying her lower-key lifestyle.
"Taking time off after the robbery has really changed Kim. And for the better. She initially was just too shocked and traumatized to deal with anything but her kids. As time went on, she realized that she actually loved her slower life," the source said. "She feels very grateful that she has been able to spend the past few months just focusing on her kids. Kim thinks they are growing too fast and she has enjoyed spending more quiet time with them."
Still, the source noted, don't expect her to stay out the spotlight for too long.
"She does seem ready now though to tackle more work. She will still be on a much slower schedule than before the robbery. She is carefully choosing work events and projects that she wants to focus on for the next few months. Her mindset seems very different," the insider added. "She acts more relaxed when it comes to work. She will definitely not go back to overloading her schedule again any time soon. She seems to have find a much better life balance. And it seems to make her much happier."