Meghan Markle's Necklace Has A Hidden Meaning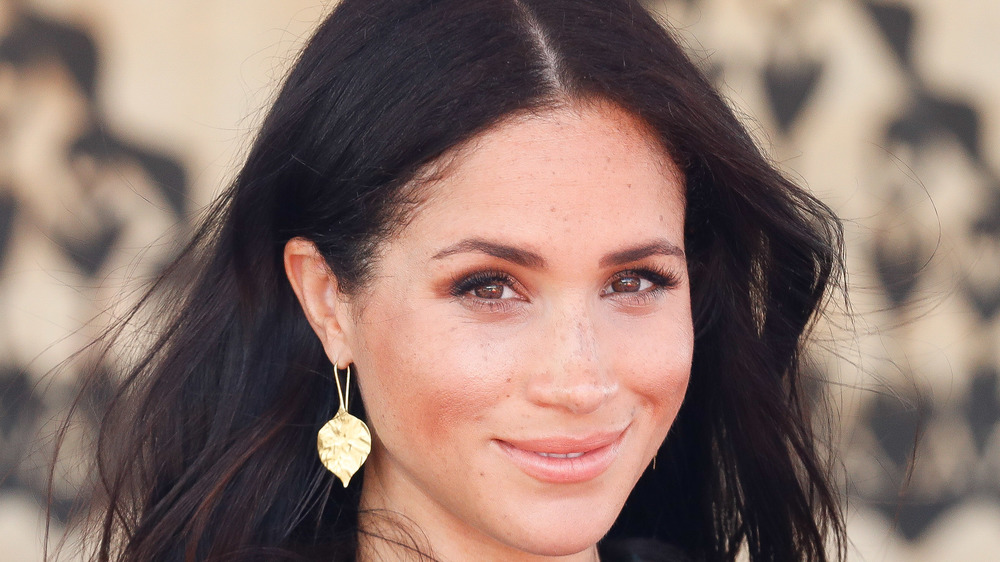 Chris Jackson/Getty Images
It looks like Meghan Markle has more in common with Disney Princess Ariel aside from their similar stories about losing and regaining their voices. As you may recall, Meghan highlighted her similarities with the mermaid during her March 2021 tell-all interview with Oprah Winfrey where she revealed she was "silenced" by the royal family ahead of her and Prince Harry's departure as high ranking royals.
However, eagle-eyed fans noticed another similarity between the two with a deeper look at her FaceTime cameo during her husband's appearance on the Late Late Show with James Corden in February 2021. As the talk show host tried to convince the couple to move into the home of the Fresh Prince of Bel-Air for obvious reasons, Meghan is seen sporting a huge blue pendant, and much like the necklace in the Disney movie, the jewel seems to hold the key to her voice. Keep scrolling for a deeper look into the gemstone, which appears to speak volumes about Meghan's hardships and personal growth.
Meghan's necklace symbolizes 'one's inner truth'
Being the multi-dimensional woman Meghan Markle is, it's no surprise her necklace (pictured above) holds more than one value. In fact, the $1,295 trapezoid-shaped lapis lazuli pendant is a design from her friend Taryn Toomey's "The Airelume" collection for her brand, The Class, Page Six Style confirmed. 
Meghan is a true friend for supporting her pal's business, and it appears the meaning behind the stone rings true with the former actor. "Lapis lazuli aids in self-expression and revelation of one's inner truth," the product description explains. "This stone is widely regarded as a token of sincerity and wisdom – and is especially helpful to anyone in need of a boost in self-confidence and a stronger connection to their inner voice."
With Meghan expressing her joy for finally speaking her truth, it sounds like the pendant was made for her. "This beautifully potent piece was designed to support you in your daily rituals and rhythms and to manifest a consistent connection to your soul and spirit," The Class website reads, and it looks like the necklace is doing just that for the activist.