Mariah Carey Taking Break From Spotlight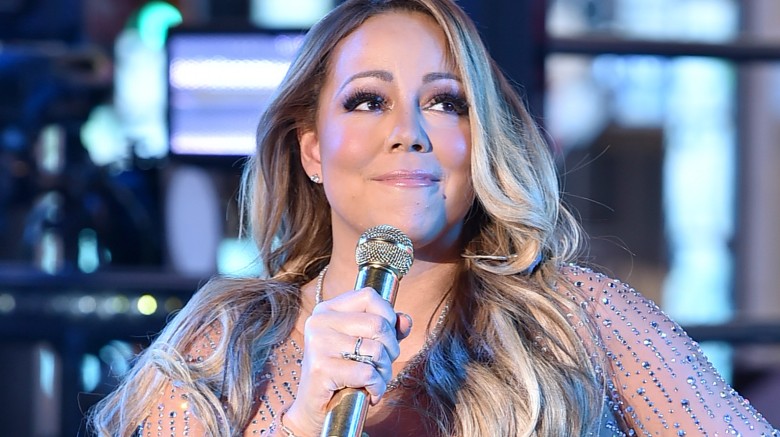 Getty Images
Mariah Carey is speaking out once more, in her own words, about what happened in her disastrous New Year's Rockin' Eve performance.
As Nicki Swift previously reported, Carey, 46, complained that her inner ear monitors weren't working during her ill-fated close to 2016, leading to an awkward mix of onstage banter and lip syncing to her own tracks. Carey later claimed to be "mortified" by the incident, and her manager, Stella Bulochnikov, claimed the songbird was "sabotaged." Dick Clark Productions adamantly denied the claims, which they called "defamatory," and sources disputed whether or not Mimi rehearsed for the show. Even Carey's ex-husband, Tommy Mottola, chimed in on the debacle.
Now, in an audio message posted to her Twitter account on Sunday, Jan. 8, 2016, Carey told fans, "I haven't really addressed the situation of what happened on New Year's Eve and in time, I will. But for now, I want everyone to know that I came to New Year's Eve in New York in great spirits and was looking forward to a celebratory moment with the world. It's a shame that we were put into the hands of a production team with technical issues that chose to capitalize on circumstances beyond our control."
"It's not practical for a singer to sing live and be able to hear themselves properly in the middle of Times Square with all the noise, in the freezing cold, the smoke from the smoke machines, thousands of people celebrating, especially when their ear monitors were not working at all," she insisted. "Listen, guys. They foiled me. Thus, it turned into an opportunity to humiliate me and all those who were excited to ring in the new year with me."
She continued, "I cannot deny that my feelings were hurt, but I'm working through this and I'm truly grateful for my fans and my true friends who have been so supportive during this time."
"I'm gonna take a break from media moments, social media moments," the "Emotions" singer concluded. "Although I am going to fulfill my professional obligations, this is an important time for me to finally take a moment for myself and to deal with my loved ones and to prepare for my upcoming tour in March...I can't wait to sing for you again."