The Tragic Death Of Paul McCartney's First Wife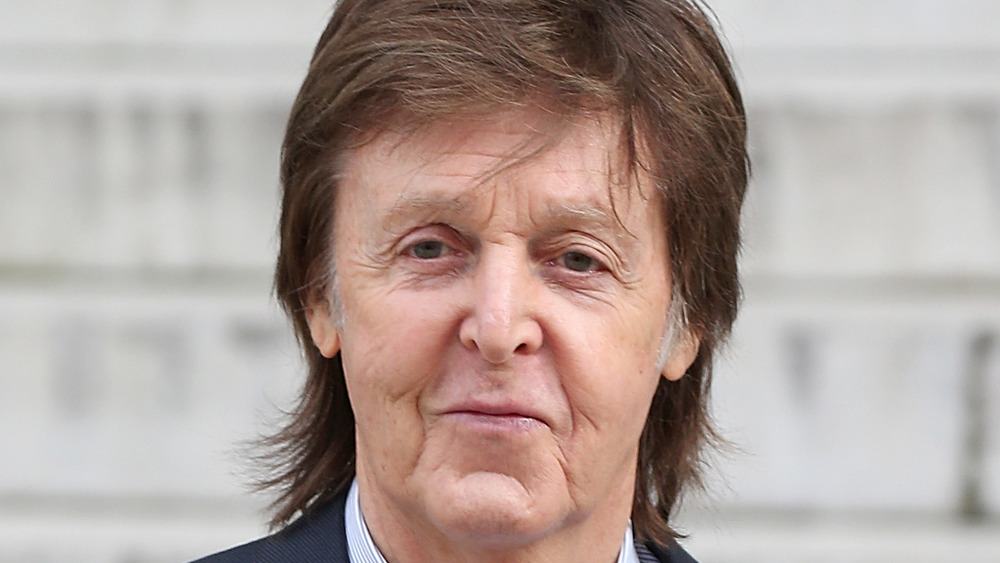 Pierre Suu/Getty Images
Paul McCartney lost his first wife, Linda McCartney, in 1998 and he's been quite open in the years since then regarding how heartbreaking the loss was. Paul did go on to find love again, but it's always been clear that the pain over the tragic loss of Linda never fully faded.
As Rolling Stone noted at the time of Linda's death, she and Paul had been together for nearly three decades. In fact, Paul and Linda were so inseparable throughout their marriage that they only spent 10 nights apart before her death. The one time they were separated came during a short jail stint that the Beatles star endured in Tokyo.
At the time that Paul and Linda Eastman first met, she was an American photographer who was in London on assignment (via Ultimate Classic Rock). It was May 1967 when the two ended up at a music club called Bag O'Nails. He was a regular there, while she was guided there by her friends who were in the band The Animals.
Paul later explained he'd been attracted to Linda's smile, according to Ultimate Classic Rock, and he threw her a corny pickup line when she passed by his table. He may have been a single rock star adored by millions, but he apparently got a bit anxious in trying to charm Linda. The two then went with friends to a spot called Speakeasy and that's where they first heard "A Whiter Shade of Pale," the song that would later become "theirs."
Paul McCartney felt there was nothing to do but cry after Linda died
C. Maher/Getty Images
Despite the chemistry they had after that first meeting, Paul McCartney and Linda Eastman went a year without seeing one another again (via Ultimate Classic Rock). They pursued other romances but reunited in New York in May 1968. They remained together from there and married the following March.
Paul and Linda were essentially inseparable until she died in April 1998. She passed away after a three-year battle with breast cancer, which tragically was the same disease Paul's mother died from years earlier (via NME).
"I cried a lot. It was almost embarrassing except it seemed the only thing to do," Paul told the BBC of the first year after Linda's death. 
Linda and Paul had three children together, Mary, Stella, and James, and he adopted her daughter Heather. Paul now has a number of grandchildren as well. Arthur, the oldest who is a dead-ringer for Paul and is the son of Mary, was born a year after Linda's death. Sadly, that means that Linda never had the chance to experience being a grandmother.
While Paul had to bid farewell to Linda many years ago now, it's always been clear that she maintained a special place in his heart. Their love story seemed to be one for the ages, although it was one that ended far too soon.