This TV Show Might Hold A Clue To Robopine's Identity On Masked Singer
The Masked Singer is one of the most fun guessing games on TV, attracting some of the world's biggest stars to dress up in the wildest costumes and anonymously sing their hearts out. Season 5 of the Fox hit has been no less dramatic than its predecessors, with some downright bizarre unmaskings taking place since it premiered on March 10, 2021. The strangest thus far? That had to be when Kermit the Frog was revealed to be under the snail costume during the first episode. Yes, Kermit the Frog of The Muppets.
But one character that really has the judges — Robin Thicke, Jenny McCarthy, Ken Jeong, and Nicole Scherzinger — and viewers perplexed goes by Robopine. The giant robotic porcupine has stumped people following his performances of "Never Too Much" by Luther Vandross and "All of Me" by John Legend, but one theory connected to another hit TV show might have disclosed all fans need to know. Keep reading for all the details.
Does Family Feud hold the key to Robopine's identity?
Not all The Masked Singer contestants' costumes have a symbolic meaning, but viewers have been speculating that Robopine's does. Fans on Reddit have suggested Robopine could be none other than Steve Harvey, noting that one of the most infamous guesses on Family Feud — which Harvey has hosted since 2010 — has a bizarre connection to a porcupine. A hilarious 2012 moment saw Harvey ask contestants to "Name something that follows the word 'pork.'" One contestant then very boldy replied, "Upine," thinking he had nailed the answer, which understandably had Harvey in total hysterics. He even called it "the greatest answer I've ever heard." The moment ultimately went viral, with more than 10.7 million views on YouTube.
But that's not the only possible TV connection. Robopine has also hinted at Washington in his clue videos, and fans have pointed out that Harvey played a teacher who worked at Booker T. Washington High School on his sitcom The Steve Harvey Show, which ran from 1996 until 2002.
What other Steve Harvey clues are there?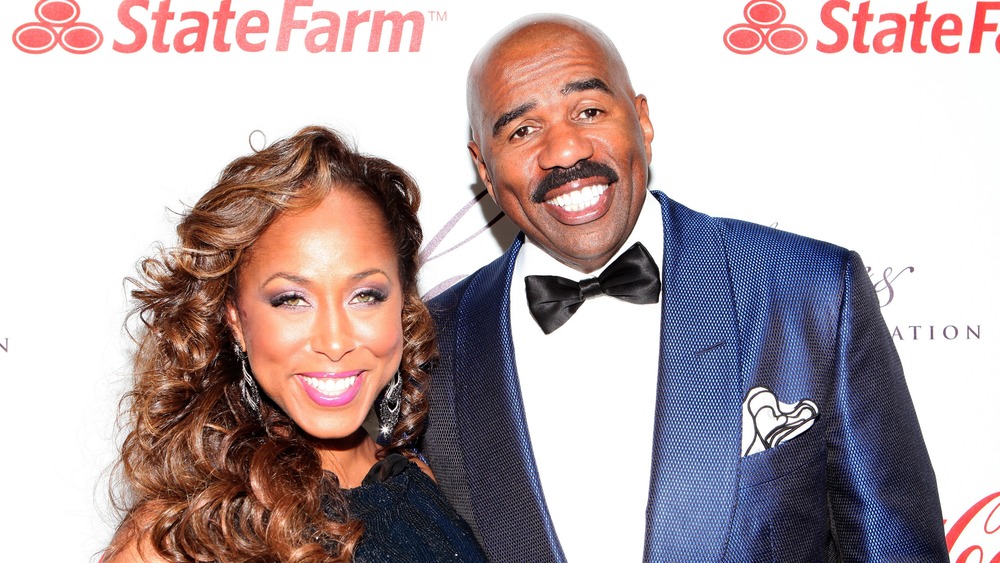 Raymond Boyd/Getty Images
The hints from The Masked Singer's Robopine do not stop with TV connections. The character dropped a big clue on the show when he revealed that he has grandchildren and is at least 60 years old. "My kids and my grandkids told me I was supposed to hang it up a long time ago. I'm 60 years old and I really appreciate the love," he told The Masked Singer host Niecy Nash (via Talent Recap). Harvey — who is 64 years old, which rounds down to 60 — famously has a big, blended family, including seven kids. Four are his biological children, while his wife, Marjorie Harvey, has three children from a previous marriage. The couple also share five grandchildren.
Robopine has also said on the Fox show, "Where I came from, I was forced to grow thick quills." Harvey has been open about his struggles at the start of his career and told People in 2013 that he was once homeless for three years and had to live in his car. He revealed that he used a cooler as a refrigerator and would use bathrooms in hotels or gas stations to clean himself. But, despite all the clues, we will just have to wait and see if Harvey really is behind that mask.